Hungry for a juicy discount? We are too. That's why we've listed a few food and drink discount apps to whet the appetite of your inner bargain hunter and help you score a five-finger discount of a different kind. Our handy guide includes everything from your go-to drive-throughs and meal delivery services, to local restaurants and bars as well as nearby wineries, breweries and distilleries.
Slurp up savings with apps such as:
Of course, you can always grab a bargain by checking out your local's 'special of the day', but who doesn't love a good app?
EatClub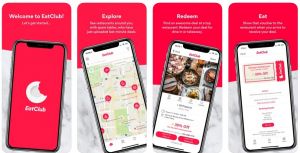 Eat up from the buffet of discounts available on EatClub, and get up to 50% (or apparently even 70%) off from a number of restaurants across Australia. Find local restaurants and bars that have spare tables and downsize your bill by redeeming any last-minute offers before the time runs out, then send your booking details to your chosen place. Once you arrive, make sure to show your digital voucher to claim the discount.
Co-founded by Marco Pierre-White, EatClub currently provides daily flash deals to customers in NSW, VIC, QLD and SA.
Price: Free
Where do the discounts apply? Churburger, Munich Brauhaus, Rockpool Dining Group, Wonderbao, Meatball & Wine Bar and more.
Get the app here for iOS and Android.
Student Edge
Put apps like Student Edge to the test by checking out deals on a range of things like education, entertainment, fashion & beauty, health & fitness, technology, travel and, of course, food.
Discounts are available from your classic university student go-to spots, including $1 Wing Wednesday from Pizza Hut, to free medium drink from McDonald's with orders over $3, and 30% off pick-up or delivered pizzas from Domino's. Meal Delivery services are also part of the deal, with brands such as HelloFresh taking $80 off from your first four boxes. Drinks from popular places like Chatime similarly offer two bubble teas for $9 to help you get your boba fix, otherwise you can sip medium-sized drinks from Top Juice for $5. Gift cards for supermarkets such as Woolies are also available so you can stock up on the essentials for a little less.
Deals are available across the country, but don't forget to check to see if your local branch accepts any discounts you plan on redeeming. Plus, keep in mind that some sales run for a limited time.
Price: Free
Where do the discounts apply? Uber, The Iconic, McDonalds, ChaTime, Apple and more.
Get the app here for iOS and Android.
Groupon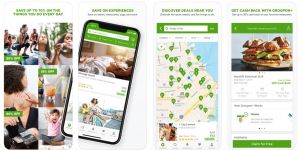 Groupon Australia might as well be listed as a synonym for 'discount' in the dictionary, with the popularity of the online marketplace proving to be a hit among bargain hunters. The company offers a range of deals on food and drink near you, as well as other things like hotels, travel, concert tickets and shopping. In addition to nearby restaurants and bars, Groupon extends its coupons to cover cafes, groceries and markets, as well as breweries, wineries and distilleries. Deals can also appear for events like the Food and Wine Expo.
Discounts are for customers anywhere in Australia — but what you can get varies depending on where you live, the time the offer is made available, and whether there's enough coupons to go around.
Price: Free
Where do the discounts apply? Novotel, The Yiros Shop, Liquorland, HelloFresh and various local restaurants, bars, cafes, breweries, wineries and distilleries.
Get the app here for iOS and Android.
Bring Me Home – Food Rescue App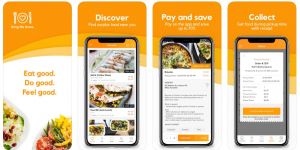 Save food from going to waste while rescuing yourself from serious 'hanger' with Bring Me Home. This food rescue app allows you to purchase any excess food from local retailers for less, and pick it up at a certain time you choose. According to the company, these bargains are designed to cut food waste as one in five meals apparently get binned purely because it's unsold. The app is also stated to help customers eat well and save money, with apparently up to 70% off on some places.
If you're sick of munching through the same couple of menus each week, Bring Me Home encourages users to discover new stores while also supporting local businesses. You can also choose to donate to charities such as OzHarvest and SecondBite.
Price: Free
Where do the discounts apply? Local retailers and nearby chains like Roll'd, Foodworks and Gloria Jeans.
Get the app here on iOS and Android.
Hey You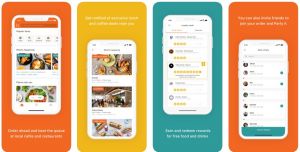 Hey You, "You had me at hello" — well, actually, you had me at "free food and drinks". Hey You is one of the latest apps helping Aussies order ahead and skip the line, with the opportunity to earn and redeem rewards for a free meal also up for grabs. This discount app provides a bunch of offers for exclusive lunch and coffee deals based on your location, and allows you to pay through the phone so you can just quickly head in store to collect your order. Hey You is currently only available in certain parts of Sydney, Melbourne, Brisbane and Perth.
Price: Free
Where do the discounts apply? Certain cafes and restaurants in Sydney, Melbourne, Brisbane and Perth.
Get the app here on iOS and Android.
The Fork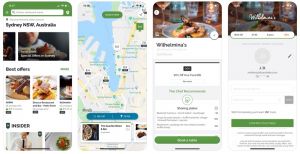 Can't decide what's for dinner? Why not take a stab at one of the restaurants on The Fork, formerly known as Dimmi. While it's mainly designed as an online booking and discovery platform for restaurants in Australia, The Fork also provides a handful of special offers of up to 50%. Similar to Hey You, The Fork gives users loyalty points called 'Yums' every time you book through the company. Booking via The Fork app gives you 150 yum, or 50 yums if you use a desktop or mobile website. You'll need 1000 Yums to get a $20 discount on your next meal, or reach 2000 Yums to score a $50 discount. You can then turn these digital treats into real-life golden nuggets that can save you a few bucks.
Price: Free
Where do the discounts apply? Harajuku Gyoza, Steer dining Room (Melbourne), Eden Bondi (Sydney), Sake Restaurant & Bar (Brisbane) and more.
Get the app here on iOS and Android.
Cudo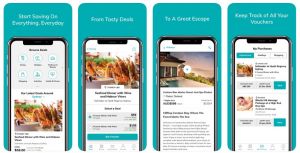 Kudos to Cudo for plating a variety of daily discounts to Aussie customers, with some deals offering diners almost 80% off their meal. This app works similar to Groupon and features bargains for food and wine, in addition to things like shopping, travel, health & fitness and services such as first aid courses and home cleaning services. Cudo is currently available in Sydney, Melbourne, Brisbane, Gold Coast, Perth, Adelaide and Canberra.
Price: Free
Where do the discounts apply? Uber Eats, Zambrero, Sheraton Grand Sydney Hyde Park, Hard Rock Cafe Surfers Paradise, Blue Range Estate Wines (Rosebud, Victoria) and more.
Get the app here on iOS and Android.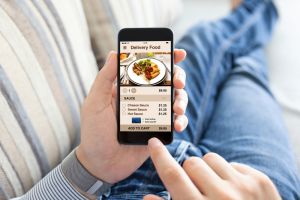 Store Apps
Sometimes it's best to get food and drink discounts straight from the horse's mouth, especially since many chain retailers are now giving customers exclusive offers through their own apps.
McDonald's MyMaccas App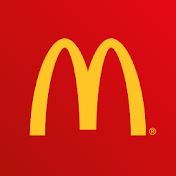 Ever wondered why Ronald McDonald is always happy? It must be because of the MyMaccas app, which provides customers with exclusive food and drink offers every day. Unlike some retailers, specific deals aren't set on particular days of the week and deals change daily.
7 Eleven Fuel App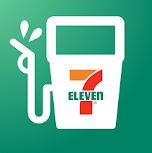 Fill up on fuel and food with the 7 Eleven Fuel App, which allows customers exclusive deals on coffee, banana bread and other goodies, all while potentially saving money when filling up at the bowser.
You may also be interested in:
Boost Juice App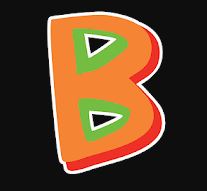 If you're in the mood for a smoothie, chances are Boost is one of the places you'll turn to. And if you're really keen on your smoothies, you're likely a member of the Vibe Club, which allows you to cut the queue when you order through the app, along with a few other goodies.
Considering how many apps there are out there, it's no surprise that businesses and brands have made their way into the discount-app market to entice customers through the door. Considering most apps are free to download and use, and that you're saving money when heading out to grab a bite to eat, there isn't much of an argument against trying out a few of those in this list.
Latest Phone Deals
Looking for a new smartphone? The following table shows selected published 24-month phone plans for the 256GB Samsung Galaxy Note 10+ on Canstar Blue's database, listed in order of cost, from the lowest to highest and then by data allowance, largest to smallest. Use our comparison tool to see plans from a range of other providers. This is a selection of products with links to a referral partner.
Picture credits: Farknot Architect/shutterstock.com, Denys Prykhodov/shutterstock.com