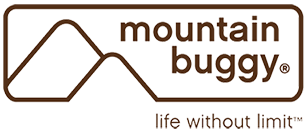 Mountain Buggy Strollers Review & Guide
Mountain Buggy all started with one father's dream to create an all-terrain stroller that would allow him to travel across the mountain trails of New Zealand with his new baby. From running errands in the city to running off the beaten path, Mountain Buggy caters for an extensive range of surfaces and purposes.
The luxury brand provides a range of strollers which can be customised multiple ways. Some single-seat buggies can even transform into a double stroller or accommodate three children of varying ages, while a number of the buggies can transition into a travel system so you can take your baby from the stroller to the car with apparently minimal fuss. It also claims its products are travel and storage friendly, with certain strollers suitable as carry-on or made in a stand fold design.
Some of the buggies available include the Nano Duo, Cosmopolitan Luxury Collection, Duet, Urban Jungle and +one. There is also a list of accessories tailored to suit each individual collection. A few of these include sleeping bags, maintenance kits, hand muffs, parasols, infant car seats, car seat adaptors and bottle holders.
To help you navigate your way through Mountain Buggy's collection, we've mapped out each stroller currently on offer to show you the different features it is said to provide.
Range of Mountain Buggy Strollers
Whether you're quickly heading out for groceries or taking your baby on a long nature walk, Mountain Buggy offers several strollers to suit various types of families and a range of occasions. These include:
Nano
Nano Duo
Cosmopolitan
Cosmopolitan luxury collection
Terrain
Duet
MB Mini
Swift
Urban Jungle
Urban Jungle Luxury Collection
+one
Nano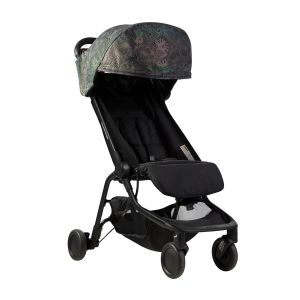 The Nano is claimed to be ideal for travel, especially as it weighs 6kg and measures 54 x 31 x 51cm when folded. Similar to the Nano Duo, this stroller is stated to fold into a compact travel satchel which can be stored in a custom-fit travel bag or taken as a carry-on by attaching a shoulder strap.
The buggy includes built-in rear wheel suspension, colour defined break, 5.5-inch EVA wheels as well as swivel and lock capabilities. These features are also said to assist with the maneuverability of the buggy, especially in tight spaces and on uneven surfaces. The weight distribution of the nano is also stated to make it easier transfer the stroller onto curbs.
For older children, Mountain Buggy offers a freerider stroller which can be attached to the stroller or detached and used as a separate scooter. This accessory is available in different styles and is usually an additional $149.
Nano Duo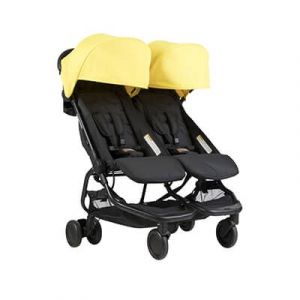 If you're a parent to twins, you can keep your babies side-by-side with Mountain Buggy's Nano Duo stroller. This is particularly ideal for families who are on-the-go as the buggy is said to quickly transform into a compact stand fold, which can be stored in small spaces. The additional carry handle and shoulder strap may also make this product suitable for public transport.
Featuring built-in rear wheel suspension, the buggy is apparently easier to move around due to the specific weight distribution of the stroller. The front wheel can also be set swivel or lock.
Parents might also be able to ease their baby into nap time after spending the day outdoors by adding the Mountain Buggy cocoon, a carrycot which allows the baby to lie flat in the buggy. Costing an extra $99, this accessory features carry handles so you can take your baby in and out of the buggy without disturbing them too much. This cocoon is generally suitable for babies aged between 0 and months.
The Nano Duo is available in various colours, including 'cyber', silver, black, 'nautical' and 'ruby.
Cosmopolitan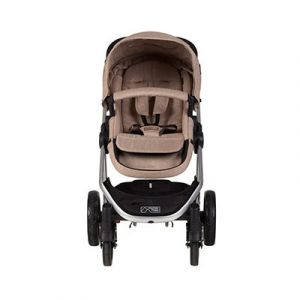 The Cosmopolitan is 4-wheel modular stroller which can allow mums and dads to alternate between a forward-facing buggy and a parent-facing buggy. The stroller is said to have front and rear suspension, puncture proof 12-inch rear Aerotech tyres, lockable front wheels and a pedal foot brake. Suitable for children up to the age of 4 years, the stroller can be positioned upright, flat, or in a recline position.
Like many of the other buggies created by the brand, the Cosmopolitan is claimed to be easily foldable. In addition to the stand fold design, the stroller is also said to automatically lock for convenient storage.
Cosmopolitan luxury collection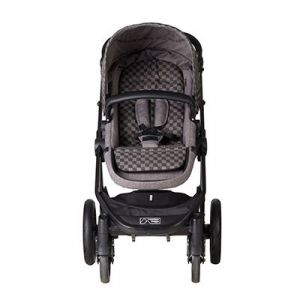 The Cosmopolitan luxury collection is targeted towards the fashion forward, with the modular 4-wheel buggy featuring a charcoal mélange fabric in a geo print design. As the name suggests, this bundle is the most expensive item in the range and has a designer price tag usually worth $1,299.
This luxury collection comes with a parenting bag to match, including clips to attach the bag to the buggy. This range is claimed to provide more storage space than other buggies available from the brand, with the bag adding even more room. The Cosmopolitan luxury collection is also said to be suitable on all types of terrain due to the 12-inch wheel aeromaxx tyres, which is stated to mimic both air-filled and PU tyres. Similar to the Nano, Mountain Buggy's freerider also be used with the Cosmopolitan Luxury collection.
Terrain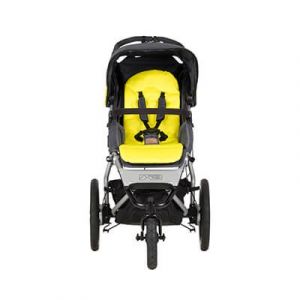 For parents who want to take their newborn on their morning jog, the Terrain buggy is said to be suitable for active parents due to its apparent precision steering. Unlike some of the products available from the range, the Terrain stroller features a zip-covered gear tray which holds 10kg of storage, which includes built-in compartments. There are more zip pockets on the sunhood of the stroller, offering space for two water bottles as well as an eyelet for your headphones.
The Terrain is said to provide parents greater flexibility by offering two sets of air-filled rear wheels to ease the transition between different surfaces. These wheels include a 16-inch set and a 12-inch set, which are claimed to have better shocking absorbing suspension than some strollers in the Mountain Buggy range. The 16-inch tyres, in particular, are said to provide absolute traction due to the "bias ply construction". The stroller also contains 3-mode front wheel which allows the wheel to swivel, or lock back or forward.
Mountain Buggy claims its strollers are easier to maneuver around kerbs and obstacles due to the weight distribution of each stroller. The drum brakes are stated to help parents control their speed when using the hand-operated control brakes, while an adjustable tracking device located on the front wheel is said keep you on course.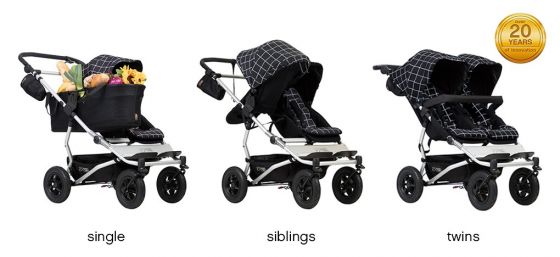 Duet
The Mountain Buggy Duet is ideal for parents looking to grow their family, or for mums and dads who simply want a bit more space when strolling with their little one. Each Duet stroller can transition into either a single or a double stroller.
If you're looking for a single stroller, the Duet includes a tote bag which can be attached next to the seat to provide plenty of storage. Alternatively, the Mountain Buggy provides a family pack accessory which can transform the single stroller into a double by replacing the tote bag with a new seat. But this does come at an extra $269. Despite being able to interchange between a single and a double buggy, the width of the stroller is said to always measure at 63cm.
The Duet buggy uses a hand-operated control brake, which is said to especially assist with the handling of the stroller when pushing with two kids, jogging, or going downhill. Mountain Buggy also claims the stroller can be packed up into a stand fold with one hand and quickly secured with the automatic fold lock.
MB Mini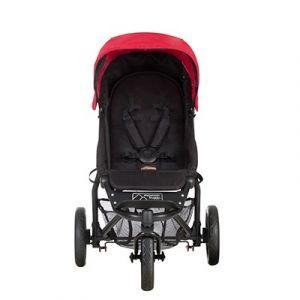 The MB Mini is the lightest buggy in the Mountain Buggy collection and is ideal for families with limited storage space or who tend to take public transport every day. Folding is apparently made easy with its one hand fold capabilities. Like many of the other buggies from the products range, the brand claims the weight distribution of each stroller allows parents to navigate around kerbs and obstacles easier. The MB Mini also includes puncture–proof, Aerotech tyres and a new lock back or swivel front wheel.
Swift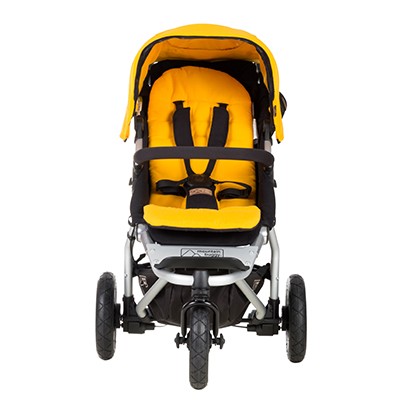 For families who love to explore the great outdoors, the Mountain Buddy Swift stroller features 10-inch air-filled wheels, claimed to be suitable for both city streets and off-road surfaces. The front wheel can interchange between lock back and swivel mode. Like some of other strollers available from Mountain Buggy, the Swift is said to provide a compact one-hand stand fold.
The stroller can be made into a travel system using a compatible infant car seat or car seat adaptor.
Urban Jungle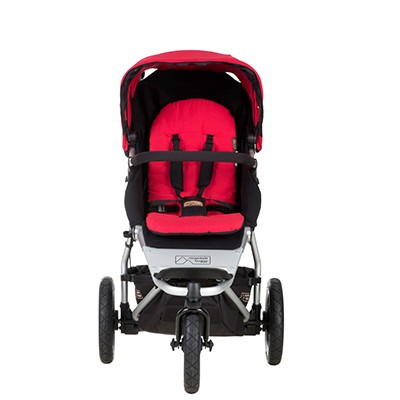 For parents looking for flexibility, the Urban Jungle stroller may be the ideal choice. Suitable on a range of terrains, the buggy features 12-inch air-filled tyres and a lock back or swivel front wheel. Compared to other items in the range, this buggy is said to provide better rear wheel suspension. It also includes shock absorbing suspension and a handlebar brake.
The Urban Jungle can be made into an all-terrain travel system using a compatible Mountain Buggy infant car seat adapter. If you have an older child, a Freerider Strollerboard from the Mountain Buggy range can be attached to the stroller.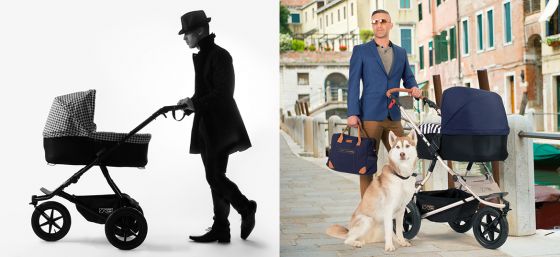 Urban jungle luxury collection
The Urban Jungle Luxury Collection takes on the Urban Jungle line, offering parents a more stylish alternative. These strollers are available in 'nautical', a navy-and-white stripe design and tan bonded leather with silver tube frame. There is also 'pepita', which showcases a houndstooth design with black bonded leather and black tube frame. The range usually costs $899, a $100 more than the original product. Typically valued at $899, this luxury collection is cheaper than the Cosmopolitan Luxury Collection and is the same price as the Duet and +one.
Usually valued at $899, approximately $100 more than the original, the all-terrain stroller is said to include improved rear wheel suspension as well as a new lock straight or swivel front wheel. Although it still maintains some of the other features, such as the handlebar brake and the ability to pack up the buggy using only one hand. But the fold is claimed to be more compact than other Mountain Buggy models. The buggy is also said to fit 10kg worth of storage in the gear tray, which contains pockets to keep things organised.
The Urban Jungle Luxury collection can transformed into a travel system by attaching a compatible car seat adaptor.
+one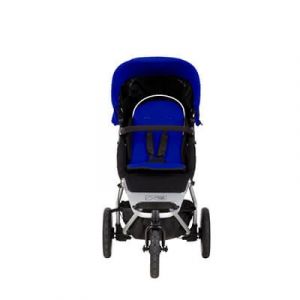 If you like the sounds of the Urban Jungle stroller but need a stroller for two, the +one may be a winner. It has double of the same features of the Urban Jungle, including an extra-large fixed sun canopy and a stadium seating with double seat recline. The buggy also has a handlebar brake and a 10kg gear tray with pockets.
The +one similarly comes with a second seat and a mattress to accommodate either:
1 newborn and 1 toddler
1 newborn baby up to childhood years.
Will Mountain Buggy be the stroller brand for me?
From puncture-proof Aerotech tyres to stand fold designs, Mountain Buggy offers different features to suit a range of family lifestyles. The various buggies include the Nano Duo, Nano, Cosmopolitan Luxury Collection, Cosmopolitan, Terrain, Duet, MB Mini, Swift, Urban Jungle, Urban Jungle Luxury Collection and +one. There is also a range of customised accessories available.
For families concerned about storage, many of the items are described as compact and capable of being packed up with one hand. Several of the strollers, including the Cosmopolitan Luxury Collection and the Nano, can also be made into a travel system. This can be done by detaching the seat from the stroller and attaching it onto the base of the car seat.
Taking your baby on a grocery run or treating the family for a fun day out isn't always easy either, especially when you have to worry about lugging around a bulky stroller on public transport. This is where the Nano Duo and MB Mini may be ideal options due to their smaller measurements and lighter weight. The Nano stroller is also available for larger trips and is stated to be carry-on appropriate.
Others strollers like the Terrain are claimed to be specifically designed to suit the needs of mums and dads who want to take their mini fitness buddy on their daily run. This buggy is said to include 16-inch tyres for absolute traction, as well as air-filled rear wheels to help transition between different surfaces. The Duet similarly uses a hand-operated control brake, which is said to assist with handling when jogging or doing downhill.
If you're still lost as to which is the best buggy for you, continue to check out the Canstar Blue website for plenty of helpful reviews and ratings on a wide range of prams and strollers.
About the author of this page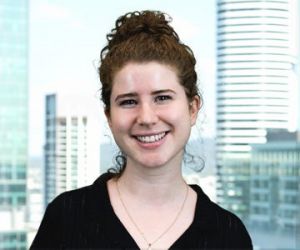 This report was written by Canstar Blue's Content Producer Luciana Lawe Davies. She writes about streaming, appliances and consumer products and services. Luciana enjoys bringing readers the best in what's on TV and at the shops, including the best deals and latest reviews.