Review of T2 tea bags
T2 first opened in 1996 in the trend-setting city of Melbourne, with an aim to create sensational tea combinations by twisting different tea flavours together. From gift ideas to a quick fix for the tea lovers, T2's success has grown across the globe, with stores opening up in London, New York and now also venturing into Singapore. T2 is well known for its loose leaf teas, but for those who want to keep it simple without any extra tools, there is also a range of tea bags available in the much-loved tea flavours.  Let's have a look to see what has made tea enthusiasts around Australia so crazy about T2.
T2 Teabags
If you don't have much time to brew yourself a loose leaf tea, tea bags have got you covered. The T2 tea bags range consists of black tea, green tea and herbal tisane. Standard sizes are a box of 25 tea bags or an option between 60 tea bags in foil packaging or a tin container. There are certain flavours that are also available in individually wrapped packs of 20 tea bags and there are some flavours that only come in the 25 tea bag box.
Box, foil or tin?
Tea loses its freshness once a pack is open so it is recommended to store tea bags in an airtight tin or dark glass jar away from direct sunlight. You can certainly use tins you already have at home instead of purchasing the T2 range in a tin to save you a little bit of money but still keep tea bags as vibrant as when you first bought them.
What tea bags does T2 sell?
Black Tea Bag Range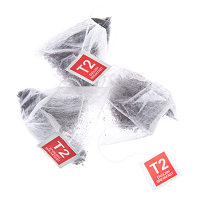 From the original black teas to some with extra flavours, T2 has the following on offer:
French Earl Grey – black tea, hibiscus, sunflower petals, rose petals, mallow flowers
Melbourne Breakfast – black tea with vanilla flavouring
English Breakfast – black tea
Crème Brule – black tea with hazelnut praline
Earl Grey – black tea with bergamot essence
Irish Breakfast – black tea
Chai – black tea, cloves, cardamom, star anise, cinnamon, ginger
New York Breakfast – black tea, cinnamon, vanilla (only available in 25pk)
Green Tea Bag Range
The tea high that is high in antioxidants, T2 offers the following options:
Sencha Teabag – green tea
China Jasmine – green tea with jasmine
Gorgeous Geisha – green tea with freeze fried strawberries
Lemon Sorbet – green tea with white hibiscus, lemongrass, lemon balm, lemon myrtle, lemon peel, sandy everlasting flower (only available in 25pk)
Herbal Tea Bag Range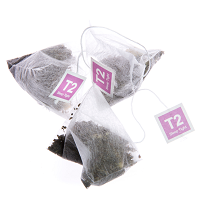 The Herbal Tisane range is caffeine free and is available in the following flavours:
Just Peppermint
Just Chamomile
Lemongrass and Ginger
Sleep Tight – lemon balm, lavender, jasmine blossoms, rose petals
Strawberry Sensation – hibiscus, rosehip shells, orange peels, apple pomace, sweet blackberry leaves, strawberry granules, safflower petals (only available in 25pk)
Southern Sunrise – apple, white hibiscus, apple pomace, sweet blackberry leaves, lemongrass, grapefruit peel (only available in 25pk)
Should I choose T2 tea bags?
T2 offers a great variety in tea bag flavours and tastes, but it does come with a price. The prices vary depending on the flavour and quantity you buy. T2 stores give customers the chance to discover the flavours for themselves, with tea always brewing, which may just get your taste buds tingling for more. If you're stuck for flavours to choose from, T2 has a box of 'all sorts' available that includes individual packets to try. Some flavours do have natural and artificial flavouring, so you may need to ask in store if you're looking for an all-natural tea. T2 seems to be for 'serious' tea drinkers, but has probably helped introduce a lot of other people to tea for the first time. To see how other Aussie tea enthusiasts rate tea bag brands, you may like to check out some online reviews – such as ours – and compare.
About the author of this page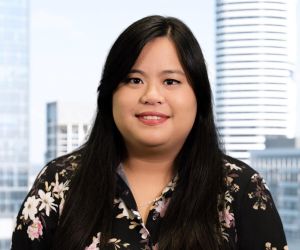 This report was written by Canstar Blue's home & lifestyle journalist, Tahnee-Jae Lopez-Vito. She's an expert on household appliances, grooming products and all things grocery and shopping. In addition to translating our expert research into consumer-friendly ratings reports, Tahnee spends her time helping consumers make better-informed purchase decisions on all manner of consumer goods and services, while highlighting the best deals and anything you need to be aware of.