Review of Banana Boat Sunscreen
Banana Boat is one of Australia's biggest sunscreen brands, and funds the National Sunsafe Schools Program. But is it the best sun safety product for your skin? Decide for yourself with the help of Canstar Blue's review.
The Banana Boat product range is targeted towards active families looking for reliable and easy to apply UV protection. All Banana Boat sunscreens are four hours water resistant and are all SPF 50+, except for the lip balm sunscreen which is SPF 30+. Read on to find out about Banana Boat's offerings for your sunscreen needs. But first, everyone's favourite TV sunscreen song. Okay, maybe second favourite after 'Slip, Slop, Slap'.
Everyday Sunscreen
EveryDay SPF 50+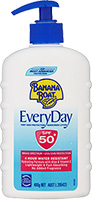 The basic Banana Boat sunscreen is designed for the whole family to wear for everyday sun safety protection. It's said to be lightweight, non-greasy, fragrance free, and absorbs quickly. The formula also contains aloe vera and vitamin E for extra skin support and hydration.
Sizes available:
175g aerosol spray
200g tube
400g pump bottle
SunComfort SPF 50+
Designed for the specific environmental stresses your skin endures during a day at the beach, the Banana Boat SunComfort sunscreen prevents more than UV damage. The formula has moisturising properties to prevent dried-out skin, and has a non-sticky finish so that sand brushes off easily.
Sizes available:
175g aerosol spray
175mL lotion bottle
Everyday Sensitive SPF 50+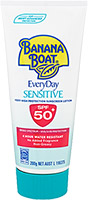 If regular sunscreen tends to irritate your skin, you may want to try a gentler formula. Banana Boat Everyday Sensitive sunscreen is targeted towards those of us who want UV protection without causing a different kind of skin problem. This sunscreen is fragrance-free, non-greasy, and gentle on skin.
Sizes available:
Ultra SPF 50+
For heavy duty sun protection, the Banana Boat Ultra formula is touted as Banana Boat's highest-performing sunscreen. This sunscreen lotion is non-greasy and sweat resistant to keep that SPF working to keep your skin sun safe as long as possible.
Sizes available:
100g tube
200g tube
175mL clear aerosol spray
400g pump bottle
Face Sunscreen
EveryDay Faces SPF 50+
Daily sunscreen protection can be a bit of a drag if it means smearing a thick heavy lotion onto your face every morning. The Banana Boat EveryDay Faces sunscreen is designed to be comfortable for daily wear. The formula is said to be lightweight, non-greasy, and designed to absorb quickly. It also contains aloe vera and vitamin E to nourish and hydrate skin, but is fragrance free so you can apply it and then forget about it.
Sizes available:
Sports Sunscreen
Sport SPF 50+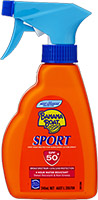 Fun in the sun can also get sweaty, which can compromise your sun protection if your sunscreen just slides off your skin. The Banana Boat Sport SPF 50+ formula is sweat-resistant to keep that UV protection on your skin as long as possible. It's also non-greasy, so slathering up in sunscreen doesn't leave you feeling gross and sticky when exercise already does quite enough of that without the help. In addition to traditional lotion, the formula also comes in two types of spray – aerosol and trigger.
Spray-on sunscreen can be handy to apply without leaving your hands sticky or slippery, which can make catching the footy or holding on to the cricket bat a struggle. It also makes it easier to reach difficult places and apply sunscreen quicker.
Sizes available:
40g tube
100g tube
200g tube
175g aerosol spray
240mL trigger spray
400g pump bottle
Sport Cool Zone SPF 50+

It can be an added incentive to keep on top of regularly re-applying sunscreen when it feels great on your skin. The Banana Boat Sport Cool Zone formula is claimed to leave skin feeling cool and fresh thanks to its aloe vera content. As with the regular sport formula it's a non-greasy sweat resistant sunscreen, but with an added fresh scent.
Sizes available:
175g aerosol spray
175g lotion bottle
Kids Sunscreen
Kids SPF 50+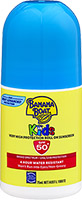 Banana Boat's non-greasy, fragrance free formula is designed to be gentle for young skin. The formula is also claimed to stay put and not run into the eyes, so sun protection is minimal fuss for your little ones. The aerosol spray applies clear with a dry finish on the skin.
Sizes available:
75mL roll-on
175mL clear spray
240mL trigger spray
400g pump bottle
Baby Sunscreen SPF 50+
This lightweight sunscreen is mild, gentle, and fragrance free so it can protect baby skin without feeling uncomfortable on delicate baby skin. It's also claimed to be resistant to running into the eyes. Banana Boat Baby Sunscreen comes in either a roll on or pump spray, for easy application.
Sizes available:
75mL roll on
200mL manual spray
Sunscreen Lip Balm
Banana Boat SPF 30+ Aloe Lip Balm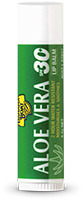 You probably already use lip balm because cracked and peeling lips aren't fun. Adding UV protection to your lip balm ups the ante on your skin protection. The Banana Boat SPF 30+ Aloe Lip Balm offers year-round protection from cracking, peeling and chapping from the sun, wind, and dry air. It's also two hours water resistant.
Should I use Banana Boat sunscreen?
The entire Banana Boat sunscreen product range covers the most popular features consumers often look for in sunscreen – several hours of water resistance, a non-greasy feel, and high SPF. Banana Boat is lacking in specialised sunscreen products such as tinted sunscreen moisturisers and anti-ageing formulas, but as a family-focussed brand it's perhaps not surprising that it hasn't expanded to cover such skincare demands.
If you're looking for a reliable everyday sunscreen for your family, the Banana Boat range may be your solution.
About the author of this page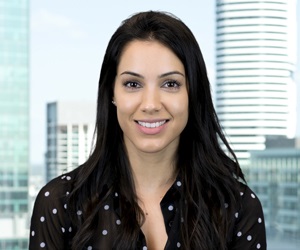 This report was written by Canstar Blue's Home & Lifestyle Content Lead, Megan Birot. She's an expert on household appliances, health & beauty products, as well as all things grocery and shopping. When she's not writing up our research-based ratings reports, Megan spends her time helping consumers make better purchase decisions, whether it's at the supermarket, other retailers, or online, highlighting the best deals and flagging anything you need to be aware of.