Kmart Grooming Appliances Review
Kmart is well-known for its trendy homewares that imitate big name brands without the price tag, but it also produces a small range of grooming products, including beard trimmers, electric shavers and hair clippers. In a similar fashion to that of its homeware range, Kmart's grooming appliances can be had for a fraction of the price of major brands. However, are they worth it? Read on to find out.
Kmart Beard Trimmers

Kmart Beard Trimmer
Kmart offers a couple of trimmers within its line of grooming tools, including a beard trimmer with stainless steel blades. It's stated to run for approximately 45 minutes with an eight-hour charging time, and also features a precision dial that's adjustable from 1-10mm. It costs $25 and is tested to applicable Australian electrical safety standards.
Beard Trimmer (Black): $25 RRP*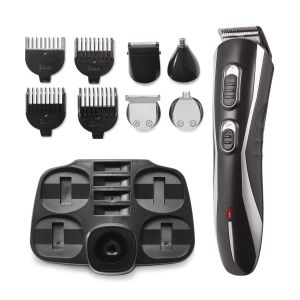 Kmart Personal Trimmer Set
Another option is Kmart's Personal Trimmer Set that can trim facial hair and take care of your prized possession (i.e. the beard). Plus, this tool takes care of ears and other hairy areas, featuring one nose and ear trimmer, one foil shaver, five interchangeable combs and three trimmers. It costs $19 and is also stated to run for approximately 45 minutes, similar to the model above. There's not much word on how close of a trim you can get with this one, but for $19, it's a cheap find.
Kmart Personal Trimmer Set: $19 RRP*
Kmart Electric Shavers

Kmart Rechargeable Rotary Shaver
Kmart offers electric shavers for both men and women to help you look neat and tidy without cleaning out the bank account. For the men, Kmart has a rechargeable rotary shaver for $9 but it's currently not available for purchase at the time of writing. It features 360-degree floating shaver heads and a pop-up trimmer, with a run-time of up 45 minutes on a two-hour charge.
Kmart Rechargeable Rotary Shaver: $25 RRP*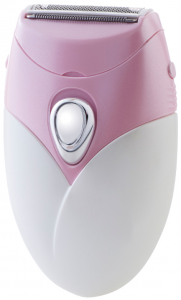 Kmart Travel Personal Shaver
The Kmart Ladies Travel Personal Shaver is stated to offer a close shave, so that you stay primed and neat while travelling. It comes with a cleaning brush, an integrated cutter head and a super-thin steel net. In addition, it features a comb-like cover, allowing you to comb and trim simultaneously. It's also claimed to be water-resistant with a body contour pivoting head.
Kmart Travel Personal Shaver (Pink): $9 RRP*
Kmart Hair Clippers

Kmart Haircut Kit (Silver)
If you want to try out a set of hair clippers on a budget, Kmart might be a worthwhile choice in this department. In Kmart's hair clippers range, you'll find two different models, both with cordless designs and a number of accessories, with both setting you back just $29. Its Cordless Hair Cut Kit (Silver) features a stainless-steel blade, a rechargeable lithium battery and four trimming combs (3 – 12mm), and comes with a 12-month warranty for peace of mind.
Kmart Cordless Hair Cut Kit (Silver): $29 RRP*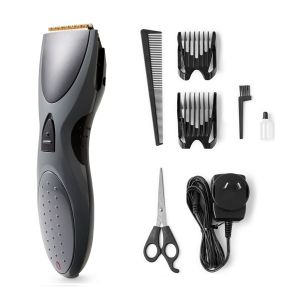 Kmart Haircut Kit
Another option from Kmart is its Cordless Haircut Kit with washable, titanium coated blades. The kit comes with one trimmer, two attachments, one comb, a pair of scissors, a cleaning brush, a bottle of cleaning fluid and a charger. It has adjustable comb guides from 6mm – 18mm, plus features a barber's cape, so you're not just buying clippers, you're getting the full barbershop experience.
Kmart Cordless Hair Cut Kit: $29 RRP*
Are Kmart's grooming appliances worth the money?
Kmart seems like a one-stop-shop for absolutely everything these days, from cheap and cheerful home goods to money-saving electric shavers. While its range of grooming appliances might not come with all the bells and whistles that other brands might have, Kmart does offer some budget-friendly options. All of the appliances mentioned above can be bought for less than $30, so you might consider its range a harmless investment.
However, you shouldn't expect the world with these budget options, as with most appliances, you do get what you pay for. If you're just after simple hair clippers, then Kmart might be your go-to shop, but if you're looking to achieve a specific look/style and need the best tools for the job, you may have to look elsewhere. To help you compare other brands out there, check out our online reviews, including that of beard trimmers, via the link below.
Picture credits: Daria Ni/shutterstock.com
*Prices taken from Kmart, correct as of November 2019
About the author of this page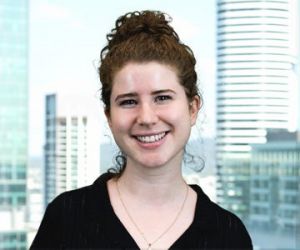 This report was written by Canstar Blue's Content Producer Luciana Lawe Davies. She writes about streaming, appliances and consumer products and services. Luciana enjoys bringing readers the best in what's on TV and at the shops, including the best deals and latest reviews.