What features should I look out for in a beard trimmer?
Whether you think of a beard trimmer as a necessity or a trendy grooming tool to keep your beard looking sharp, one thing is for sure, it's better to have one than not. Our research found that most people (33%) bought a bread trimmer as a replacement for a previous model, while 23% said their beard trimmer came as part of a grooming set. There are a few key features you'll need to pay attention to when buying a beard trimmer including:
Performance (i.e. blade precision & motor quality)
Practicality (i.e. battery life)
Ease of use & cleaning features
If you've lined up a beard trimmer that ticks all these boxes along with your budget, then you my friend, are about to have a new companion.
Performance & comfort
You'll no doubt want a beard trimmer that's comfortable on your face. That's why choosing a beard trimmer with a quality motor and blades is important. Look for blades made out of stainless steel at least, with an adequate motor that won't leave you hacking at your face. Blade quality – and the closeness of shave you will receive – also refers to adjustability because a quality beard trimmer will have fine-tuned adjustments so you can go from stubble manicuring to 'loose ends beard trimming' with ease. Generally, the mantra of 'buy the best you can afford' works here.
Practicality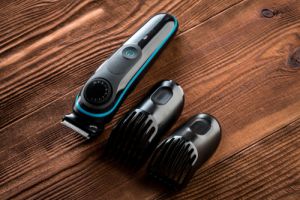 It's no use buying a beard trimmer if you can't stand to use the thing. While lumberjacks of yesteryear likely did away with trimming their beards, the modern man still desires to have a manicured beard. It has become a bit like cultivating a garden. As such, look for features such as lithium-ion batteries that provide great charge times. Also, look out for docks that provide quick charge times, and 'ultra-fast' one-shave charging times. Aside from the battery tech, beard trimmers should deliver a variety of safety guards and adjustability to fine-tune your bearded needs. Guards not only allow you to select length-of-cut, but they also help protect your skin from the shaving blades themselves. These practical aspects will likely be the most important elements in ensuring your beard trimming experience remains at least somewhat pleasant.
Easy to use & easy-clean features
There isn't much rocket science involved with beard trimmers, so you should expect one that's at least easy to use. If it isn't, you probably won't enjoy using it or get the results you'd like. Plus, after you've finished reigning in your luscious beard, it's handy to be able to clean it easily so you can continue about your day. Quality beard trimmers have easily removable cutting heads and guards, so you can simply wash them after a single use. Beard trimmers often go one further and are waterproof, or at least able to be rinsed under the tap. Easy-clean features will also make your overall beard trimming experience more pleasant, and proper cleaning can extend the life of your trimmer.
How do I maintain my beard trimmer?
Beard trimmers vastly benefit from proper maintenance. And like anything that cuts, taking care of the blades is most important, though overall maintenance can have your beard trimmer performing better for longer. There are three main aspects to maintaining your beard trimmer blades including:
Regularly oiling & lubricating
Brushing & cleaning
Removing build-up & disinfecting
Regularly oiling & lubricating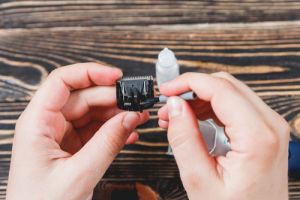 Applying oil to your blades before use will ensure that they keep on trucking, and performing at an optimal level. Without oil, the blades are more likely to seize up. Luckily though, any decent beard trimmer should have a small bottle included, but in any case, blade oil can be found for around $10 or less. Simply put a drop in either corner of the blade body, and a drop in the centre. Similar to oiling your blades, lubricating inactive blades also goes a long way in ensuring their longevity. If you're not a regular beard-trimming artisan, oiling up rarely-used blades can ensure their long-term performance. Clipper-specific lubricant is a bit more 'heavy duty' than other types of regular oil ─ and for blades that have hardly been used, it's said to be a godsend. Lubricate your blades before putting the trimmer to your face; this is a proactive way to ensure you get the best from your blades.
Brushing & cleaning
It may seem pedantic, but cleaning off the hair from your beard trimmer after every use can ensure its long-term survival. Many grooming kits contain a brush for easy cleaning but otherwise, a toothbrush can work well. Hint: don't use toothpaste. Not only is leftover hair – even if it's yours – a bit off-putting, it can also clog up your blades and make them less effective in the long run. So, taking a couple of minutes post-trim to clean your beard trimmer can go a long way in getting the most from your blades.
Removing build-up & disinfecting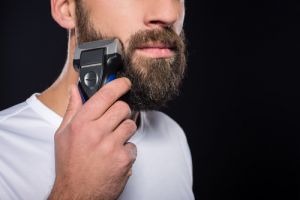 Every so often, it's worth taking the time to remove build-up in your blades. Over time, hair and even skin will inevitably get caught up in your blades. About three times a year, it can be worth giving your trimmer the once over, taking the time to remove as much build-up as possible. This will ensure – like with most other maintenance – that your blades' performance won't be compromised. After this more thorough cleaning, it pays to oil the blades; this will again do a world of good. Aside from this, it's good to disinfect your trimmer's blades using a commonly found blade spray. You may have seen the barber do this and it's not just for show. Even disinfecting your trimmer is good practice for hygiene. Spray every few trims to ensure you're not subjecting your beard to a germy nightmare.
Related article: 
Can I use a beard trimmer to cut my hair?
As beard trimmers can be thought of as specialised hair clippers, it stands to reason that they can do everything traditional clippers do, right? Well, not exactly. While beard trimmers will certainly be able to cut hair, they won't be as effective as hair clippers, or as safe to cut your hair with, meaning it's best to use beard trimmers just for your facial hair.
Can I bring a beard trimmer on an airplane?
Beard trimmers are fine to bring on airplanes in Australia – in both your carry on and check-in luggage – provided that the battery doesn't exceed 2g for lithium metal or 100Wh for lithium ion. If you're not sure, check with your airline before jumping on any flights to help avoid any issues.
<Picture credits: Stas Malyarevsky/Shutterstock.com, Beykov Maksim/Shutterstock.com, VGstockstudio/Shutterstock.com.