The Lady Shake (Weight Loss) Review & Guide
The Lady Shake is described as a meal replacement option specially designed for women who want a convenient and simple way to "lose weight in those problem areas". If you've just had a little bub, The Lady Shake is also stated to be breastfeeding friendly. But is it the weight loss shake for you? Find out in the Canstar Blue guide to The Lady Shake.
What is The Lady Shake?
The Lady Shake aims to empower women to drop those extra kilos, feel more energetic and become healthier. Its range of meal replacement shakes is said to be scientifically formulated with all-natural ingredients and requires swapping out two meals per day with The Lady Shake while also maintaining a healthy balanced diet.
Anyone trying The Lady Shake is advised to follow its recommended program to "get the best possible results". This is partly because the program is created to make sure you're eating the correct foods at the right time, and ensure you're eating enough food and not skipping meals or substituting all your dishes with meal replacements. It also encourages women to walk for 30 minutes each day to help the body and mind. According to the brand, many people think they should starve themselves but in fact the brand says this slows down your metabolism and makes losing weight even harder.
For women who need a little inspiration or help during their weight loss journey, The Lady Shake runs The Lady Club. This requires a one-off subscription of $20 to join and provides members with different challenges, videos, recipes, monthly discounts, freebies and exclusive offers. The Lady Shake is sold through their website and retailers Coles and Woolworths.
The Lady Shake range
Similar to the male equivalent, The Man Shake, the majority of The Lady Shake range is made up of several set packs which usually include a bag of The Lady Shake and a box of Lady Bars. These weight loss drinks start around $39.95 for The Lady Shake Super Greens and reach up to $129.85 for The Lady Shake Maintenance Pack. You can also find pricier 'special offer' packs on the brand's website, along with items like the His & Hers Pack which provides products from both The Lady Shake and The Man Shake ranges. Shaker bottles, booty bands and resistance bands are similarly available.
Products in The Lady Shake range include:
One Week Supply
The New Year Starter Pack
His & Hers Pack
The Immunity Booster Pack
The Kids Breakfast Bundle
The Family Health Pack
Ultimate Rapid Weight Loss Pack
The Couples Starter Pack
The Maintenance Pack
The Vegan range
The Lady Bar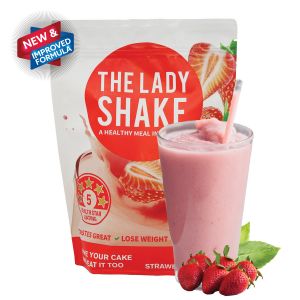 The Lady Shake One Week Supply
If you're worried about being left hungry after drinking The Lady Shake's meal replacement, the brand promises the Collagen Protein and fibre in the formula can keep you feeling fuller for longer. The brand also recommends trying The Lady Shake in the vanilla flavour if you prefer to add fruits or coffee to your shake. To help meet your daily recommended nutritional requirements, this weight loss shake is boasted to have 25 vitamins and minerals. The meal replacement is stated to include probiotics and prebiotics to support a healthy gut, as well as boost your mood and immune system.
The Lady Shake — One Week Supply comes with a week's worth supply of meal replacements, with 15 serves per pack. Flavours include choc mint, caramel, vanilla, banana, chocolate and strawberry.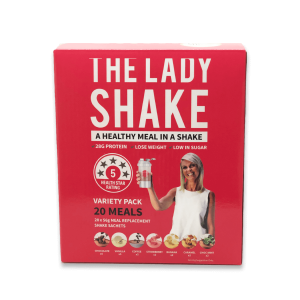 The Lady Shake New Year Starter Pack
Want to lose some kilos but don't know where to start? The Lady Shake Weight Loss Starter Pack is apparently designed for beginners or those new to the brand and comes with a month's worth of its meal replacements, with one shake per day. Like many of the brand's other products, The Lady Shake's Weight Loss Starter Pack is described as a gluten-friendly natural burner and contains probiotics for gut support. Flavours include choc mint, vanilla, strawberry, coffee, chocolate, caramel and banana. Each set includes one bag of The Lady shake and a box of nougat-based Lady Bars, with 10 bars included.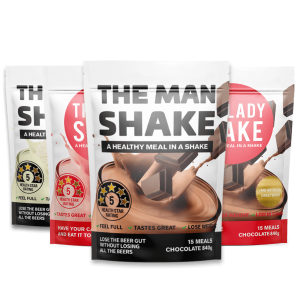 The Lady Shake His & Hers Pack
There's no better way to crush your weight loss goals then to have a partner do it with you! That's where the His & Hers Pack comes in. It contains two bags of the Man Shake and two bags of the Lady Shake – each with 15 shakes per bag – as well as a Man guide and a Lady guide. The guides are said to contain everything you need to see real results, like recipes, food plans, advice and nutritional information.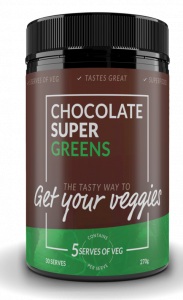 The Lady Shake Immunity Booster Pack
Not a fan of eating your greens? The Lady Shake claims one scoop of its Chocolate super Greens can give you five serves of vegetables like kale, broccoli, spinach, spirulina, acai and goji berries- everything you need to support your body's immunity. Each tub of the Chocolate Super Greens delivers 30 servings. The Immunity Booster Pack includes four bags of the Lady Shake, one tub of Chocolate Greens and a Lady guide.
The Lady Shake Kids Breakfast Bundle
The makers of the Lady Shake also make a shake for kids. The Kids Breakfast Bundle states it has everything you need to create a fast, and nutritious breakfast that kids will actually eat. The formula has one serve of veggies in every serving, is low in sugar and high in protein and contains calcium, vitamin D, prebiotics and probiotics for growing bodies. The Bundle includes kid-friendly flavours like Strawberry and Chocolate as well as a tub of Chocolate Greens and a smaller kids shaker. Each tub has 14 servings and is suitable for children 12 years and older.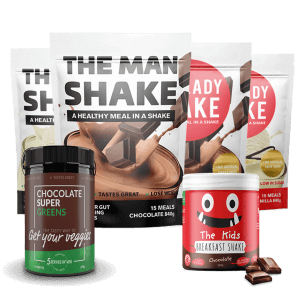 The Lady Shake Family Health Pack
The Family Health Pack brings together The Man Shake, The Lady Shake, The Kids Shake, a tub of Chocolate Greens and a Lady guide. It's a good option for those looking to mix and match between the Man and Lady shake and covers the needs of everyone in the family. The pack comes with four bags, and you can choose how you want to mix The Man Shake and The Lady Shake proportions.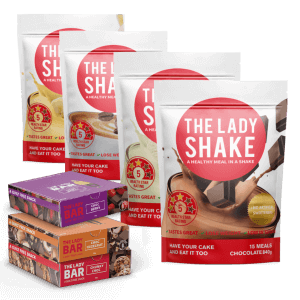 The Lady Shake Ultimate Rapid Weight Loss Pack
The Ultimate Rapid Weight Loss Pack has everything you need to follow your Lady Shake weight loss program for a month. It includes four bags of The Lady Shake, three boxes of The Lady Bars, one tub of Chocolate Greens and a Lady guide. The Lady bars work as a perfect snack to stop the cravings in between Lady Shakes and meals.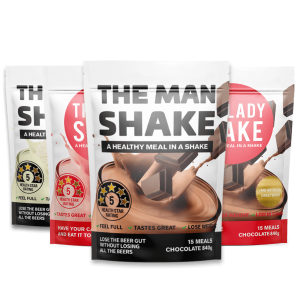 The Lady Shake Couples Starter Pack
Similar to the His & Hers pack, The Couples Starter Pack is designed so you can jump into your weight loss journey with a partner. It contains four bags of the Man Shake or Lady Shake (you decide), two shakers and a Man and Lady guide. It is slightly pricier than the His & Hers pack, thanks to the inclusion of the shakers.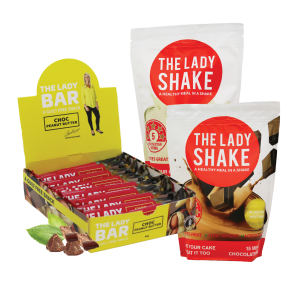 The Lady Shake Maintenance Pack
The Lady Shake Maintenance Pack provides a month's worth of meal replacements. This set contains two bags of The Lady Shake and a box of 10 Lady Bars. The flavours available are a little different to the Starter Pack flavours of the Maintenance Pack and includes chocolate, vanilla crunch, choc mint & choc hazelnut and choc peanut butter.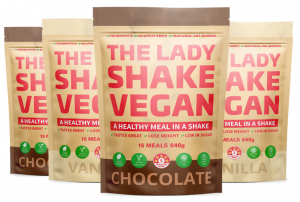 The Lady Shake Vegan
For women with food allergies or intolerances, The Lady Shake Vegan offers a dairy-free and gluten-free plant-based protein shake claimed to be specially designed for optimal gut health. It's said to be high in protein while low in sugar, and is apparently made without any 'artificial nasties'. The vegan-friendly weight loss shake "that doesn't taste like muddy water" contains 15 servings per bag. Flavours include Chocolate and Vanilla. The Chocolate Greens option is also suitable for vegans.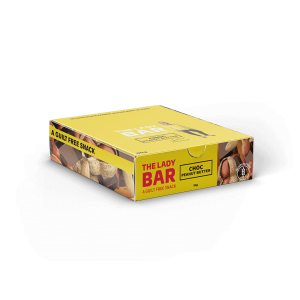 The Lady Bar
The Lady Bar is a nougat based bar designed to kill those in-between-meal cravings and keep you steadfast on your weight loss journey. Made of up with a high protein recipe, it keeps you full and full of energy. Each box comes with ten bars and you can buy an individual box, multiple boxes or receive a box with another pack. Bars come in flavours like Choc Berry, Choc Peanut Butter, Chunky Choc and Choc Hazelnut.
Where can I buy the Lady Shake?
You can buy the Lady Shake through the official website or through supermarkets like Woolworths and Coles.
Can I eat while following The Lady Shake program?
Absolutely! The Lady Shake program encourages you to swap two meals out for a shake, but you can eat full meals, snack and even indulge in a cheat meal. The Lady Shake recommends that you eat plenty of protein, drink plenty of water, reduce your carb intake and be prepared with healthy snacks in order for you to get the best results.
How does the Lady Shake burn fat?
The Lady Shake states that the inclusion of high-quality protein whey powder in their formula helps you feel full for longer and avoid overeating. In addition, the healthy fats in the shake improve blood sugar regulation and boost your metabolism which results in higher levels of fat burned in your body.
Is The Lady Shake good for you?
Weight loss shakes are always a tricky market to navigate, particularly with some brands in the past giving the industry a bad name with false claims and unhealthy habits. However, The Lady Shake aims to be a meal replacement shake first, while still giving you plenty of protein and healthy fats, alongside vitamins and minerals to keep you going throughout the day. However, it's always best to consult your GP before embarking on a weight loss journey or taking meal replacement shakes to ensure you're getting the best fit for your health needs.
Is The Lady Shake worth the money?
Whether you're wanting to lose a couple of kilos or keep your goal weight, trying to organise a diet plan that's suitable for you can be pretty tricky. The Lady Shake is designed to give a helping hand during the weight loss journey, encouraging women to perform regular exercise and develop a healthier balanced diet while on the brand's program.
The Lady Shake also offers support with the 'Lady Club', which provides special deals, as well as recipe ideas, videos and challenges. This is especially aimed at those looking to make losing weight more than just about drinking a shake, or something that's still achievable despite a busy schedule.
To make sure you're getting the best weight loss shakes for you, don't forget to check out our reviews to compare The Lady Shake with a number of other brands on the market.
About the author of this page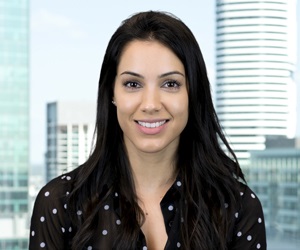 This report was written by Canstar Blue's Home & Lifestyle Content Lead, Megan Birot. She's an expert on household appliances, health & beauty products, as well as all things grocery and shopping. When she's not writing up our research-based ratings reports, Megan spends her time helping consumers make better purchase decisions, whether it's at the supermarket, other retailers, or online, highlighting the best deals and flagging anything you need to be aware of.