Review of Neutrogena sunscreen
US cosmetics company Neutrogena is perhaps most widely known for skincare products designed for fighting and preventing acne. The brand actually covers quite a wide range of skincare needs, including an incredibly important skincare product – sunscreen.
Most of the Neutrogena sunscreen range is made up of the 'Ultra' Sheer product line, although Neutrogena also covers sport, kids and beach-specialised sunscreens. All are broad-spectrum, offering both UVA and UVB protection, as well as oil-free and fast-absorbing. The brand focuses on making sunscreens that feel light and natural on the skin. Read on to learn more about what Neutrogena can do to protect your skin from the sun with Canstar Blue's review.
Everyday Sunscreen

The Ultra Sheer sunscreen formulas are fast-absorbing with a non-greasy finish for easy to wear UV protection. It's 4 hours water resistant, oil- and PABA-free, and non-comedogenic (i.e. it won't clog pores). The Ultra Sheer body sunscreen comes in a lotion (85mL tube) and mist (140g aerosol can) in both SPF 30+ and SPF 50+ formulas. The Ultra Sheer Body Lotion can be used on the face, and according to Neutrogena the Ultra Sheer Body Mist 'resists running into the eyes', although we'll leave it to you to decide whether or not an aerosol spray to the face is a good idea.
For seaside-specific sun safety, the Beach Defence SPF 50 formula is claimed to add protection against the drying effect of the beach. This comes in a choice of lotion (198mL tube) or mist (184 aerosol spray). It's 4 hours water resistant, oil- and PABA-free, and non-comedogenic.
Sports Sunscreen
The Neutrogena CoolDry Sport Sunscreen SPF 30+ has a cooling effect, which can be a nice bonus when reapplying during exercise. The lightweight fast-absorbing formula offers up to 80 minutes sweat and water resistance. It comes in a 147mL lotion tube or 155g spray.
Face Sunscreen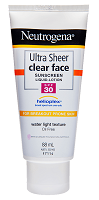 Unsurprisingly for a cosmetics company, Neutrogena produces three different facial sunscreens. The Ultra Sheer Fluid SPF 50 is suited to wearing under makeup or on its own, with an easy to spread texture which absorbs into skin rapidly. The Ultra Sheer Face Lotion SPF 50+ provides a breathable, matte finish which allows skin to look and feel as natural as possible. The oil-free, PABA-free and non-comedogenic formula offers UV protection without sacrificing your skin to the greasy gods.
If your skin is prone to breakouts, the Ultra Sheer Clear Face Lotion SPF 30 is designed for you. It has the same properties as the Ultra Sheer Face Lotion but said to be better for preventing breakouts, although it comes with a lower SPF rating.
Kids Sunscreen
The Wet Skin Sun Spray Kids SPF 30+ can be applied on both wet and dry skin, making regular sunscreen reapplication much easier. The sweat-resistant formula is hypoallergenic and noncomedogenic (which means it won't clog pores), with up to 4 hours water resistance. This child-friendly sunscreen is oil-free and PABA-free.
Should you choose Neutrogena sunscreen?
Neutrogena's focus on clear skin which looks and feels good may be worth looking into for the image-conscious, particularly those looking to balance sun protection with keeping breakouts at bay. The facial sunscreen range in particular offers much greater sunscreen protection than many combination sunscreen-foundation products.
The main drawback of the Neutrogena sunscreen range is that products are relatively small – most lotions come in quantities smaller than 100mL, while most of the sprays are 140g. The largest volume item available is the Beach Defence lotion at 198mL. So it can get a bit pricey to keep the whole family sun-safe, as there are no bulk-size options. On the flip side, the Neutrogena sunscreen products can be easy to keep in a bag or drawer to keep UV protection at the ready for your next journey into the sun.
About the author of this page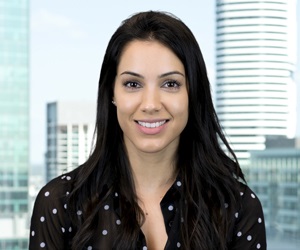 This report was written by Canstar Blue's Home & Lifestyle Content Lead, Megan Birot. She's an expert on household appliances, health & beauty products, as well as all things grocery and shopping. When she's not writing up our research-based ratings reports, Megan spends her time helping consumers make better purchase decisions, whether it's at the supermarket, other retailers, or online, highlighting the best deals and flagging anything you need to be aware of.