Oticon Hearing Aids Review & Guide
From muffled conversations to constant whistling noises, everyone experiences hearing loss differently. This is why Oticon says it has created a series of hearing aids you can personalise to suit your needs and preferences.
If you're searching for a hearing device that gives you the freedom to switch your attention on whatever you want, whenever you want, the Free Focus function might make the Nera2 and Ria2 perfect options. Oticon also offers products like the Alta2 which features 'Speech Guard' to help you understand speech, so you don't have to rely on watching a person's face to guess what they're saying.
People with hearing loss tend to use Behind-the-Ear (BTE) instruments as these are small, light and barely noticeable. If you want something compact, the fully wireless miniBTE devices are some of the smallest hearing aids on offer. Available in either a thin tube or hook design, these hearing aids are said to deliver competitive sound performance and reach higher frequencies than some other types of aids.
Similar styles include BTE and BTE Plus Power. For people with severe to profound hearing loss, BTE Plus Power hearing aids may be more suitable.
If you're looking for hearing aids offering amplified sound, RITE, designRITE or miniRITE devices could be helpful. Using Oticon's next generation 'miniFit' receiver line and soft domes, the RITE models come as a small earpiece that secures the loudspeaker for clear and natural sound quality.
If you're searching for hearing aids so discreet they're basically unnoticeable, Oticon also has a range of inside-the-ear models. You can try to match your colour skin tone with Complete-in-the-Canal (CIC) or Inside-the-Canal (ITC) instruments, which come in shades like beige and dark brown. Compared to other styles, CIC hearing aids are less visible as these are placed deeper into the canal. Inside-the-Canal (IIC) models also provide brighter options such as red and blue. Other in-ear styles include Half Shell and Full Shell, which provide an earmould for a more secure fit.
To help you decide what to get, we've created a list of the latest models and their features.
Range of Oticon Hearing Aids
Oticon provides a variety of customisable inside-the-ear and behind-the-ear hearing aids. These include:
Oticon Nera2
Oticon Ria2
Oticon Alta2
There are also a range of other styles, including:
Oticon Opn
Oticon Dynamo
Oticon Sensei
Oticon Sensi SP
Oticon Nera 2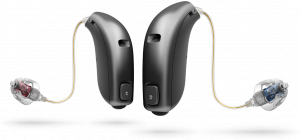 The Oticon Nera 2 is a mid-level hearing aid aimed to give you freedom for a more natural hearing experience.
If you're having trouble understanding conversations, the Nera 2 features Oticon's Brainhearing technologies said to improve your understanding of speech in all types of environments. The Nera2 similarly includes Spatial Sound to help you recognise where sounds are coming from and decide where to focus. Free Focus is similarly claimed to allow you to identify sounds in the background and help you switch your attention to what's important.
The Nera2 also features YouMatic, which is said to adapt your device to suit your personal needs and give you a more natural hearing experience. As you use your hearing aids over time, the programme is claimed to build a personalised profile by learning how to react to your needs based on preferences you choose.
Available in a range of colours, the instrument can be customised to your needs. If you're searching for an in-the-ear solution, the Nera2 is available as IIC, CIC, ITC, Half Shell and Full Shell. Other behind-the-ear options include designRITE, miniRIte, RITE, miniBTE, BTE and BTE Plus Power.
Oticon Ria2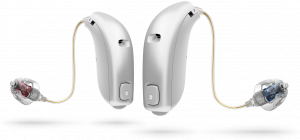 Shopping for the right hearing aids isn't just about finding something that delivers enough volume. It's also about making sure your device helps you accurately understand the sounds your brain is picking up.
Oticon's Ria2 supports ear-to-ear communication to give you an amplified natural and balanced hearing experience. It also offers plenty of choices which allow you and your hearing care professional to tailor the instrument to suit you.
Like the Nera2, this model features Free Focus to give you the freedom to choose what you can and want to listen to. It similarly includes YouMatic so you can tailor your instrument for a more natural hearing experience. If you struggle with the sound of whistling or suffer any feedback issues, the Ria2 also contains a Feedback Management system which is said to quickly detect the risk of feedback and remove or reduce it.
For people looking for a behind-the-ear fit, various styles include: designRTE, miniRITE, RITE, miniBTE, BTE and BTE Plus Power. If you're looking for an in-the-ear instrument, the Ria2 offers IIC, CIC, ITC, Half Shell and Full Shell.
Oticon Alta2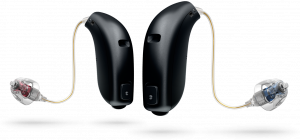 When it comes to personalising hearing aids, the Oticon Alta2 could be hard to beat. This model aims to tailor the hearing aids to suit the way you prefer to hear sound.
If you're having trouble following conversation, the Alta2 features Speech Guard E to ensure that the sounds are clear and distinct in all types of environments. This feature is claimed to be scientifically proven to improve speech understanding, and make it easier to participate in conversations. It also includes Spatial Sound and YouMatic so you can identify and respond to surrounding sounds.
Whether you're looking for a behind-the-ear or an in-the-ear instrument, the Alta family features a range of hearing aids to suit all types of ears. Available in a range of colours, the various behind-the-ear styles include designRITE, miniRite, RITE, miniBTE, BTE and BTE Plus Power. In-the-ear options include IIC, CIC, ITC, Half Shell and Full Shell.
Does Oticon have the hearing aid for me?
Hearing loss comes in a variety of forms and affects everyone differently. This is why Oticon may be the perfect answer to your hearing needs. If you're looking for a pocket-sized power, Oticon offers a range of behind-the-ear and inside-the-ear instruments with a range of features to suit many different levels of hearing loss. Some of the latest models include the Nera2, Ria2 and Alta2. Other hearing aids include the Opn, Dynamo, Sensei and Sensei SP.
If you're constantly running around with young children or attending classes in big lecture halls, products like Oticon's Nera2 and Ria2 may be ideal as the Free Focus feature allows you to pick up surrounding sounds and give you the freedom to switch between what you want to focus on. People searching for hearing to help them easily participate in conversations might also find the Alta2 useful, thanks to the Speech Guard function. This is said to help improve the clarity and definition of words so you can engage in conversational speech without needing to put in too much effort.
Finding the right hearing aid is an important but difficult task, so make sure you check out our review of brands via the link below.
About the author of this page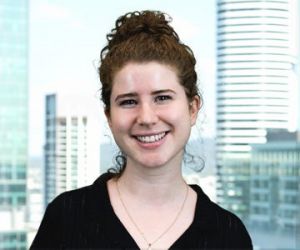 This report was written by Canstar Blue's Content Producer Luciana Lawe Davies. She writes about streaming, appliances and consumer products and services. Luciana enjoys bringing readers the best in what's on TV and at the shops, including the best deals and latest reviews.