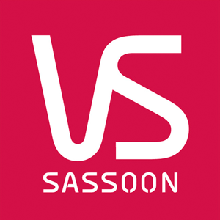 VS Sassoon Hair Straighteners Review
VS Sassoon was founded by Vidal Sassoon, one of the world's most famous hair stylists, to produce a range of hair styling and grooming products. VS Sassoon aims to inspire and empower women to create salon style results at home. It partners with Conair to design and develop its hair styling and drying products. Let's look into VS Sassoon's hair straightener product line to see how its models compare.
VS Sassoon hair straighteners
VS Sassoon strives to continuously improve its classic range and create trendsetting products through innovation. Its latest hair straightening model has been designed with conditioning steam mist that releases moisture into the hair. It has also launched a straightening brush, which is becoming a popular new way to straighten hair.
The VS Sassoon brand tends to also be more affordable compared with similar straighteners on the market. Whether you're heading out to work, a weekend away or needing a hair fix after the gym, VS Sassoon has a compact range that can be an option to consider for light travelling. Here are a few design features to look out for in some of VS Sassoon hair straighteners:
Ionic system: designed to reduces static and smooth down hair
Ceramic tourmaline technology: designed to protect hair by reducing breakage and damage to the hair
What kind of hair straighteners does VS Sassoon produce?
VS Sassoon produces a range of hair straighteners that may be of benefit depending on what exactly you are looking for in a hair straightener. The VS Sassoon range includes the following models:
Goddess Ultimate Steam Straightener: uses conditioning steam mist
Diamond Shine Straightener: uses ionic technology designed to reduce static hair
3Q Digital Straightener: designed with a heat protect sensor, Quartz-ceramic plates and ionic system
Diamond Luxe Straightening Brush: uses ceramic straightening fins
Wet & Dry Style Straightener: designed to use on damp or dry hair
Str8 Up Hair Straightener: designed with ceramic plates and surround heat for curling
Slim Ceramic Straightener: designed with slimline ceramic plates
Pocket Rocket miniPRO Straightener: 15cm in length and has worldwide voltage
i-Straight: designed to be compact and lightweight
The most affordable: i-Straight
The VS Sassoon i-Straight hair straightener has slimline plates and heats up to 200°C. It is designed to achieve a straight sleek style and is suitable for all hair types. The compact straightener has midsized plates that can straighten, curl and wave.
The most expensive: Goddess Ultimate Steam Straightener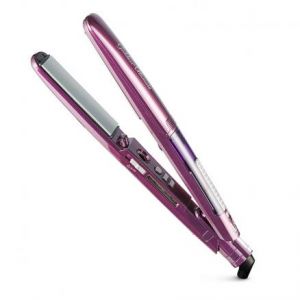 The VS Sassoon Goddess Ultimate Steam straightener incorporates the use of steam, which is designed to soften, straighten and protect hair. It features ionic conditioning and ceramic tourmaline technology. Other features of the VS Sassoon hair straightener include heat setting range from 170°C to 230°C and dual voltage 100-240V.
The model is designed for harder to straighten hair that may be curly or thick. It can be found to be less compact compared to other hair-straighteners produced by VS Sassoon.
The most compact: Pocket Rocket miniPRO Straightener
For those who are always on the go, the miniPRO Satin Touch hair straightener provides a compact option for all hair types. It features mini slim-line plates, a heat setting up to 200°C and is designed to straighten and curl. With its compact 15cm length and worldwide voltage, it is ideal for suitcases and gym bags.
Special feature: Wet & Dry Style Straightener
Another VS Sassoon straightener that can be an option for when you're on the go is the Wet and Dry Style straightener with ceramic plates. It is designed to use on damp or dry hair and has a temperature range from 140°C to 235°C. Its slimline with floating plates are suitable for all hair types. It also features a built in stand to prevent the straightener from rolling over and has an auto off system.
Special feature: Diamond Luxe Straightener Brush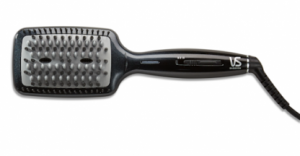 The Diamond Luxe Straightening Brush is part of a new range of hair straighteners becoming popular on the market. The Diamond Luxe Straightening Brush is a paddle brush shape with a 3D ceramic surface that allows you to brush your hair straight and smooth. It also features the ionic system, a heat setting up to 200°C and heat activated silicone bristles, which are designed to give more control.
Should I choose a VS Sassoon hair straightener?
VS Sassoon is all about providing tools and inspiration to make you love your style. With their range of hair straighteners it is a good idea to read reviews and see if the features will suit your hair type and hair needs.  If you are looking for a mid-range or a more affordable hair straightener, it may be a brand to look into for your next hair straightener purchase.
Hair Straightener Reviews & Ratings
About the author of this page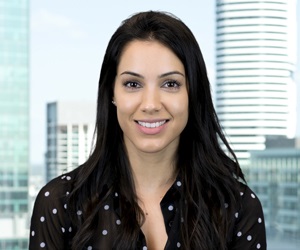 This report was written by Canstar Blue's Home & Lifestyle Content Lead, Megan Birot. She's an expert on household appliances, health & beauty products, as well as all things grocery and shopping. When she's not writing up our research-based ratings reports, Megan spends her time helping consumers make better purchase decisions, whether it's at the supermarket, other retailers, or online, highlighting the best deals and flagging anything you need to be aware of.