Another good hair day: ghd highest rated for hair straighteners
The styling stable for anyone who likes to make their hair smooth and sleek, how many of us actually understand the hot electric tool we use on our precious hair? Hair straighteners claim to do all sorts of amazing things, but what really makes the difference between having a good, reliable straightener and having burnt hair? And which brand can you rely on for the best results?
To help you decide, Canstar Blue produces an annual review of hair straighteners, with our customer ratings reflecting the opinions of hundreds of Aussies who have purchased and used a hair straightener in recent times. This is the second year of these ratings and for the second time, ghd emerged at the top of the list, earning five stars in almost every research category and leading the way from Remington (four stars), Philips (three stars) and VS Sassoon (three stars).
More on ghd shortly, but for now, let's take a look at what makes a good hair straightener, starting with the basics.
What are hair straighteners?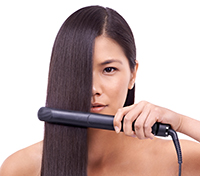 Hair straighteners are a hair styling tool designed to smooth out and flatten hair. The most common type look like a pair of tongs, with two heat plates that you press together with the hair in between, and gently pull down the lock. These are also called 'flat irons'. There are other types such as rolling or rotating hair straighteners, and straightening brushes and combs. They're powered by plugging them into a wall outlet.
What types of hair straighteners are there?
Types of hair straighteners are usually categorised by what kind of heat plate they use. There are also other differentiating features, such as plate size and overall straightener size, which are important to consider as well. Several brands produce miniature hair straighteners, designed for travel. These are rarely very powerful, because they're so small, but can be useful to keep your hair tidy when you can't lug around your full-sized straightener.
Metal or glass
common on cheaper straighteners
doesn't heat very quickly, and doesn't heat evenly which means 'hot spots' on your hair which can lead to burning and damaging it
Ceramic
common because they heat up quickly and evenly
there's a big difference between ceramic and ceramic-coated plates – if they're metal coated with ceramic, it won't distribute nor retain heat as well as fully ceramic plates
can chip over time, at which point you'll need a new hair straightener
Titanium
even better than ceramic at heating quickly and evenly, for very safe, fast and effective styling
lasts longer than ceramic and are very durable, but are more expensive
great for the ends of your hair
Tourmaline
added to plates as a coating to improve the quality of styling
tourmaline becomes negatively charged in reaction to heat, emitting negative ions which help dry the hair from inside the shaft outwards
this means hair is heated more quickly, which means you apply less heat to get your desired look and less chance of damage in doing so
also closes the hair cuticle which makes hair look shiny and healthy, as opposed to dry and damaged
eliminates static
Hair straightener features to look for
Plate size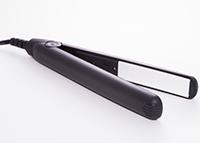 Hair straighteners come in a variety of sizes. An important consideration is the width of the straightening plates. Generally speaking, the longer and thicker your hair, the wider the straightener plate is ideal. This is because longer and thicker hair require more work to get it straight compared to short thin hair.
Heat adjustment & heat indicator
The trade-off with hair straightening is the risk of heat damage versus the heat required to get your desired look. As thicker, curlier hair requires and can handle more heat than damaged or fine hair, you'll need to choose an appropriate hair straightener temperature. It's much easier to get the right temperature for your hair when your hair straightener has variable temperature settings, but some are factory set at the 'perfect' setting.
It's also useful to know when your straightener has finished heating up. A temperature indicator can help make sure you use your straightener efficiently.
Automatic shut-off
Have you ever left the house then suddenly realised you can't remember whether or not you turned off your hair straightener? Some models come with an automatic shut-off feature, so you don't need to worry about accidentally burning the house down by leaving your hair straightener plugged in.
What are hair straightening brushes?
Hair straightening brushes are a new way to straighten hair. They're quite simple – they're a heated brush that straightens your hair as you brush. This makes hair styling faster and more straightforward, as you can brush and straighten your hair at the same time. They work faster than traditional flat irons, however aren't quite as effective at getting that perfectly dead-straight hair.
What are the major hair straightener brands?
Our customer ratings include four of the biggest names in the world of hair straighteners, but there are also others to keep in mind when considering which to buy. Let's look at the biggest brands:
ghd
Standing for 'good hair day', ghd is an incredibly popular brand of hair care products. It was so well received that for its first two years, the company didn't even need to advertise because popularity spread so quickly through word of mouth and salon recommendations. As our ratings show, ghd is as popular as ever.
Remington
Starting off as a firearms maker, Remington's personal care products range emerged as the brand expanded into other products, merged with other companies, and was sold to others until it blossomed into the diverse personal care producer of today.
Philips
Known for its incredible range of home electrical products, Philips produces both ceramic and titanium hair straighteners balancing quality with value.
VS Sassoon
This brand of hair styling tools and products was created by one of the world's most famous hair stylists, Vidal Sassoon, creator of the bob haircut. While VS Sassoon makes a wide range of innovative hair products, it tends to be one of the more affordable of the big brands.
Conair/BaByliss
Founded by a French hairstylist in the 60s, BaByliss is now part of Conair's personal care products company. BaByliss focuses on high-end electrical styling tools and working to bring new innovations to the home and the salon.
Instyler
One of the major producers of hair straightening brushes and combs, Instyler works to bring new technologies and designs to hair care tools. The brand has really picked up with the recent popularity of hair straightening brushes.
Silver Bullet
A professional brand that rivals ghd, Silver Bullet is usually more affordable but is still a high-performing product range. It's not as heavily marketed as other brands, so it's something of a hidden gem.
Loréal
This household name in hair treatment and styling products has recently branched out into styling tools. The SteamPod uses steam to smooth and treat your hair at the same time.
How much do hair straighteners cost?
The price of a hair straightener varies from as little as $10 up to thousands of dollars for lavish designer tools. You can get something very reliable for between $100 and $200 dollars. Indeed, our survey found consumers spent an average of $135 on their current hair straightener. More than half of these people (57%) admitted that brand was an important purchase decision for them.
Where can I buy a hair straightener?
You can buy a hair straightener from hair supply shops, electrical retailers, department stores, and in some cases direct from the brand's website. Different kinds of stores will carry different ranges of brands and quality.
How do I use a hair straightener?
Firstly, your hair should be completely dry, unless you have a straightener specifically designed for damp hair. It's also highly recommended to apply a heat protection spray or serum to your hair while wet to both make your straightening more effective and to protect your hair from heat damage.
Straighten your hair in sections so that they pass smoothly through the straightener and are heated all the way through from both sides. Start from as close to the root as you can get without burning yourself, gently clamp down and run the straightener down the length of your hair. Don't hold the straightener in any one place for too long, as this risks burning your hair or leaving fold marks. You may need to run the straightener over the section multiple times until you get the desired look.
Should I buy a hair straightener?
A hair straightener is a great tool if you want smooth, straight hair. But it's not the only way to have great hair. Your natural hair may be amazing just the way it is. Even if you don't want to or just can't be bothered styling your hair every day, keeping a straightener on hand can come in handy for special occasions or days where you feel like doing something different with your hair.