Adairs Pillows Review & Guide
From quilts and mattresses, to mirrors and bathrobes, Adairs offers a wide range of products to help set the mood for a good night's sleep. The different collections are available across the company's various stores – Adairs Homemaker, Adairs Kids, Adairs Outlet and Urban Home Republic. Adairs also offers a variety of products in its children's range, Adairs Kids. Some of these include wall art, gifts and toys, towels, as well as items for the nursery and laundry.
Adairs pillows are available in many sizes, including standard, king European, U-Shape and body pillows. The products in the children's range are also available in either standard size or cot size. Filling options also similarly range from synthetic fibre, goose feather, wool, natural latex and memory foam.
These pillows tend to fall in the mid-to-high price range, although special discounts are available to customers who join the 'Adairs Linen Lovers' program, with members automatically receiving 10% off full price items and 5% off sale items.
To help you navigate your way around Adairs' different stores, we have created a list featuring the different types of pillows on offer.
The Adairs Pillow Range
From spinal support to antimicrobial protection, Adairs has a different type of pillow to suit a variety of needs. Some of the pillows include:
Memory foams
Wool pillows
Latex pillows
Feather and Down pillows
Gel pillows
Allergy sensitive pillows
Kids pillows
Memory Foam Pillows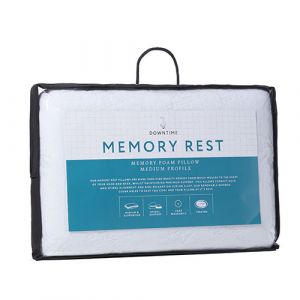 Various memory foam pillows are available from Adairs. These types of pillows may be ideal for anyone looking improve their posture or need head and neck support.   
Luxury High Loft Surround Memory Foam
The Luxury High Loft Surround Memory Foam pillow from the Downtime range is treated with Ultra-Fresh, which is said to provide spinal support and help take care of your posture while you sleep. The standard size pillow (48cm x 74cm) also includes a removable polyester casing, which can be machine washed or dry cleaned.
Memory Rest Standard Pillow
The Memory Rest pillow from Adairs' Downtime line features high density memory foam, apparently designed to follow the contour of your head and neck. This pillow may be ideal for anyone looking to correct neck and spinal alignment. The product has also been treated with antimicrobial protection to prevent the growth of bacteria and avoid causing unwanted odour.
Latex Pillows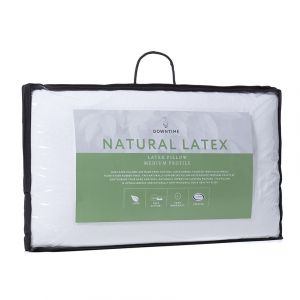 Latex pillows are said to provide a range of benefits, including spinal support and improved posture. These types of pillows are available in various styles from Adairs.  
Downtime Natural Latex Pillow
The Downtime Natural Latex pillow is one of the premium priced products available from Adairs. Created from natural latex rubber sourced from sustainable planation rubber trees, the pillow has a removable cotton velour cover and a natural Talalay latex foam core. The Talalay process used to create the latex pillow is claimed to ensure the product naturally contours to your head and neck, resulting in reduced pressure points and improved sleeping posture. The pillow is also hypoallergenic and anti-microbial.
The standard size pillow is available in two options:
Medium profile (47cm x 70cm), which has a medium loft and soft feel
High profile 45cm x 70cm), which has a with a firm feel
Minijumbuk Balance Standard Pillow
The Balance standard pillow from MiniJumbuk features wool and latex filling designed to maintain the original shape and loft of the pillow. The removable cover is also made from natural wool and cashmere, which apparently aims to help your skin breathe and keep your face dry. It is available in the standard size, in either a low profile (45cm x 70cm).
Feather and Down Pillows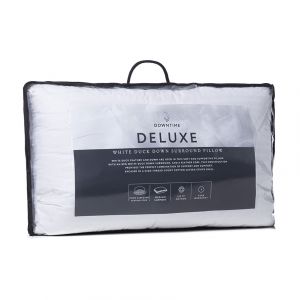 Adairs offers various types of feather and down pillows in different styles. Some of these products are available at premium prices, with many of the items containing a high thread count to create more softness than other pillows available from Adairs.
Downtime Deluxe White Duck Down Pillow
The Downtime Deluxe White Duck Down pillow is the heaviest pillow in the Downtime line. With a 450 Thread Count cotton sateen cover, the product contains 1100 grams of Duck Feather fill to help provide a high loft and soft feel.
Downtime Ultimate Siberian Goose Down and Feather Pillow
The Downtime Ultimate Siberian Goose Down and Feather pillow is one of the most expensive products available from Adairs, with the retail price of around $300. The standard size pillow is packed with a blend of Siberian Goose Down and feather, which is encased in a 480 Thread Count cotton cover with gusseted sides.
Kids Pillows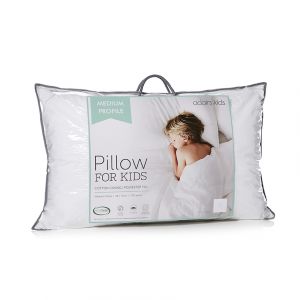 Adairs offers a special pillow range suitable for children of different ages. Most of these items have a low profile, which may provide a more comfortable option for those with smaller frames or tend to sleep on their side. Many of these pillows are made using low-allergy materials and designed to minimise strain on the head and neck.
Kids Low Profile Pillows
The MiniJumbuk collection includes the Dreamers pillow, a low profile product created using Australian wool. It is said to be designed to help the face and skin breathe naturally.
The medium profile pillow from the Adairs Kids range is ideal for older children or anyone wanting firmer support while they sleep. The low allergy product is treated with Ultra Fresh to minimise the growth of dust mites.  The Low Profile pillow from the Adairs Kids range is similarly designed to minimise any strain on the child's head or neck.
Kids Wool Pillows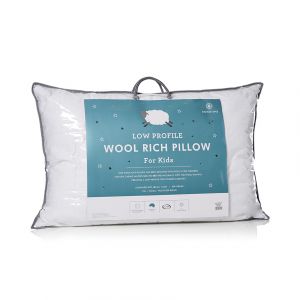 The Downtime collection includes a wool rich pillow for children. While the cotton casing is said to help give the pillow better breathability, the 60% wool fill is designed to provide a low profile. It is available in either standard (45cm x 65cm) or cot (30cm x 40cm) size.
Kids Cot Pillows
Adairs also provides cot pillows as part of its children's products range. While the item is made from low allergy polyester, the pillow is only intended for display use. This is one of the more lower-priced items available from Adairs.
Kids Memory Foam Pillows
The Memory Foam pillow from the Downtime range is said to be ideal for children due to the low height of the pillow. The high firmness of the foam is claimed to follow the shape of the child's head and neck for comfort and support.
The Memory Rest pillow from the Downtime collection is also said to provide more tailored comfort and support than other products from Adairs by using highly firm foam to mould the shape of the pillow to the child's head and neck. The removable bamboo and polyester cover is also designed to help regulate the temperature of the pillow while the child sleeps.
Should I choose Adairs pillows?
Adairs provides a wide range of pillows in different sizes and styles. Some of the pillow types available include wool, feather and down, gel, latex, memory foam and allergy sensitive. From providing spinal support to minimising bad odours, the product range extends to include various types of children's pillows to help growing bodies get a good night's sleep at every stage of their development. Have a look at our latest customer satisfaction ratings for pillows via the link below.
About the author of this page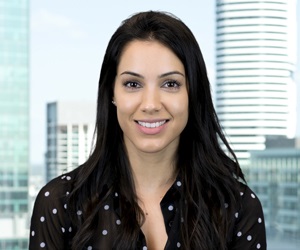 This report was written by Canstar Blue's Home & Lifestyle Content Lead, Megan Birot. She's an expert on household appliances, health & beauty products, as well as all things grocery and shopping. When she's not writing up our research-based ratings reports, Megan spends her time helping consumers make better purchase decisions, whether it's at the supermarket, other retailers, or online, highlighting the best deals and flagging anything you need to be aware of.