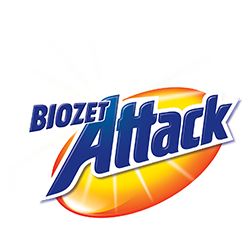 Review of Biozet Attack laundry powder and liquid
If dirty, stained clothes and fabrics make you angry, you might be drawn to the somewhat aggressively-named 'Biozet Attack' laundry detergent. But does this range of laundry powders and liquids live up to its name? Canstar Blue reviews Biozet Attack laundry detergents.
While Biozet Attack doesn't offer many different fragrances, nor special delicate formulas for special fabrics, it seems focussed on its priority of getting those clothes or that linen squeaky clean as efficiently as possible. What kinds of cleaning powers does the Biozet Attack range offer for your laundry needs? Read on to find out how to fight back against stains.
Biozet Attack Laundry Powder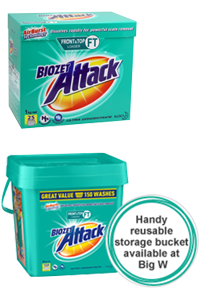 Beyond the usual suspects in laundry powder technology, Biozet Attack has a few noteworthy cards up its sleeve. The powders contain patented microcapsules (called AirBurst Technology) which contain an air bubble. When these microcapsules hit the water the air inside escapes in a tiny burst which quickly dissolves the powder so it can better penetrate into stains to produce a thorough clean. The hyperactive bio enzymes also offer more than a surface clean, purportedly penetrating deeper into the fibres themselves to lift out dirt, stains and odours, whiten whites, and prevent yellowing from accumulated sweat and sebum.
The Biozet Attack Laundry Powder is handily friendly with high efficiency machines, where laundry powders normally pose a risk of clogging things up over times. This is all rounded out with a fresh floral scent. For an even more efficient laundry run, this powder also comes in the Biozet Attack Powder Plus Softener variety, with a built-in fabric softener to leave clothes softer and easier to iron.
The original Biozet Attack laundry powder comes in 1kg, 2kg, 4kg and 6kg packs, while the Biozet Attack Powder Plus Softener comes in 1kg, 1.8kg, 3.6kg, and 5.4kg packs.
Biozet Attack Laundry Liquid

There are two different types of laundry liquid available from Biozet Attack – one designed for optimal cleaning during quick wash cycles, and one designed for a deeper clean to destroy stains and protect whites and colours.
Rapid Laundry Liquid
A quick wash doesn't need to mean a less thorough wash. The Biozet Attack 'Rapid' Laundry Liquid is made especially to give the most thorough wash during your washing machine's shortest wash cycle, saving you time, energy, water and money. The effectiveness of this is attributed to the 'Double Enzyme Bio-formula' which acts fast during washing. Working equally well in both hot and cold water, just 19mL is enough to launder a standard load.
The formula's built-in stain removers mean that the liquid can also be used for pre-treating – just pour or dab a little over the affected area, and leave to do its work for a while before running it through a regular wash cycle.
Biozet Attack Rapid is grey water and septic tank safe, containing biodegradable surfactants that break down after washing so that they can safety flow into nature. It contains no phosphorus, bleaching agents, or added fluroescers that can damage the environment or irritate sensitive skin. Usually buying liquid means going through lots of hard plastic packaging that ends up in landfill, but you can reduce your impact by refilling your bottle from easy tear and pour refill packs.
This product is available in 1L and 2.3L bottles.
3D Clean Action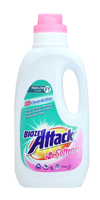 The main feature of the Biozet Attack 3D Clean Action Liquid is the PC Stain Lifter, which penetrates deeper into fibres to disintegrate tough stains while working to brighten whites and protect colours. This works in both hot and cold water, so you can wash any kind of fabric without having to trade off results and using a temperature that's safe for your fabric type.
To combine cleanliness and comfort into one product, the Biozet Attack 3D Clean Action Liquid Plus Softener (pictured) uses 'fibre smoothing essence' which is said to reduce the occurrence of wrinkles and reduces the amount of ironing work necessary. It's also lightly scented to leave clothes not just feeling but also smelling fresh.
Both the regular and Plus Softener formulas come in 1L bottles, with the regular also coming in 2L bottles.
Should I use Biozet Attack laundry products?
The brand lives up to the name, offering strong weapons for you to wield against tough stains and the sneaky yellowing of whites. The range remains simple and focussed, taking the fuss out of choosing a solid laundry product. However, if you have quite sensitive skin or wish to wash quite delicate fabrics, Biozet may not work for your particular needs. If you're happy to buy a supplementary product from a different brand for specialised laundry needs, Biozet could still be a strong choice for your everyday laundry (especially if every day offers fresh stains to fight).
About the author of this page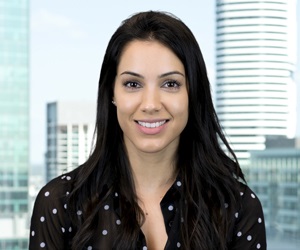 This report was written by Canstar Blue's Home & Lifestyle Content Lead, Megan Birot. She's an expert on household appliances, health & beauty products, as well as all things grocery and shopping. When she's not writing up our research-based ratings reports, Megan spends her time helping consumers make better purchase decisions, whether it's at the supermarket, other retailers, or online, highlighting the best deals and flagging anything you need to be aware of.