Bosch Lawn Mowers Review & Guide
Taking care of your lawn and garden has been an Aussie pastime for generations, with careful planning and manicured lawns the envy of neighbours. But ensuring your garden and lawn are kept in ship-shape can prove to be a lot of work, particularly when you don't have the right tools for the job. The humble lawn mower may be a staple within many garden sheds, but if you're in the market for a new one, you'll know that there's no shortage of options, regardless if you're looking for a push, ride-on or simple hand mower. One brand that offers a few options, and that you've likely heard of, is Bosch, but what exactly does it have on offer? Find out all you need to know about Bosch lawn mowers in this Canstar Blue guide.

Bosch Lawn Mowers
German brand Bosch has a finger in a lot of pies, with the conglomerate producing vehicle powertrains, industrial automation, healthcare solutions and household appliances, including power tools and lawn mowers. While it may not offer the range of other competitors, Bosch's lawn mower range includes electric push mowers and hand mowers for those who enjoy the simple things in life. Find out more about Bosch's range of lawn mowers below.
Bosch Hand Lawn Mowers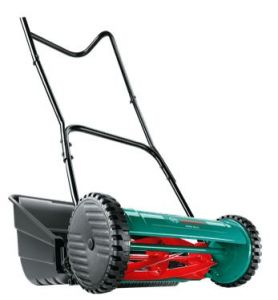 Bosch offers one hand mower model for those who don't have a lot of lawn to take care of, or simply just prefer the peace and quiet. The Bosch AHM 38 G hand mower features a 38cm cutting width, four cylinder blades alongside a lower blade and multiple cutting heights, all while weighing in under 7kg, making it easy to manoeuvre around the lawn.
Bosch Electric Lawn Mowers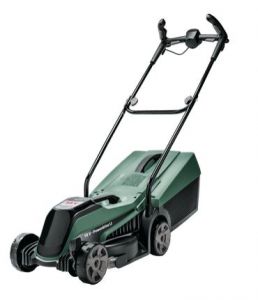 Electric lawn mowers make up the majority of Bosch's range, with both corded and cordless models available to choose from. The Bosch ARM 37 is Bosch's sole corded model, and features an ergonomic and folding handle for additional comfort and easy storage, with an engine output of 1400W, in addition to a 37cm cutting width, 40L catcher and five cutting heights.
Bosch's range of cordless lawn mowers starts off with the CityMower 18 model, which features an 18V battery power source, three cutting heights, Ergoflex handles for additional comfort, grass combs on the side of the cutting width to help get a close finish on edges and surfaces, as well as a 32cm cutting width and 31L catcher. A step up brings you to the EasyRotak 36-550 model, ideal for lawns up to 550 square metres, with a 36V battery power to help tackle the job. It also includes five cutting heights, a foldable design to easy storage, ergonomic handles for comfort, a 40L catcher and a 37cm cutting width. The top-of-the-line Bosch cordless lawn mower is the AdvancedRotak 36-750 mower, which features a ProSilence function to reduce noise, while also including seven cutting heights, LeafCollect blades to help suck up garden debris, height-adjustable ErgoSlide handles, a 50L catcher and 44cm cutting width, ideal for lawns up to 750 square metres.
---
Read more: Cheap Lawn Mowers
---
Where can you buy a Bosch lawn mower?
Bosch lawn mowers are available to purchase at hardware stores such as Mitre 10, in addition to lawn care retailers, with a 'buy online' function available through the Bosch website.

How much do Bosch lawn mowers cost?
One of the cheaper ranges available, Bosch lawn mowers cost between $100 and $500, depending on the model and retailer you purchase through. While it may not have the range of other brands, and doesn't offer any ride-on models, Bosch may be a suitable option for those who need a push mower while sticking to a budget.
Are Bosch lawn mowers worth the money?
Finding garden tools to help you keep the lawn and yard looking their best can prove to be a struggle, with not only a lot of brands to choose from, but plenty of mower types and models to also make your way through. As a result, you'll have to look into all of your options before cutting into your bank account, as you'll want to get a model that can make the yardwork easier, not harder, meaning you'll have to consider what's important to your lawncare needs, and how much grass you actually have to cut.
While it may not offer the range of other brands available, Bosch is a well-known brand within the market, and can be picked up at a lower cost than most other brands, meaning those on a budget may consider looking into Bosch's offerings. However, if you're not sure about which brand to take home, why not check out our lawn mower ratings to see what other Aussies think?
Photo Credit: Shutterstock.com
About the author of this page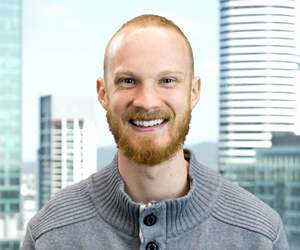 This report was written by Canstar Blue's Site Editor, Dean Heckscher. He's our resident expert on all things automotive, health & fitness, streaming and more. Dean is also one of Canstar Blue's customer research report producers, helping to turn complicated subjects into easily-digestible information for our readers. He's passionate about helping consumers make better-informed purchase decisions on all manner of consumer goods and services.