Bosch: Impressive electric lawn mowers
The Aussie tradition of getting out on a Sunday morning to mow the lawn and annoy the neighbours is a pastime passed down through many generations. You've probably got memories of helping your parents mow the lawn with a noisy, smelly old lawn mower that sent the dogs barking mad. In recent years, that old mise-en-scene has all changed. Electric lawn mowers have become increasingly popular, and Bosch is leading the charge.
You might know Bosch the best for its large range of power tools and various household appliances. The fact is, they make everything, and Bosch has produced an interesting line-up of lawn mowers that is sure to excite a few households.
What's in the Bosch lawn mowers range?
Despite being such a large company, Bosch surprisingly offers a concise range of lawn mowers. In total there are seven lawn mowers in the Bosch line-up – four cordless and three corded. Here are the specs:
| Model | Features |
| --- | --- |
| Cordless Models | |
| Rotak 32 LI | 1.3Ah voltage, 45 minute charge time, 31L catcher, 30-60mm cut height, 32cm deck, for lawns up to 150m² |
| Rotak 32 LI High Power | 2.6Ah voltage, 90 minute charge time, 31L catcher, 30-60mm cut height, 32cm deck, for lawns up to 300m² |
| Rotak 37 LI | 4Ah voltage, 140 minute charge time, 40L catcher, 20-70mm cut height, 37cm deck, for lawns 300-500m² |
| Rotak 43 LI | 4Ah voltage, 140 minute charge time, 50L catcher, 20-70mm cut height, 43cm deck, for lawns 500-800m² |
| Corded Models | |
| Rotak 37 | 1400w motor, 21Nm torque, 37cm deck, 40L catcher, 20-70mm cut height, |
| Rotak 40 | 1700w motor, 22Nm torque, 40cm deck, 50L catcher, 20-70mm cut height, leaf collector |
| Rotak 43 | 1800w motor, 23Nm torque, 43cm deck, 50L catcher, 20-70mm cut height, leaf collector |
Source: Bosch website
Bosch cordless mowers
Out of the cordless models powered by a 36V lithium-ion battery, the Rotak 43 is the most impressive. Its recommended lawn size of 500-800 square metres is class-leading, and is sure to see through most suburban blocks. According to Dixon Homes, an average block size in Brisbane for example is 600m², and choosing a battery-powered mower that can surpass this is ideal. Its massive 50L catcher also means you can go further before having to discard pesky grass clippings, and its large 43cm deck means it can cut a wide width and make short work of those grass alleys down the side of your house. This Bosch number could please many a suburban warrior.
Bosch corded electric mowers
Of the corded variety, again, the model that sticks out is the Rotak 43 (pictured). With a huge 1800w motor and 23Nm of torque, this will likely make short work of a lot of suburban blocks. With a 43cm deck, you can achieve a wider cut than the lesser Rotak models, and its 50L catcher means you can go further before emptying out the grass. Either way you go – corded or cordless – your suburban block could be more easily tamed with a Bosch electric lawn mower.
With electric mower technology continuously developing, they are now catching up to petrol mowers in terms of power and cutting ability. However, electric mowers do pose some benefits over petrol, as Bosch USA points out:
Half the noise as petrol mowers – don't wake the neighbours!
Lower running costs – no petrol or engine maintenance required
Low vibrations – not so much fatigue
Lower emissions – don't suffocate yourself with petrol fumes
Are Bosch lawn mowers worth the money?

Bosch provides a great suite of electric mowers, but pricing information is hard to come by – it usually depends on your location and the store you are shopping at. However, at the time of writing, Bunnings has an offer of $199 for the Rotak 37 corded model (pictured) which is great value in itself, and you also get the bonus of an included line trimmer as a cherry on top.
The retail price in the UK for cordless Bosch electric mowers, however, is more indicative. For the top of the range Rotak 43 lithium-ion model, the price is £649.99. This is a significant jump in price, and you are indeed paying more to go cordless. You'll have to weigh up if the convenience of lithium-ion batteries is worth it, or could you live with a corded model instead? To determine if Bosch electric lawn mowers are really worth the money, you'll have to identify whether you prefer the more expensive cordless mowers versus the cheaper corded variety.
Bosch is class-leading in the electric mowers department, but if you're still stumped, then have you considered our 2016 lawn mower customer satisfaction ratings? They may be able to help.
About the author of this page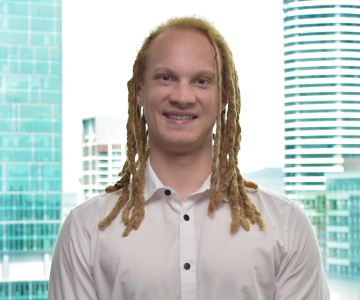 This report was written by Canstar Blue's Content Projects Lead, Dean Heckscher. He's our resident expert on all things automotive, health & fitness, streaming and more. Dean is also one of Canstar Blue's customer research report producers, helping to turn complicated subjects into easily-digestible information for our readers. He's passionate about helping consumers make better-informed purchase decisions on all manner of consumer goods and services.