Moving into a house and having your own slice of land to call your own is part of the Australian dream, but there's a lawn to be mowed as well. Apart from Barry across the road who mows in thongs and short football shorts every Sunday, not many people seem to enjoy lawn mowing, and want to spend the least possible on their mower. With Canstar Blue research showing that consumers spend $484 on average on their latest lawn mower purchase, it is little wonder that many of us want to spend much less. And the fact is you can, with some powered lawn mowers costing only a few hundred dollars. However, does that mean you should? Review some of Australia's cheapest lawn mowers and whether they are worth the money in this Canstar Blue guide.
Cheap Lawn Mowers
If you're looking to give the garden a haircut, but don't have a lot of budget to play with – or you're just not keen on spending big on a mower in general – what lawn mowers do you have at your disposal? Turns out quite a bit, although the cheapest lawn mowers available are all hand mowers, those non-electric push mowers that are realistically only good for small patches of lawn, but if you're after something with a bit more power to it, what brands offer a cheap lawn mower. You can purchase a lawn mower from under $400 from the following brands:
Ozito
Ryobi
Makita
ALDI Gardenline
Sanli
Greenworks
Cheap Ozito Lawn Mowers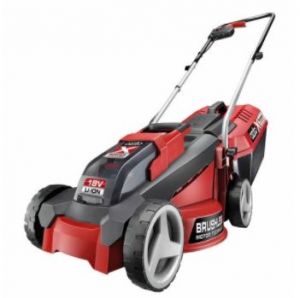 Sold exclusively through Bunnings, Ozito lawn mowers are only available as either hand or electric types, meaning while it may not have the range of other brands, it certainly isn't as expensive as some of its competitors. Its range begins with the 18V Cylinder Lawn Mower, which is an electric version of the classic hand mower, and comes with five cutting blades, a 45L catcher and four cutting heights. Ozito's entry level push mower is the PXC 18V Brushless model, which features a 25L catcher, 30cm cutting width, three cutting heights, foldable handle, and weighs just over 10kg. If you need something with a bit more grunt to it, the Ozito PXC 2x18V Telescopic model may be more your speed, including two 18V batteries, a telescopic handle for easier use, six cutting heights, 45L catcher, 37cm cutting width and safety start switch for additional safety.
Cheap Ozito mowers include:
Ozito PXC 18V Cylinder Lawn Mower – $169RRP*
Ozito PXC 18V Brushless Lawn Mower – $179RRP*
Ozito PXC 2x18V Telescopic Lawn Mower Kit – $375RRP*
Cheap Ryobi Lawn Mowers
One of the more prominent power tool brands available, Ryobi offers predominantly electric lawn mowers, but does offer a few petrol mowers as well. The cheapest model available in the Ryobi lawn mower range is the 1300W corded lawn mower, which features a 13inch cutting width, five cutting heights, adjustable collapsible handle, 35L catcher and weighs 9kg. If you're looking for a bit more freedom, you can also pick a few cheap cordless mowers, including the 18V One+ range, with a 33cm and 37cm cutting width available. The 33cm model also features a 35L catcher, five cutting heights and instant start, while the 37cm includes a 40L catcher and six cutting heights.
Cheap Ryobi mowers include:
Ryobi 1300W 330MM Lawn Mower – $149RRP*
Ryobi 18V One+ 33cm Lawn Mower – $279RRP*
Ryobi 18V One+ 37cm HP Lawn Mower – $329RRP*
Cheap Makita Lawn Mowers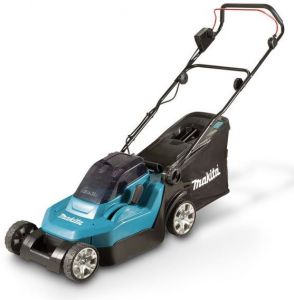 While not the cheapest brand available, Makita does offer one model under the $400 cut off, the 18Vx2 Lawn Mower. It features 13 cutting heights, a 40L catcher with a grass level indicator, 15inch cutting width as well as an optional mulching accessory to help you take proper care of the lawn. It also includes an easy start button, as well as XPT Technology to help protect the mower from dust and moisture while you're out on the tools, lending you a helping hand when it comes to the maintenance side of things.
Cheap Makita mowers include:
Makita 18Vx2 380MM Lawn Mower – $375RRP*
Cheap ALDI Lawn Mowers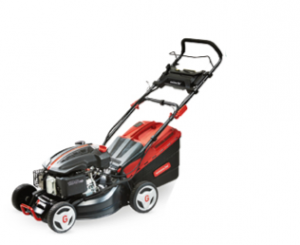 Supermarket giant ALDI brings a lot to the table with its Special Buys range, with shoppers treated to plenty of surprises. Its range of Gardenline Lawn Mowers may not be able to compete with the established mower brands, but has offered a petrol and electric model in the past – including a 161cc 4-stroke petrol mower and a 2x20V cordless electric mower – both of which cost under $200. However, the beauty (and pain) of ALDI Special Buys is that they often only come out once in a blue moon, so if you're in the market for a cheap mower quickly, ALDI may not be the option for you.

Cheap Sanli Lawn Mowers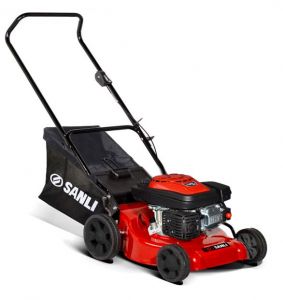 A lessor-known brand, Sanli may be worth investigating if the price tag is a big factor in your decision-making, with the brand offering a number of models under the $400 mark. The Bullant is the entry-level model from the brand, and features a 125cc 4-stroke engine, comfort grip handles, 16inch cutting width, seven cutting heights and 8inch rear wheels for additional stability and traction. The Sanli Lazer Cut offers a bit more, including a 140cc engine, 16.5inch cutting width, 10 cutting heights and a 4-blade cutting system to help make short work of the yard.
Cheap Sanli mowers include:
Sanli Bull Ant Lawn Mower – $299RRP*
Sanli Lazer Cut Lawn Mower – $359RRP*
Cheap Greenworks Lawn Mowers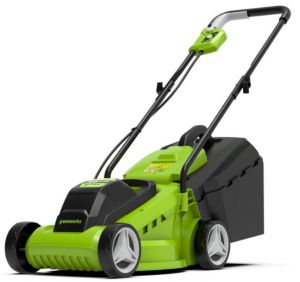 A new brand in the scheme of the Australian lawn mower market, the Greenworks brand was founded in 2009, with its range of lawn mowers first rolling off the production in 2011. While it may only have a few mowers in its range, it might be worth considering if you're short on cash while looking to make your lawn shorter. The Greenworks 24V model includes a 32cm cutting width, foldable handlebar, 30L catcher, easy-push start button, and weighs in at just over 8kg, making it easier to manoeuvre around the yard.
Cheap Greenworks mowers include:
Greenworks 24V Cordless 32cm Lawn Mower – $249RRP*
*All prices are taken from respective brand websites, accurate as of 16/11/2021.

Are electric lawn mowers cheaper than petrol mowers?
Choosing between an electric and petrol lawn mower has long been a debate for gardening enthusiasts, with each coming with pros and cons, but which one is cheaper? Generally, electric mowers are cheaper, as they often come with smaller engines and builds, along with less moving parts, meaning they're easier to manufacturer. While the final cost will be dependent on the brand, model and any features attached, if you're looking to lessen the blow on your bank account, an electric mower may be the way to go.
Are cheap lawn mowers worth buying?
You may be lured in by the cheap price, but do cheap lawn mowers really make the cut? The answer is: maybe. If you have a big lawn, spending more on a mower may save a few headaches in the long run, as the more expensive a mower is, the more features and power it will generally come with. Cheap mowers might be ideal for the modern suburban backyard, but are often light on power and features, making them suitable for those with smaller lawns to take care of, or for grass that doesn't get too unruly.
As with most purchases, you often get what you pay for, meaning that a cheap lawn mower may not be able to completely transform your lawn from the wild jungle to a pristine landscape, but if you're looking for something that will simply get the job done and don't want it to cost you an arm and a leg, opting for a cheaper model may be worth looking into.
Photo Credit: Tretyakov Viktor/shutterstock.com
Original Author: Harrison Astbury