IKEA Mattress Review & Guide
According to IKEA, "sleep is too important to be treated lightly", so choosing the right mattress should take some time. IKEA has value at the heart of its business, selling all mattresses for under $1,000, with a 25-year guarantee giving you a peace of mind. But does IKEA have the best mattress for you? Find out with this Canstar Blue review.
The IKEA mattress range consists of firm or medium-firm mattresses. These can also be paired with its slatted bed bases or mattress bases, depending on the firmness you're looking for. Most mattresses are roll-packed for you to take home with apparent ease. While it's stated that you can use the roll-packed mattresses straight away, they do require approximately 72 hours to regain their full shape, according to IKEA. The following video explains all.
IKEA Spring Mattresses
IKEA claims its spring and pocket-spring mattresses distribute body weight evenly and help keep shape. The open spring construction is also said to allow air circulation, providing a cool mattress feel.
IKEA Sprung Mattresses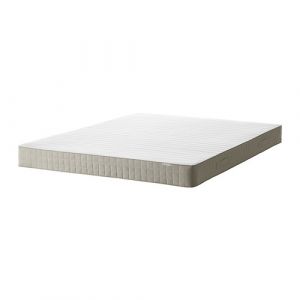 All mattresses in this IKEA range use Bonnell springs to provide 'all-over support' and are designed with polyester and cotton material. The mattresses are also one sided so they don't require flipping. In this range you will find four models including:
Husvika mattress – $129
Jömna mattress – $199
Hafslo mattress – $299
Hamarvik mattress – $399
The Husvika mattress is said to have a firm feel and is designed to fit a day-bed or children's extendable bed. The Jömna only comes in a double and single size, while the Hafslo and Hamarvik are available in a queen, double and single. If you're after a firm feel, the Hafslo mattresses is stated to be the firmest in the range, using thicker Bonnell springs and less foam.
IKEA Pocket Spring Mattresses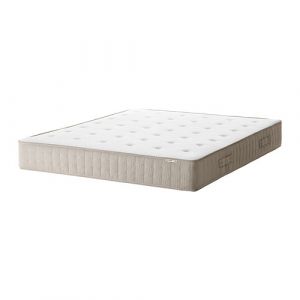 These mattresses are stated to have a 'generous' layer of soft fillings for comfort and support. All are designed with stretch fabric on the topside, which is said to move with you. The mattresses are also one sided so they won't require flipping. In the pocket spring mattresses line you will find:
Hövåg mattress – $499
Hyllestad mattress – $599
Hokkåsen mattress – $799
Hesseng mattress – $999
The pocket springs in this range are claimed to work individually to contour the body for support. The Hyllestad and the Hokkåsen mattresses feature a layer of memory foam to contour your body shape and relieve pressure. The Hokkåsen also has an additional soft layer of mini pocket springs, totalling 161 mini pocket springs/sq.m and 185 pocket springs/sq.m.
At the top of the range, the Hesseng mattresses have a focus on natural materials such as using natural latex, horse hair, cotton, lyocell and wool. Materials used are also claimed to reduce moisture, providing a cool sleeping temperature. There are five comfort zones for support at the shoulders and hips, using 188 pocket springs/sq.m.
IKEA Foam & Latex Mattresses
The IKEA foam and latex mattresses are designed to absorb movement and in particular stop partner disturbance. IKEA allows you to select by firmness, material and price for this range. The benefit of this range is that the covers are removable and are machine washable.
IKEA Foam Mattresses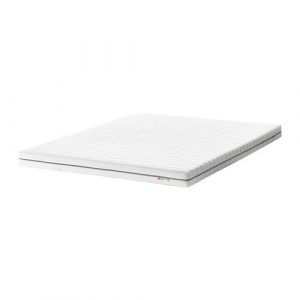 The IKEA polyurethane foam mattresses are designed with cotton and polyester material and claimed to be resilient. You can choose from double, queen or single in the following two models:
Moshult mattress – $149
Malfors mattress – $199
IKEA Latex Mattresses
This mattress range uses latex for its core support. It's claimed to relax the body by contouring to your body shape. It also uses comfort zones for 'precise support' and to help relieve any pressure, targeting shoulders and hips. It has a layer of soft fillings for support and is available in a double, queen or single size. There are two models in the range:
Morgedal mattress – $799
Matrand mattress – $849
Both mattresses are reported to have a medium firm feel. The Morgedal mattress is also stated to be designed with holes inside the mattress to allow for air circulation, claimed to provide a dry and healthy sleep environment.
IKEA Memory Foam Mattress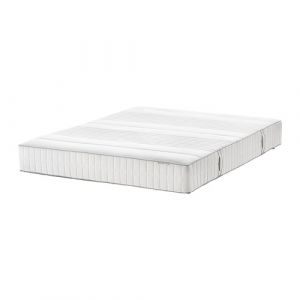 An important element to keep in mind with memory foam is the density. If it's too low, it may be more prone to breakdown, but if it's too high, it might be too firm. There is only one memory foam mattress that IKEA currently produces:
The Myrbacka uses 50kg/cu.m of memory foam to provide a firm feel. The layer of memory foam is claimed to mould to your body shape and relieve pressure. It features comfort zones for precise support as the above mattresses and has a layer of soft fillings for support. It's designed with lamb wool filling to provide a soft surface and even temperature. It comes in a double, queen or single size.
Should I go home with an IKEA mattress?
IKEA'S fairly concise range of mattresses provides no-frill options which may suffice for your sleeping needs if you're not requiring anything special. It offers both spring and foam mattresses with a medium or firm feel, giving you several picks to choose from. With all mattresses sitting under $1,000, you'll also not break the bank. You can find the Husvika mattress for as low as $129.
For the top of the range, the Hesseng spring mattress is designed with five comfort zones and is claimed to provide plenty of support. The Myrbacka mattress, meanwhile, comes equipped with memory foam to help distribute weight evenly.
IKEA can certainly do you a bargain on a new mattress, but depending on your personal needs, it may be worth shopping around to see what other brands can offer. IKEA is unlikely to be beaten on price, but perhaps not so much on quality. You may like to consider online ratings – such as ours – to help find the right mattress to suit your sleeping needs.
About the author of this page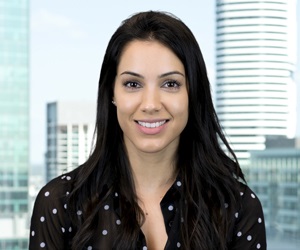 This report was written by Canstar Blue's Home & Lifestyle Content Lead, Megan Birot. She's an expert on household appliances, health & beauty products, as well as all things grocery and shopping. When she's not writing up our research-based ratings reports, Megan spends her time helping consumers make better purchase decisions, whether it's at the supermarket, other retailers, or online, highlighting the best deals and flagging anything you need to be aware of.