Koh Cleaning Products Review & Guide
First established in 2016, Koh cleaning products have grown to reach cult-level status amongst cleaning-mad shoppers, with its range of surface, dish and toilet cleaners evidently hitting the mark. But with a cleaning market seemingly bursting at the seams, what exactly does Koh have on offer, and is it worth taking home with you? Find out all you need to know about Koh in this Canstar Blue guide.
Koh Cleaning Products
Koh offers a number of products, split into a surface, dish and a toilet cleaner range, along with refills and starter kits for those looking to top up or really go on a cleaning tear. The majority of Koh products are said to be asthma and allergy friendly, GECA Certified, free from harsh chemicals usually associated with cleaning products, as well as packed in refillable, reusable and recyclable packaging.
Koh Surface Cleaning Products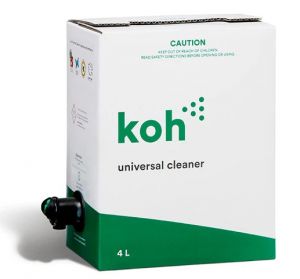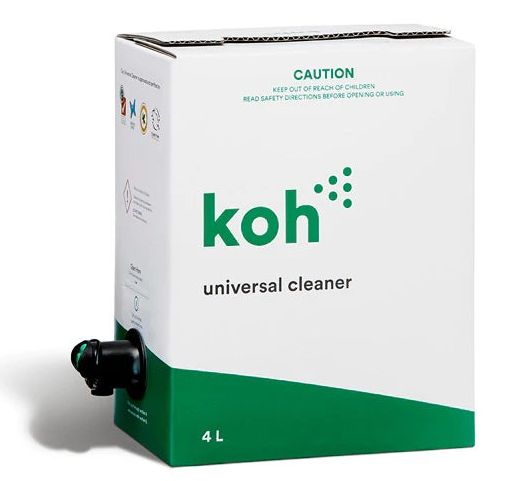 Koh's range of surface cleaning products covers its flagship Universal Cleaner, sanitisers, spray bottles, sponges, cloths and mops. Koh's Universal Cleaner is available in 1.8L or 4L packets, and can be used on multiple surfaces, including the kitchen, bathroom, mirrors, hard floors as well as wood, stone, stainless steel and laminate surfaces.
The Universal Cleaner can be used with the Atomiser Spray Bottle or Spray Mop to help clean larger areas of your home, with mop pads, grout brushes and universal cloths also available to purchase to help stock you up for the next big clean.
Koh Dish Cleaning Products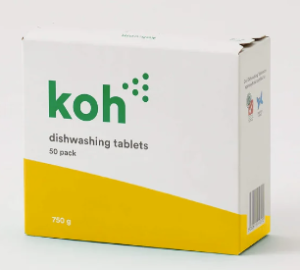 For those looking to get the kitchen sparkling clean, Koh offers dishwashing tablets, dishwashing liquid, sponges and hand soaps for when you're done tidying up. The Dish Foam Liquid comes in a 1.5L packet, and can be used in the Koh spray bottle or traditional dish wands, along with straight in the sink if you're in the mood for a classic handwash. Formulated with Vitamin E, the Dish Foam Liquid is suitable for those with sensitive skin, and can help clean baked on grease after soaking, along with cleaning cutlery and plates and other light cleans.
The Koh dishwashing tablets are available in packs of 50 tablets, which are made with biodegradable wrappers, allowing you to simply place them in the dishwasher. The tablets are also free from phosphates, microbeads and are safe for septic systems.
Koh Toilet Cleaning Products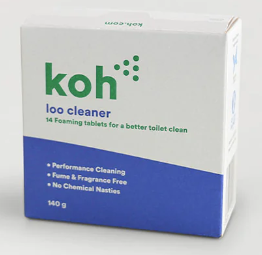 If the toilet needs a good clean, Koh offers Loo Cleaner tablets, along with a Loo Blade toilet scrubber. The Loo Cleaner tablets come in a packet of 14, with the foaming tablets fume and fragrance free, along with being septic, greywater and bio-cycle safe. Simply drop a tablet in the toilet and let it get to work!
Koh Starter Kit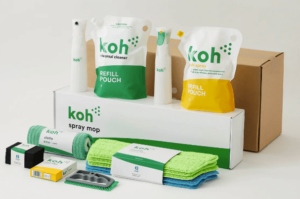 If you're not sure what all the fuss is about, Koh offers a range of starter kits for shoppers to try out, with discounts occasionally available on the kits to help you dip your toe in. The Complete Starter Kit from Koh features an Atomiser Spray Bottle, 1.8L packet of Universal Cleaner, a Spray Mop, four Universal Cloths, Grout Brush, four Diamond Sponges, multiple mop pads, Dish Liquid, Foaming Spray Bottle and a four-pack of dish sponges to help cover multiple areas of the house.
Where can I buy Koh products?
Koh is available to purchase online via its website, or through Woolworths supermarkets, with Koh also offering free shipping on orders over $99 through its website.
Are Koh cleaning products worth buying?
The unfortunate thing about cleaning is that you have to keep doing it, regardless of how good of a job you did the first time around! But a good cleaning product can take some of the elbow grease out of the ordeal, and potentially even cut down on how often you have to do the chores, meaning they can sometimes be well worth their weight in gold.
Koh is a relatively recent entry to the Australian cleaning product market, and may not have as extensive a range as some other brands, but consumers seem to love the products it does offer, with its Universal Cleaner rated at the top in Canstar Blue's multipurpose cleaner ratings multiple times, indicating that shoppers who have used the brand stand by it. And with an emphasis on using less harsh chemicals and more sustainable packaging, Koh looks to stand out from other brands, making it potentially worth investigating for those environmentally conscious.
Photo Credit: Shutterstock.com
About the author of this page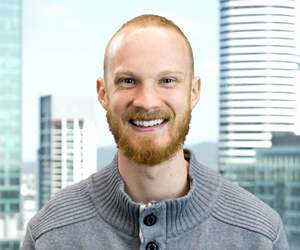 This report was written by Canstar Blue's Site Editor, Dean Heckscher. He's our resident expert on all things appliances, vehicles, health & fitness, streaming and more. Dean is also one of Canstar Blue's customer research report producers, helping to turn complicated subjects into easily-digestible information for our readers. He's passionate about helping consumers make better-informed purchase decisions on all manner of consumer goods and services.