Matador BBQs Review
Matador is a well-regarded brand among Australian consumers for its BBQs and outdoor kitchens. With BBQs being an essential part of an Aussie lifestyle, Matador aims to provide both quality features and designer looks. Ranging from two to six burners, Matador packs a number of BBQs to suit your family size and backyard style. Let's dive into the specs and features of each model to see how they stack up.
Matador Artiste BBQ Range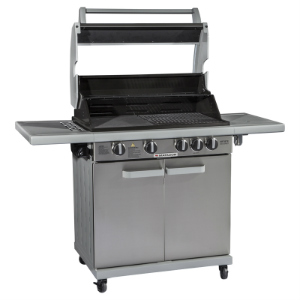 The Artiste BBQ range from Matador has been designed for all the BBQ aficionados who want to take their BBQs to the "next level". It is a range that is claimed to pack a number of features for healthier cooking. The full range features a 304 grade stainless steel construction with satin enamel cooking surfaces and enamel cast iron burners. These are available both in LPG and natural gas fuel types.
Artiste 2 Burner
The Matador Artiste 2 Burner could be ideal for small outdoor areas. It has double skin doors and zoned cooking options with a viewing window, which allows you to watch over your mouth-watering stake and snags while they grill. There doesn't seem to be much in the way of additional features, but it does have a compact design that can fit well on a patio or balcony. If you're cooking for just 1–3 people, a BBQ with two burners, such as this one, should suffice.
Artiste 4 Burner
To help with barbecuing for family and friends, the Artiste 4 Burner has an additional side burner and wok burner, as well as an extra enamel coated warming rack. Similarly to the previous model, this one is designed with a zoned cooking feature and viewing window to prepare the meal to your liking. It also features auto ignition and a temperature gauge. With four burners in total, it's designed to get the job done for when you have a few extra guests around.
Artiste 6 Burner
The Artiste BBQ range also extends to 6 burners. Although without any additional features other than what is included in the Artiste 4 Burner BBQ, this model may be a good choice for entertaining family and friends with its addition of two extra burners.
Artiste 4 Burner Kitchen BBQ
For a complete outdoor kitchen model, the Artiste 4 Burner Kitchen BBQ features a grill and hotplates as well as a teppanyaki unit, making you a true artist of barbecuing. With this model, you'll also find all the same design functionalities as the Artiste 4 Burner, including zoned cooking, temperature gauge and viewing window. Additionally, it comes with a granite benchtop, which surrounds the sink and has a WELS 4 Star 7.5L/min rating for its hot and cold mixer tap.
Matador Boss BBQ Range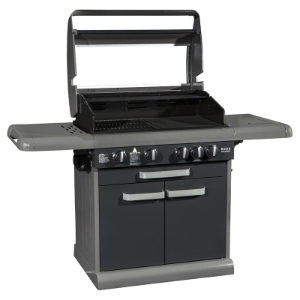 The Matador Boss range combines a number of premium features with a bold look and is available both in LPG and natural gas fuel types. The full range is constructed with black powdered 304 grade stainless steel as well as a self-cleaning hood. Since no one enjoys cleaning a BBQ, the self-cleaning function may provide convenience to the barbecuing process.
On the basis of design, the Boss range from Matador has double skin doors with soft closing draws, as well as a viewing window, which you can also find in the Artiste BBQ range. All models are equipped with an enamel coated warming rack and include a hotplate and grill with an auto ignition system.
Boss 3 Burner
For a meal with the works, this model has three burners and is claimed to provide enough versatility to handle whatever you throw at it. It doesn't feature a side burner but does have a drop down side shelf with a bottle opener. Similarly to the Artiste BBQ line above, you'll also find zoned cooking areas and a temperature gauge.
If you are after a BBQ with extra burners but the same features, Matador provides the following Boss models:
Boss 4 Burner: $890
Boss 6 Burner: $1,050
Boss Built-In BBQ
The built-in design is aimed to fit right into your outdoor space and lifestyle. This also allows you to customise your cooking area. It's available with the 4 and 6 Burner BBQs:
Boss 4 Burner Built-In: $699
Boss 6 Burner Built-in: $799
Boss 6 Burner Kitchen BBQ
Besides the features, which are included in the full Boss range, this outdoor BBQ kitchen is equipped with a granite benchtop and a rotisserie as well as a wok burner and rear radiant burner. With a zoned cooking area and sleek soft-close draws, Matador boasts a simple design with this model. Similarly to other Matador BBQs, it is designed with a temperature gauge and viewing window to help cook your meal to "perfection" but this will ultimately come down to skills of the BBQ chef. The Matador Kitchen BBQ sink has a WELS 4 Star 7.5L/min rating with its hot and cold mixer tap.
Matador Titan BBQ Range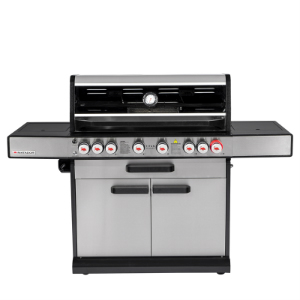 For the 'BBQ legend', the Titan range from Matador is designed with strong lines and tough features. Similarly to the previous ranges, it uses gas as its fuel type, which is a popular choice for Australians. The full range features a hotplate, grill and side burners. It has an auto ignition type and although a rotisserie is not included, this feature can be installed with these models.
Titan 4 Burner
The Titan 4 Burner features a new sear burner for high output cooking, as well as a built-in chopping board, ice bucket and bottle opener. It's all you will really need for entertaining! The construction is the same as the previous ranges with zoned cooking, a temperature gauge and viewing window. It uses soft close draws and a self-cleaning hood, making the afternoon barbecue a smooth process. It also features a ceramic rock flame tamer, warming rack and has backlit knobs and hood light, as well as wheels for moveability.
Titan 6 Burner
This model comes on wheels, giving you easy manoeuvrability around your backyard. It's similar to the Titan 4 in terms of its construction and features, but has an additional two burners for a larger capacity barbecuing.
Titan Built-In BBQ
If you're after a Titan BBQ with a lower price that also allows you to customize your cooking area there are built-in options available:
Titan 4 Burner Built in: $799
Titan 6 Burner Built in: $899
Titan BBQ Kitchen
For serious BBQ enthusiasts, this stainless steel kitchen BBQ with enamel cast iron burners and cooking surfaces may be a nice addition to your backyard. It features a stone benchtop, large pot drawers and a fridge cupboard. If you're looking to store your BBQ cooking pans and utensil all in the one place, this may be a BBQ design for you. It also has an enamel coated warming rack and new sear burner, giving you high output cooking. Despite its numerous functionalities, for this premium model you can expect to pay over $3,000.
Should I go home with a Matador BBQ?
Matador BBQs are aimed to help release the chef in you and impress your friends and neighbours the next time you're hosting. The price, however, tends to sit in the mid to high-end category and as soon as you add a few extra burners, the prices start to rise and can leave a fair hit in the bank account. It would be wise, therefore, to consider how often you'll be using the BBQ and for how many people you're going to be cooking for before you make the purchase.
For the price you will find a number of notable design features, including the stainless steel construction for durability and a self-cleaning hood in the Boss and the Titan ranges for some additional convenience. Depending on if you are a barbecue artist, the boss, or a powerful titan in the backyard, Matador has an extensive range of BBQs for your consideration.
About the author of this page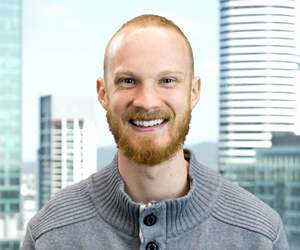 This report was written by Canstar Blue's Content Projects Lead, Dean Heckscher. He's our resident expert on all things automotive, health & fitness, streaming and more. Dean is also one of Canstar Blue's customer research report producers, helping to turn complicated subjects into easily-digestible information for our readers. He's passionate about helping consumers make better-informed purchase decisions on all manner of consumer goods and services.