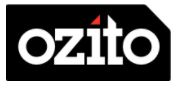 Ozito Lawn Mower Review & Guide
The lawn can be a pride and joy for some, or just another entry on the weekend 'to-do' list for others. But for those who enjoy getting outside and transforming the jungle into a pristine landscape, choosing a lawn mower to take into battle with you can prove to be just as tough, with no shortage of options available in Australia. One such option is Ozito, a brand that covers a wide range of power tools for DIY enthusiasts to choose from. But what does Ozito have on offer in its lawn mower range, and are they worth looking into? Find out all you need to know about Ozito lawn mowers in this Canstar Blue guide.

Ozito Lawn Mowers
An Australian brand, Ozito was launched in 1993, and operates under the Einhell group overseas. Offering a line-up of power tools, power cleaner pool pumps, in addition to garden tools, such as leaf blowers, chainsaws and lawn mowers, Ozito's range of mowers primarily focusses on electric push mowers, but does offer hand mower models as well. Find out more about Ozito's range of lawn mowers below.
Ozito Hand Lawn Mowers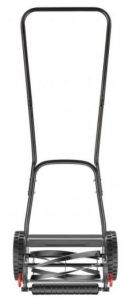 Ozito offers one hand lawn mower model – the Push Reel Mower. Featuring a 30cm cutting width, multiple cutting heights (between 14-42mm), self-sharpening blades to help cut down on maintenance, a blade guard for additional safety, slip-resistant wheels to help you stay on course, with the option to equip an 18L catcher to help keep hold of all the clippings also available.
Ozito Electric Lawn Mowers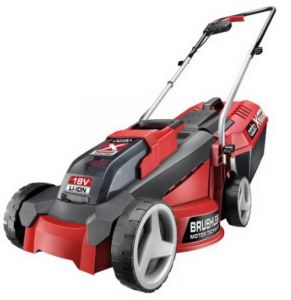 The majority of its range, Ozito offers a number of electric lawn mowers, including corded and cordless models. The entry level electric model is the Ozito 18V cylinder lawn mower, which is an electric hand mower model, ideal for smaller yards, or those who don't need a lot of power. Featuring five blades and a 38cm cutting width, the model also includes a 45L catcher, four cutting heights and adjustable ergonomic handle. If you're after a corded model for your small patch of lawn, Ozito offers the 1200W and 1500W model, with the 1500W including five cutting heights, 36cm cutting width, 38L catcher, safety start switch and thermal overload protection to prevent overheating.
Ozito's cordless lawn mowers includes the 18V Brushless mower, which features a 30cm cutting width, three cutting heights, 25L catcher and integrated carry handle, ideal for when you need to get it in and out of the garden shed. Also available is the 2x18V mower, which includes five cutting heights, safety start, adjustable handles, 30L catcher and a 33cm cutting width, suitable for those who have a bit more lawn to take care of.
---
Read more: Cheap Lawn Mowers
---
Where can you buy a Ozito lawn mower?
Ozito lawn mowers are exclusively available to purchase at Bunnings Warehouse, with currently no option to purchase via the Ozito website.

How much do Ozito lawn mowers cost?
One of the cheaper ranges available, Ozito lawn mowers cost between $100 and $400, with individual lawn mowers and kits available to purchase.
Are Ozito lawn mowers worth the money?
Equipping yourself with the right tools for the job can be a big part in tackling the garden, and can often be the difference between spending a lovely time getting your lawn nice and neat, or sweating away for hours trying to get the job done before the sun goes down. While Ozito may not offer the widest range in comparison to other brands, and those looking for a ride-on mower may have to go elsewhere, it does offer a few options for the price-conscious green thumb to consider.
However, while picking up a mower for a bargain may tempt some, it's best to consider all of your options before purchasing, as one model or brand may suit your lawn size and terrain better than others, or may come with additional features and functions to make mowing quicker, or more comfortable. And if you're still not sure about where to start looking, why not check out our lawn mower ratings to see what brands are on offer.
Photo Credit: Shutterstock.com
About the author of this page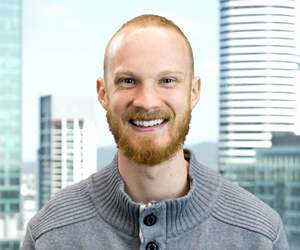 This report was written by Canstar Blue's Site Editor, Dean Heckscher. He's our resident expert on all things automotive, health & fitness, streaming and more. Dean is also one of Canstar Blue's customer research report producers, helping to turn complicated subjects into easily-digestible information for our readers. He's passionate about helping consumers make better-informed purchase decisions on all manner of consumer goods and services.