Ozito: Cheap lawn mowers that pack a punch
If you've been paying attention to the news lately, you'll realise that Masters Hardware has closed its doors. Read: Bunnings Warehouse smashes it out of the park when it comes to big-box hardware. They specialise in all things 'DIY' and 'Home improvement' – and lawn mowers are of no exception. One of the more popular brands at Bunnings, Ozito home and garden appliances, has proven reliable and great value for money. What can be said for Ozito lawn mowers, and how do they stack up? Continue reading to see if buying an Ozito lawn mower from Bunnings is a worthwhile endeavour.
What's in the Bunnings Ozito lawn mowers range?
Unlike many brands, Ozito take the environmentally-friendly approach and offer electric mowers exclusively. Not only is huffing petrol of a morning a thing of the past, you also won't be annoying your neighbours and possibly ending up on the nightly news segment: "Neighbours from Hell". Back to the lawn mowers and let's have a brief overview of what the Ozito range, exclusive to Bunnings, can offer. As you'll discover, they are some of the cheapest lawn mowers around.
| Model | Features | Price RRP |
| --- | --- | --- |
| 18v Cordless | 2x 18v lithium ion batteries, two fast chargers, 300 sq. m. mowing range, 25-75mm cutting height | $399 |
| Ecomow 1400w | 1400w motor, 38cm deck, 35L grass catcher, 6 height adjustments, 25m extension cord | $179 |
| Ecomow 1000w | 1000w motor, 320mm deck, 30L catcher, 3 height adjustments, 25m extension cord | $119 |
Source: Bunnings
The best of the Bunnings bunch?
The most interesting model out of the bunch is the 18v Cordless model (pictured). If you liked the idea of an electric mower, but put off by the pesky extension cord, then this baby may be for you. Its 300 square metre range may not seem like much, but the fact is that a lot of suburban blocks today don't feature yards much bigger than that. Plus with two batteries, you can reload the mower faster than Arnie with his guns in Terminator. For $399, it's the priciest unit in Ozito's line-up, but you'll find that by comparing different mower brands, it's at the cheaper end of the market.
Battery vs corded electric lawn mowers 
The main drawback with a battery-powered mower is that they lack strength compared to petrol and corded electric models. If your yard is all but the most bog-standard suburban lawn, the cordless mower may struggle. If you want something with a bit more juice, then consider Ozito's corded electric models.
For the price they are, the two corded models pack a punch. Some might say they are a cut above the rest. 1400w is a serious package that could potentially cut through some of those tougher lawns out there. If you've got some bullish buffalo grass that has been left for a while, this bad boy (pictured) may be up your alley. With six height adjustments you've got precision, and with an ergonomic handle you've got manoeuvrability. Its 38cm deck is moderately-sized, and makes sure you get the most bang-for-cut out of the mower for your lawn. The Ecomow 1400w is a great mower at a price swallowable for many a homeowner.
The cheapest of the set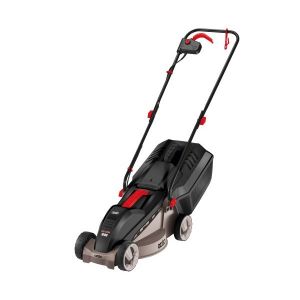 The 1000w Ecomow is much the same, but with a smaller deck, less power, and hence a lesser price. It also features only three cutting height adjustments; at 60 less monies, it might be more up your alley than the 1400w edition. It should be cut out for the average suburban lawn, but may struggle with the larger, older blocks. However, for many people the 1000w Ecomow may just be 'good enough' for what they need.
You might be asking for the accessories at this point. The good news is that Ozito offer two key accessories, and one isn't even really an accessory – it's a hand-push lawn mower. Ozito have an 18L grass catcher for $19.97 to go with your hand-push mower that is $59 from Bunnings. If you've only got a small strip of grass that doesn't justify pulling out the powered mower, then this hand-push set-up may be for you, and for a much cheaper price than Ozito's powered varieties.
Are Bunnings Ozito lawn mowers good value?
Exclusive to Bunnings Warehouse, you'd suspect that these mowers to be of a cheaper price, and you wouldn't be wrong. Many brands have mowers into the hundreds, and sometimes thousands, but Ozito have their line-up aimed squarely at the "sometimes" mowing person with a smaller lawn who doesn't want anything big or fancy… or expensive. In fact, Ozito earned five stars for value-for-money in our customer satisfaction ratings, and was the only brand to do so.
At under $400, the 18v cordless mower is the most expensive in Ozito's range, but it still comes significantly cheaper than much of the competition's offerings. Ozito's corded electric models also represent great value at under $200. While Ozito's range may not be up to the task of larger, tougher lawns, they represent a very viable choice for suburban dwellers across Australia. While exclusive to Bunnings, the sheer number of Bunnings stores around the country means you won't be struggling to hunt an Ozito mower down.
About the author of this page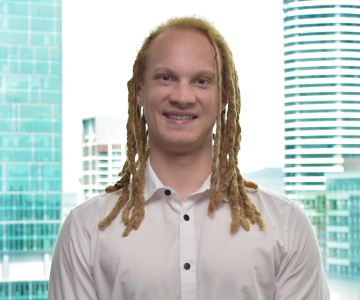 This report was written by Canstar Blue's Content Projects Lead, Dean Heckscher. He's our resident expert on all things automotive, health & fitness, streaming and more. Dean is also one of Canstar Blue's customer research report producers, helping to turn complicated subjects into easily-digestible information for our readers. He's passionate about helping consumers make better-informed purchase decisions on all manner of consumer goods and services.