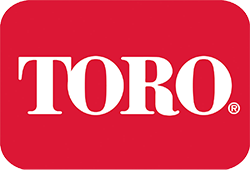 Is a Toro mower the bull you need for your lawn?
Whether you live on a small suburban block close to the city, or on acreage in a regional area, Toro likely has a lawn mower for you. Based in the US, Toro has been around for more than 100 years, including about 90 years in Australia. Notably, its wide range of mowers is used at lauded sports arenas such as the MCG, Suncorp Stadium and Adelaide Oval. While your lawn probably won't have 11 men or women dressed in white on it, Toro does produce a range of consumer-grade lawn mowers to get the job done. Review the range of Toro lawn mowers with Canstar Blue.
Toro Lawn Mowers: What's out there?
Toro produces a range of hand-pushed petrol and electric mowers, as well as a range of petrol-powered ride-on mowers. Prices for its push mowers start at around $900, but they can vary widely depending on where and who you buy from. Here is an overview of models and recommended prices.
Series
Model
Recommended Retail Price
Personal Pace
Recycler
$895
Recycler Electric Start
$945
Recycler All Wheel Drive
$995
Super Recycler
$1,095
Timemaster
Timemaster
$1,595
Electric Start
$1,795
Heavy Duty Commercial
$1,595
Turfmaster
$2,195
Source: Toro website
Toro generally has three series of commercial-grade push lawn mowers available, with prices starting at just under $900. Review the range below.
Toro Personal Pace Mowers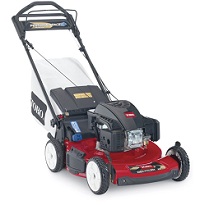 Toro's Personal Pace lawn mowers are generally the cheapest in the range, and there are four available. The basic model costs just under $900, and if you want an electric start, you have to be willing to pay an extra $50. This saves yanking your arm out of your socket trying to get it to start.
Three of the four models feature a 159cc air-cooled motor, pushing out 7.4 ft lb, which equates to about 10nM of torque.
They feature cutting widths between 48cm and 52cm.
The all-wheel drive model features a 163cc Briggs and Stratton engine
All mowers feature grass catchers, while some feature recyclers. The all-wheel drive model may be handy for homeowners with hilly properties who need extra stability. The self-propelling feature on all models comes in handy, too. These models are specified by Toro as being suitable for someone with up to a ½ acre lawn – bigger than most suburban blocks, but probably smaller than those living on suburban fringes or semi-rurally.
Toro Timemaster Mowers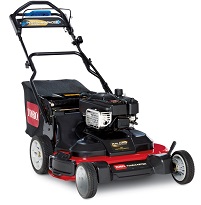 Toro Timemaster mowers have one aim in life – to cut grass on larger properties while saving you time. With no gimmicks and just straight mowing prowess, the two mowers in this series are suited to larger blocks, up to one acre.
Timemasters start at about $1600, and you'll pay about $200 extra for electronic start
Both Timemasters feature a massive 76.2cm cutting width, paired with a 190cc Briggs and Stratton engine with a recoil starter. Out the back there is a 3-in-1 cutting mode, with rear bagging, plus side discharge and recycling. Both models are backed by a three-year warranty, and are probably best suited to larger yards. With the massive cutting width you'll likely make light work of suburban lawns, yet be expected to pay about $1,600 for it.
Toro Heavy Duty Commercial Mower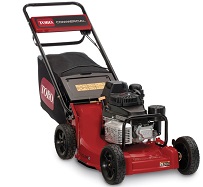 Toro's heavy duty mower is designed for commercial applications, but features some specs sure to get most homeowners excited.
It features a 53cm cutting width
179cc Kawasaki engine
Spin-Stop system: This disengages the blades without shutting down the engine.
Most impressive is perhaps the Spin-Stop system, which makes it easy to clean debris and pause your mow halfway through without worrying about the blades still spinning. At just under $1,600 it's not a cheap mower by any means, but if you want commercial-grade quality to make mincemeat of your lawn then it is a viable option.
Toro Turfmaster Mower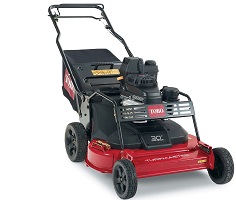 If you consider yourself a bit of a lawn enthusiast, Toro's Turfmaster mower may be for you. Different from the Timemaster series of mowers, the Turfmaster claims to be the master of turf, not time. As the most expensive in Toro's push mower line-up, the Turfmaster features some impressive specs:
It boasts a 76.2cm cutting width
179cc Kawasaki engine
Long-range 3.8L fuel tank
Coming in at just under $2,200, it's an expensive bit of kit, but one that Toro says is best suited to commercial applications… or just big yards. It comes with a one year warranty, and its large cutting width means it's probably best suited for larger lawns, or mowing your children's club footy field on a Saturday morning.
Is a Toro mower worth the hype?
Toro is a premier manufacturer of lawn mowers and other garden-related products. For suburban and semi-rural residents, a Toro mower represents a decent, if expensive, option for cutting your grass. Its push mowers feature some class-leading cutting widths, with many models boasting widths of greater than 50cm. For most modern blocks of land, this would be more than sufficient for easy mowing. With many mowers catering to at least one-acre blocks, rural residents are also catered for. And if you're ever in doubt about Toro, keep in mind that it also sells an attachment to have your grass looking as good as the MCG's, featured in the video above! Happy mowing!
About the author of this page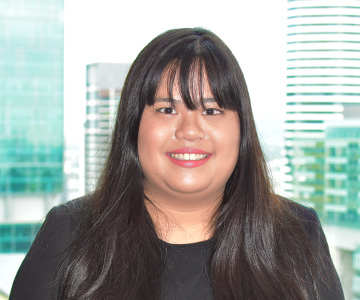 This report was written by Canstar Blue's home & lifestyle journalist, Tahnee-Jae Lopez-Vito. She's an expert on household appliances, grooming products and all things grocery and shopping. In addition to translating our expert research into consumer-friendly ratings reports, Tahnee spends her time helping consumers make better-informed purchase decisions on all manner of consumer goods and services, while highlighting the best deals and anything you need to be aware of.