Keeping your home safe from house fires is important. It goes without saying! That's why, in Australia, all homes are required to be fitted with a smoke alarm. With all different types available, it might be confusing to know exactly what to buy. We bring you a guide on what you need to know about smoke alarms and what types are on offer.
Types of smoke alarms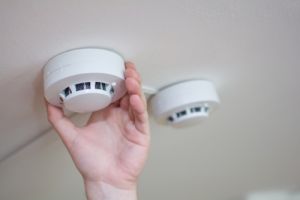 There are typically two types of smoke alarms available for residents in Australia:
Ionisation smoke alarms: contain a small amount of radioactive material that reacts to particles emitted with fires, which then sets off the alarm in the case of a fire. These meet sensitivity and performance requirements. However, some experts believe ionisation smoke alarms provide insufficient protection in typical residential fires.
Photoelectric smoke alarms: contain a photo cell and light beam that shines away from the cell. The presence of smoke particles in the chamber scatters the light beam, which is then detected by the sensor, setting off the alarm. These alarms are generally more sensitive to larger particles and provide early detection of smouldering fires. All Australian state fire authorities recommend photoelectric smoke alarms.
Aside from the two main types, there are also the following kinds that you might find in stores:
Carbon monoxide alarms: are targeted towards homes with central heating systems including gas heating (ducted or an unflued) and help detect any heater faults
Heat alarms: designed to detect heat rather than smoke, making them ideal for kitchens
The two above are specialised alarms that should be fitted alongside standard smoke alarms in your home.
Hard-wired or battery operated?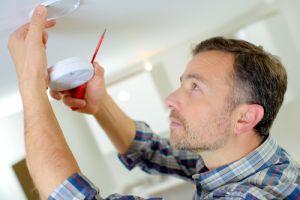 Many state fire authorities recommend – wherever possible – to install hard-wired and interconnected smoke alarms. Hard wired smoke alarms consist of a 240-volt smoke alarm that connects to your home's electrical system with a battery back-up power supply.
If mains power is not connected to the house, or there is no hidden space to run necessary wiring for hard-wired alarms, battery powered smoke alarms can be installed. However, these are required to have a 10-year lithium battery.
How much do smoke alarms cost?
Standard photoelectric smoke alarms start from around $10. More advanced models can go above the $100 mark. Typically, carbon monoxide alarms can be had for under $50 while heat alarms can cost less than that. Most smoke alarms should be replaced every 10 years.
How many smoke alarms do I need in my house?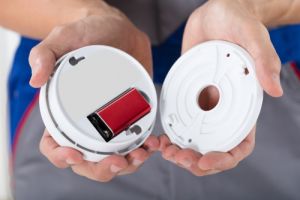 Legislation requirements for smoke alarms in homes differ from state to state:
Fire alarms in Australia
Family First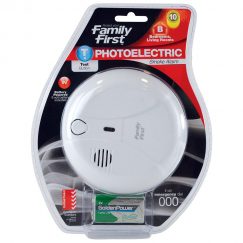 Family First is an Australian-owned brand offering a number of fire protection products. Its smoke alarm range consists of the photoelectric type, which can be had from around $13 to $25. There are also twin packs available. Expect features such as a hush button – for silencing false alarms – and an escape light stated to provide a visible point of reference to escape through blinging smoke. All Family First smoke alarms produce an 85-decibel siren.
First Alert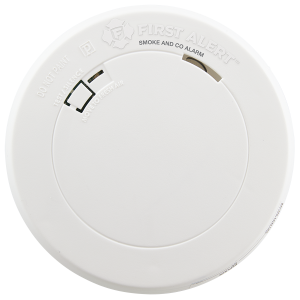 First Alert is a US brand that has photoelectric, carbon monoxide and combination alarms. Prices sit from around $40 to $60, depending on the model. Its combination photoelectric smoke and carbon monoxide alarm has dual sensors and a built-in 10-year battery. Others in the range feature an escape light that activates when the alarm sounds. These are also designed to be slim and easy to install. Noise level is stated to be 85 decibels.
Fire Pro
This brand offers a modest range of smoke alarm solutions. Expect an 85-decibel alarm, a test button, and a low battery indicator. Its photoelectric 10-year lithium battery smoke alarm also features a hush button for false alarms. Aside from photoelectric smoke alarms, it also features a wall mounted gas detector alarm stated to detect gas leakages. The range can be had from around $13 to $50.
Quell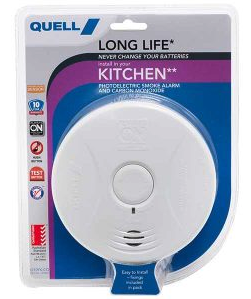 Quell is a brand of Chubb with over 100 years of experience in Australia. It produces a comprehensive range of smoke alarms and separates models by room type, such as the garage, hallway, kitchen, and bedroom. Quell smoke alarms are priced from $25 to $35 for single packs but there are twin packs also available. Features include test and hush buttons, and a low battery warning light. The brand also offers interconnected smoke alarms, which means when one unit is triggered, all other interconnected alarms will sound.
Fire Sentry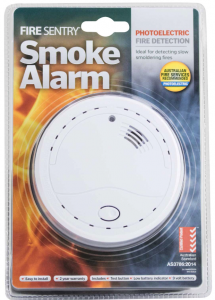 Fire Sentry offers a number of fire safety products, from fire extinguishers to fire alarms. Its range features just one model at the time of writing – Fire Sentry Photoelectric Smoke Alarm with Test Button – which can be found for $15. It's stated to be easy to install and operated on a 9V battery. Along with a test button it also has an LED low battery warning indicator and an auto-reset function once the smoke clears. In addition, it's boasted for an insect resistant case.
Features to look for in a smoke alarm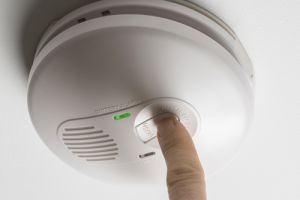 There are a number of features that are required by the Australian Standard for smoke alarms, but there are also a few additional functions that are there for ease of use:
10-year battery: if hard-wired smoke alarms are not an option, it's recommended that battery powered models have a 10-year lithium battery. All new smoke alarms in Australia comply with this standard.
Hush button: this allows you to press a button to silence the siren in the case of a false alarm such as burnt toast releasing minor smoke in the kitchen. Some alarms feature a remote control to silence the noise while you wait for the smoke to dissipate.
Escape light: some models boast an escape light which illumines when the alarm is activated, giving you a path to the outside if there's a power failure.
Test button: allows you to check if the alarm is working. Some models can be tested by shining a torch on the alarm, which saves you from getting out the ladder if you have high ceilings.
Interconnectable: most mains-powered smoke alarms, as well as some battery-powered models can connect to each other, so that if one alarm is set off, all the others around the home are also activated, ensuring everyone is alerted.
The bottom line on smoke alarms
Smoke alarms are a must in Australian homes and should be tested regularly. It's recommended that you:
Test your smoke alarms monthly by pressing the test button
Vacuum around your smoke alarm vents yearly
You should also replace batteries, or the whole smoke alarm unit, if it has in-built batteries after 10 years. Compliant models can be found at most department stores, hardware stores, electrical retailers, security companies, supermarkets and fire protection companies.
Original Author: Veronika Hleborodova