Australia's consumer watchdog has released its latest report into broadband speeds across the country and there's a surprise name at the top of the charts – Aussie Broadband.
The Australian Competition and Consumer Commission (ACCC) found that most National Broadband Network (NBN) fixed-line customers are receiving relatively fast internet speeds, including during the busy evening hours.
However, the report also found that seven per cent of customers receive less than half of the maximum potential speed of their plan.
The second 'Measuring Broadband Australia (MBA)' report also includes two new providers – Aussie Broadband and MyRepublic – alongside iiNet, Telstra, TPG and Optus.
The MBA report found that 70 per cent of all tests achieved download speeds of above 90 per cent of maximum plan speeds. But Aussie Broadband topped the results with an average of 88.3% maximum plan speeds.
However, 'busy period' speeds are still suffering a similar fate compared to when the ACCC released its first report over three months ago.
Compared to the last report, iiNet, Telstra and TPG suffered the biggest blows, with a 5.2%, 8.2% and 5.1% reduction in NBN plan speeds in busy periods.
The MBA report found that speeds "did not reduce significantly" in busy hours – between 7pm and 11pm. However, speeds did slump to 74 to 88 per cent of maximum plan speeds.
"Whilst we are pleased to see that most customers are able to get fast, reliable broadband services even during busy hours, we must focus our attention on those who do not have this experience," ACCC Chair Rod Sims said.
"Overall, the results are encouraging, particularly when considering the significant recent migration of NBN customers to higher speed plans, where hard limits on individual connections to the network are more likely to impede services reaching their maximum speeds."
The MBA report uses testing and data provided by UK firm SamKnows. The program so far has collected expressions of interest from over 10,000 volunteers and has a testing panel of 1,000 volunteers in-field.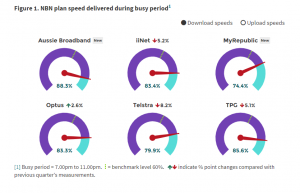 Who are the best NBN speed performers?
The ACCC's latest report suggests that to better your chances of getting a good NBN speed, you may need to look past the big providers. The report included Aussie Broadband, which had better average percentages of maximum plan speeds in busy periods than the other providers compared.
What this means is Aussie Broadband could achieve closest to what it advertised between the hours of 7pm and 11pm.
The worst performer in the latest report was another newbie – MyRepublic – while Optus experienced a 2.6 per cent improvement compared to the last ACCC report.
"We urge providers to help customers obtain the full speeds associated with the plans they are acquiring. We also expect ISPs to inform customers of the speeds achievable on their network connections, and better match the plans they offer to those speeds. The recent court enforceable undertakings accepted by the ACCC will help with this," Mr Sims said.
If you're unhappy with your NBN speeds, take a moment to think of your loved ones still languishing on ADSL connections – the MBA report found that ADSL services achieved an average download speed of just 6.7Mbps.