MYOB Accounting Software Review
The name MYOB stands for 'Mind Your Own Business' – which is exactly what this accounting software company aims to help you do. But is it as good as it sounds? Find out with Canstar Blue's review of MYOB's accounting software, its product features and prices, to help you make an informed decision for your business.
MYOB (pronounced my-ob) is an Australian tax and accounting software company, providing a range of products for both small and big businesses as browser based, cloud based, or physical installation based software.
According to MYOB, about 2 in 3 Australian businesses use accounting software, and around 60% of those use MYOB. Furthermore, about 60% of accountants use MYOB as their main tool for assisting clients. Should you be one of those Australians using MYOB? Read on to find out whether MYOB is right for you and your business.
MYOB accounting software
MYOB has a number of partnerships to maximise its software's usability. It's a Microsoft Gold Certified Partner, which means that MYOB operates smoothly with Microsoft programs. It's also partnered with PayPal, a handy integration for e-commerce, with a number of third-party apps now compatible with MYOB software to help you stay on top of your finances.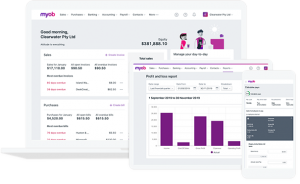 What features does MYOB offer?
All MYOB small business accounting subscription software includes the following functions:
Works online
Calculate & track GST
Manage quotes, invoices, and statements
Accept payment from invoices (via PayDirect Online)
Sell items, services, or both
Track and pay expenses
Manage customers and suppliers
Bank feeds (syncs with your bank accounts and credit card)
ATO SuperStream compliance
Payroll with automatic leave calculation and real-life timesheets access for employees
Inventory management
MYOB also offers the MYOB Invoice app for both iOS and Android systems, and is included with both Essentials and AccountRight plans – making it easier to manage and perform accounting functions when you're away from your desk. The app doesn't include full access to everything in your plan, but does cover invoice tracking, contacts adding, in-app invoice creation, and payment processing.

Payroll software for small businesses with up to 4 employees

Single Touch Payroll (STP) reporting
Pay your employees

from $10/month
min. cost $10.00 over 1 month
Go to site
Online accounting software great for new and smaller businesses

Single Touch Payroll (STP) reporting
Manage & track cashflow
Send quotes & invoices
Manage bills & expenses
30-day free trial available
50% off for first 3 months. New customers only. T&Cs Apply.

from $25.00/month
min. cost $50.00 $25.00 over 1 month
Go to site
Online or offline accounting software with job tracking and inventory

Single Touch Payroll (STP) reporting
Pay your employees
Send quotes & invoices
Manage bills & expenses
Bill by time & track jobs
Manage inventory
30-day free trial available
50% off for first 3 months. New customers only. T&Cs Apply.

from $60.00/month
min. cost $120.00 $60.00 over 1 month
Go to site
What plans does MYOB offer?
MYOB covers software solutions for businesses of all kinds and indeed sizes, from one employee to over 100. In the small business department, MYOB offers two different accounting software solutions, MYOB Essentials and MYOB AccountRight, each with multiple price points to choose from.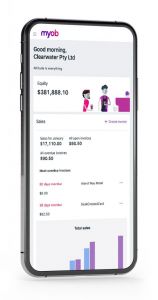 MYOB Essentials Payroll
Ideal for small businesses looking to keep on top of their payroll systems, MYOB Essentials Payroll includes features such as Single Touch Payroll (STP), automated tax obligations and super contributions as well as PAYG leave entitlement for up to four employees, ensuring that your finances are kept working smoothly. Employees can also access their payslips via MYOB YourPay, with reporting tools also available for tax time.
Essentials Payroll ($10/month), which includes payroll for up to four employees.
MYOB Essentials
Ideal for new or smaller businesses, MYOB Essentials aims to help you get your foot in the accounting door, with a number of plans to help make payroll, tax time and invoicing easier, with options to also manage your bills and expenses to keep you on top of your cash flow. To help you get the most out of your data, MYOB has updated the interface of its Essentials package from the previous year's version, allowing for improved mobile accessibility and responsiveness, as well as additional business insights and reporting such as custom report pack creation and smart data auditor to help you fully understand the ins and outs of your business and industry. The MYOB Essentials plans include:
Accounting Starter ($27/month), which allows you to create a maximum of five invoices per month, along with track and prepare BAS and GST statements.
Accounting ($48/month), ideal for small businesses and sole traders as it allows payroll functions for just one employee, as well as allows you to send unlimited invoices, and manage bills and expenses.
Accounting + Payroll ($60/month), for managing business and payroll, with no limit on the number of staff you can enter into payroll, as well as unlimited transactions between linked bank accounts.
MYOB AccountRight
More suited to larger businesses, MYOB Account Right includes a number of plans to choose from, helping you to manage bills and invoices, as well as ensure pay, super and leave are all kept up to date, with the most expensive option even helping you navigate the overseas exchange rate. MYOB Account Right plans include:
Standard ($70/month), which calculates and tracks GST, manages bills, quotes and invoices, as well as manages inventory.
Plus ($109/month), which allows businesses to pay employees, pay super and track leave, as well as create purchases and manage suppliers.
Premier ($150/month), allows you to manage two company accounts, deal with overseas currencies as well as help with the day-to-day running of the business.
Should I use MYOB accounting software?
MYOB has the greatest number of different plans to choose from, compared to other accounting software companies available to Aussie business owners. And with plans available for both owner-operated businesses, as well as larger businesses, MYOB has plenty of features to help you keep track of your income and expenses and keep your business operating smoothly.
There's probably a good reason why MYOB is the most widely used accounting software in Australia. That being said, every business is different and has different needs – don't just go with the crowd, take the time to compare software options from different companies before investing your time in setting up a new accounting software plan.
About the author of this page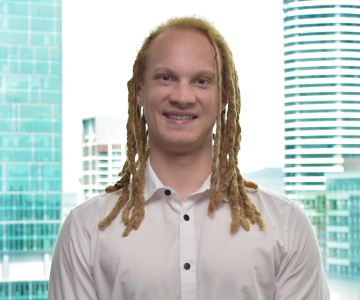 This report was written by Canstar Blue's Content Projects Lead, Dean Heckscher. He's our resident expert on all things automotive, health & fitness, streaming and more. Dean is also one of Canstar Blue's customer research report producers, helping to turn complicated subjects into easily-digestible information for our readers. He's passionate about helping consumers make better-informed purchase decisions on all manner of consumer goods and services.