In a sea of expensive iPhone plans and lengthy contracts, it can be very tempting to strip it back and choose a SIM only, no lock-in contract phone plan instead. These refer to postpaid phone plans that don't come with a handset – you have to BYO – and only last 30 days or a month. You can cancel at any time and not incur any cancellation fees or other costs that can add up to the hundreds. Hit the links below to find out what the top providers in Australia are offering:
No Contract Phone Plan Providers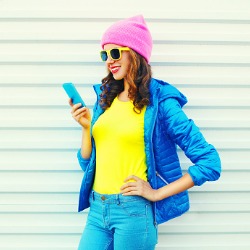 The following plans are mostly available over either 30 days or a month. Data is billed automatically mostly to the tune of $10 per gigabyte, and most plans also feature unlimited calls & texts, nominal amounts of data plus some international calls.
Telstra No Contract Phone Plans
Telstra has four key plans in the postpaid, no-contract space, the first of which costs less than $50. The cheapest plan comes with $500 call value, with a standard two minute call costing $2. The other three come with unlimited calls & texts and up to 30GB data, which costs over $100 a month.
Telstra's concise offering of four plans may look expensive, but there's a lot of entertainment included that may sweeten the deal.
Optus No Contract Phone Plans
In this space, Optus has even fewer plans, with only three available. The bonus is that all come with unlimited calls & texts and start from $35.
5GB, 6GB and 9GB data plans are available, costing $35, $50 and $60 respectively
Optus is no slouch in the entertainment department either. It includes things like data-free music streaming, as well as a set about of minutes to international numbers depending on the plan you choose. Optus Sport can be purchased for an additional $15 a month.
Vodafone No Contract Phone Plans
As the third carrier in Australia, Vodafone has some of the more competitive month-to-month plans out there. Vodafone has six plans in this category, starting at $30. All plans come with unlimited calls & texts as standard with nominal amounts of data.
Plans from $50 to $80 also receive international call credit: Up to 1000 minutes to 12 countries, and 200 minutes to many more.
Out of the three carriers, Vodafone seems to offer the biggest 'bang for buck' in terms of the amount of data for the dollars you pay. Having six plans to choose from is also a bonus.
Virgin Mobile No Contract Phone Plans
Virgin Mobile has been around for quite some time now and operates on the Optus 4G Network – being wholly owned by Optus and making it the first mobile virtual network operator (MVNO) in this list. Virgin Mobile offers four concise plans, generally at a cheaper price than what's found on the big three above.
Plans start at $30 for 2.5GB and unlimited calls & texts. Bonuses such as data-free music streaming also come as standard, as well as set amounts of credit for international calls & texts.
Virgin Mobile has what is called 'Fair Data', which enables data sharing, data rollover and auto data top-ups.
For a large MVNO, Virgin Mobile tends to pack a lot in and for a long time has existed as a viable alternative to the big guys.
Amaysim No Contract Phone Plans
Amaysim has quickly risen through the ranks to become the largest MVNO provider in Australia, in terms of subscriber base. Amaysim consistently rates highly in our annual review of postpaid providers and has a strong suite of plans to choose from.
Plans are available in both prepaid and postpaid guise with a 28-day expiry period. There are five plans available, starting at just $10. All come with unlimited calls & texts.
Plans $30 and above receive international call credit as well.
Of the five big guys listed here, Amaysim tends to pack in the biggest 'bang for buck', offering 20GB data for just $50. However, it does lack somewhat in entertainment bonuses and other perks so if it's straight data at a cheap price you desire, Amaysim may be a good bet.
Other No Contract Phone Plan Providers
The five providers mentioned above are generally the most well-known in Australia, however there may be some other MVNOs worth a look into. Often the postpaid no-contract space is where most do battle, offering more and more data for less money. Such providers are:
If you're paying much over $30 for 5GB with one of these MVNOs you may be paying too much! These providers piggyback off the big networks – the Optus Network, the Telstra Network and the Vodafone Network. All of these providers are pretty neck-and-neck, so it may come down to what network you prefer to be on, as well as any set-up fees that may apply.
Should I 'sign up' to a no contract phone plan?
In the fierce world of SIM only phone plans, seeking ultimate flexibility may be a good bet. Plans change all the time, and being free to move around can pay off in the long run. SIM only phone plans only seem to be going in one direction – and that's down in terms of the price customers pay for data. However, it may still be tempting to lock in a competitive deal as the providers often offer even more bang for buck if signing on for 12 or 24 months.
Of the providers mentioned above, Telstra, Optus, Vodafone, Virgin, Dodo, Exetel, Jeenee, and TeleChoice all offer 12 month plans, and may offer better deals if committing for the long haul.
In any case, seeking flexibility means you may sacrifice some data in the short term to benefit in the long term. From what we've seen, providers tend to change plans multiple times a year, so don't be afraid to shop around every so often for the next best deal.