Everything old is new again — and thanks to trend-chasing TikTokers and nostalgic millennials, the Y2K aesthetic is back in style. If you're among the many yearning for a simpler time — and perhaps looking for a 'digital detox' — Nokia's newest phone drop is the perfect accessory to pair with your low-rise jeans and Von Dutch trucker cap.
Twenty-five years on from the launch of the first-ever Nokia flip phone, the OG phone brand is re-releasing two new versions of its 2007 Nokia 2660 Flip. While the device is already available in black, blue, and red, you'll soon be able to get your hands on two additional colours.
The Nokia 2660 Flip in Lush Green is an understated option for customers wanting the simplicity of a feature phone, without the need to go all-in on that Year 2000 swagger. But if you're truly ready to embrace your inner Elle Woods, Nokia is also releasing the Flip in Pop Pink: a hot hue that truly embodies the era of Paris Hilton, Mean Girls and MySpace.
"The connection Australians have with the iconic Nokia Flip phones of the late 1990s and early 2000s carry a lot of nostalgia for Australian consumers and especially millennials who might have had one back in the day," Brenden Folitarik, HMD Global's Country Manager for Australia, New Zealand and the Pacific Islands, said.
"We're proud to be reinventing these great phones to support the resurgence amongst young Australians to help them connect more meaningfully with one another."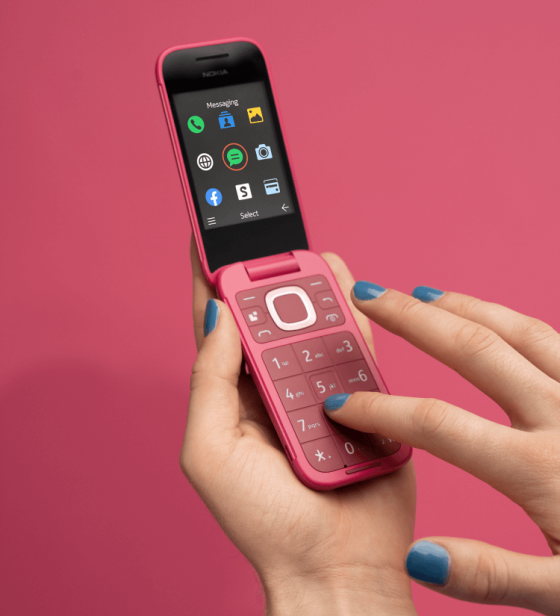 Nokia 2660 Flip features: yes, it has Snake!
The 2023 Nokia 2660 Flip features Nokia's iconic clamshell design, made with durable polycarbonate built to withstand drops, snaps and wild nights out. You'll get a 2.8-inch inner LCD display, along with a mini 1.7-inch screen on the front for notifications, date and time.
There's no touchscreen on the 2660 Flip; rather, it includes physical buttons, meaning you'll need to go old-school with T9 predictive text for messaging and searching. While the screen is small compared to modern smartphones, it offers a zoomed-in interface for easy reading and use, along with loud sound settings.
Nokia has thrown in a 1,540mAh removable battery, which the company says offers weeks of battery life; real-world results may vary, but you'll most likely cruise for days on a single charge. Keeping things basic, the 2660 Flip also comes with a single, lo-fi 0.3-megapixel main camera with LED flash, for authentic millennium-quality snaps out and about.
Other key features include a wireless FM radio, headphone jack, expandable storage, and 4G compatibility. Most importantly, the Nokia 2660 Flip comes pre-loaded with Snake, the classic mobile game that kept so many of us glued to our devices at the turn of the 21st century.
The Nokia 2660 Flip in Pop Pink and Lush Green will be available in Australia from late June/early July. You'll be able to pick it up unlocked for $129 AUD.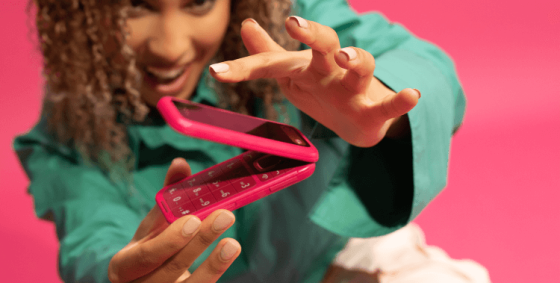 Nokia 2660 Flip at a glance:
Clamshell flip design
2.8-inch main display, 1.7-inch front display
1.0Ghz processor
0.3-megapixel camera
1,540mAh removable battery
128MB of internal storage, with expandable microSD card support up to 32GB
4G connectivity
Bluetooth connectivity
Pop Pink and Lush Green colours
$129 AUD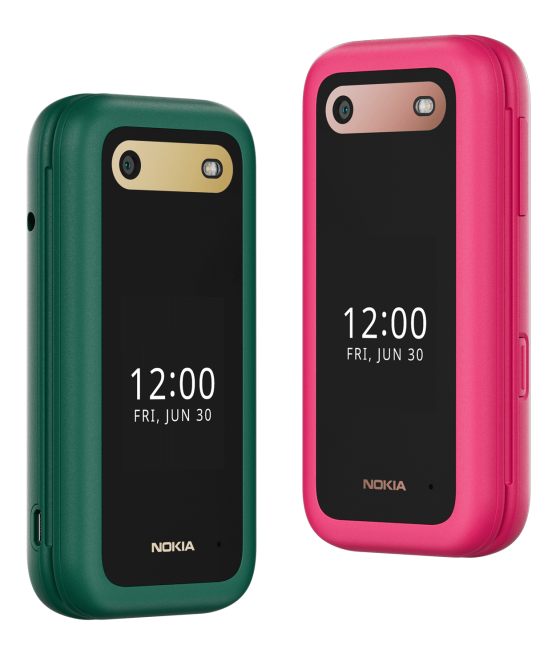 #BringBackFlipPhones: why buyers want a digital detox
Nokia's new flip phones aren't just capitalising on fashion trends: they're also targeting a sector of the market that's pushing back against the pressure to be constantly online. HMB Global, manufacturer of Nokia devices, reports that Nokia's flip phone market share has doubled year-on-year between 2021 and 2022.
Lars Silberbauer, Chief Marketing Officer from HMD Global, says there's been a resurgence of interest in feature or 'dumb' phones from customers looking to disconnect.
"I'm sure we all have examples where a beautiful life moment has been spoiled by a distraction or notification. That's why we are re-introducing the Nokia 2660 Flip, to give people these important beautiful life moments back," Mr Silberbauer said.
According to HMD Global's research, 42% of Australians have done a digital detox in the past, while 56% would consider taking time out from their smartphones in the future.
Almost one third of Australians (31%) feel that 'doom scrolling' is bad for their mental health, while 21% believe that phone use has made them less sociable. One in five Aussies feel as though they're "losing themselves online"(20%), and 24% experience anxiety from the pile-up of texts and emails in their inboxes.
Aside from the mental health benefits, a feature phone is often a more affordable and durable first handset for young children and tweens, particularly if parents want to limit their child's exposure to social media. It's also a option for adults who just want an on-the-go way to make and receive calls, but aren't fussed about extras like cameras or app access.
If you are considering Nokia's 2660 Flip — or any other feature phone — you'll need to pair it with a SIM-only plan. Below is a selection of low-priced postpaid and prepaid phone plans from a range of providers.
Prepaid Plans Under $20
Here is a selection of prepaid plans from Canstar Blue's database for $20 or less, listed in order of standard cost, lowest to highest, then by standard data allowance, largest to smallest. Use our mobile phone comparison tool to see a wider range of prepaid plans from other providers. This table includes products with links to referral partners.
Postpaid Plans Under $20
Here is a selection of postpaid plans from Canstar Blue's database for $20 or less, listed in order of standard cost, lowest to highest, then by standard data allowance, largest to smallest. Compare postpaid mobile plans from a wider range of providers using our comparison tool. This table includes products with links to referral partners.
Images: Nokia