There comes a time for every parent when a very important decision has to be made — should I buy my child a mobile phone? These days it is inevitable that our children need access to a phone, but with growing concerns over online safety and excessive phone and social media use, these rocky waters can be difficult for parents and guardians to navigate.
If you do decide to buy your child a mobile phone, the good news is that there are plenty of quality phones out there to choose from — and it doesn't have to break the bank. As smartphone technology improves each year, devices are packed with more features and better quality tech, and prices for quality tech are dropping. In this guide we'll take a look at some considerations parents will need to make when choosing a phone for their kids, and some devices that might be suitable for your child.
Jump to:
What is the best age for a kid to get a phone?
Unfortunately there is no simple answer to this. Each child is different and has different needs, so you as a parent, will ultimately be able to work out when the right age is for your child to have their first mobile phone.
From research into Kids and Mobiles conducted by the Australian Communications and Media Authority (ACMA) in 2020, the most common age range for phone ownership was the 12 to 13 year age group, with 76% of these respondents owning the phone that they used, compared to 33% of 10 to 11 year olds who owned the phone that they use. This drops to 15% of 8 to 9 year olds and 5% for 6 to 7 year olds.
This does seem to make sense, as this is also the age group where kids are starting High School and their school and social commitments are changing. However, there are some circumstances where it might make sense for younger children to have their own phone — such as if they have commitments outside of school hours and you need to be able to easily contact them, or perhaps in co-parenting situations where children divide time between two addresses. Your child's maturity might also play a part in this decision, as you want to make sure that your child is able to handle the responsibility and also look after their device. With kids that are prone to damaging or losing things, you might want to hold off until you're sure they can handle it.
Ultimately the decision does lie with the parents or guardian, no matter how much your kid might beg you for a phone. You'll know when the timing is right and when you feel comfortable with them having their own phone.
What to look for in a phone for kids
There are so many mobile phone brands around, with manufacturers releasing new phones each year, so there is definitely not a lack of choice when it comes to picking a mobile phone. To make this easier on you, you might want to set some criteria around choosing a phone for your child to help you narrow down the choices. These criteria might include:
Price
Battery
Features (including parental control, security and usage monitoring)
Durability
Price is of course the most important criteria when choosing phones for kids. Considering some smartphones can cost well over $1,000, you don't want to be spending that much if your child is likely to lose or break their phone. There are plenty of cheap phones around that are much more affordable, and with great features included.
Battery life might also be important, as you want to ensure the phone is going to last them during the day and into the night (especially if they have any out of school activities and you need to coordinate a pickup time).
Features might also play a part in which phone you choose for your child. If they're really into making videos and photography, you might want to look at a phone that will nurture their hobby with decent cameras and camera features. You might also want to look at the sorts of security and usage monitoring features that are available, or if any parental control apps are compatible with the device.
Durability might be an important criteria if your child is quite active or accident-prone. While some drops will damage even the most durable of smartphones, there are some manufacturers or devices that might put more emphasis on durability, not to mention splash and dust resistance ratings.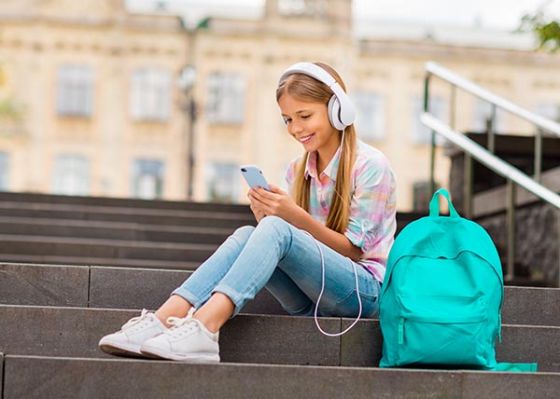 Phone on a plan vs outright: which is better for kids?
When you buy a mobile phone, there are two ways of purchasing — buying outright and upfront, often from a retailer, or buying on a phone plan from a telco. While buying outright used to be cheaper, these days, there is little different in the overall price of the device. Often the big difference is that when you buy on a plan, you're usually required to bundle it with a phone plan (and these plans might not be the cheapest options on the market).
Buying a phone outright means you have the freedom to choose a SIM-only plan from a wide range of telcos, to find the best phone plan for your kid with the right call, SMS and data inclusions.
Best phones for kids
There is no one-size-fits-all for what constitutes the 'best' phone for kids. However, generally for most parents, you might want to look at cheaper phones, especially for younger kids. Set a budget and consider the types of features that are important for your child's phone. You might want to also consult with your child as to devices they might have in mind, or the features they might want.
Have a look at the features and specifications of devices in your price range to get an idea of what is available at that price. Some manufacturers might also subject their devices to more vigorous testing, which could be useful if you're hoping to find a more durable or long-term device for your child. Check for things such as water and dust IP ratings as well.
With that being said, we'll run through some current mobile phones at certain budget-friendly price ranges that you might want to look into as a potential smartphone for your child.
Phones for kids under $300
If you're really looking at some of the cheapest of cheap mobile phones, you'll find devices in this price range from brands like OPPO, Nokia, Realme, Vivo, Samsung and Motorola. The following list includes a selection of mobile phones for under $300 that are currently available (the prices listed are AUD RRP prices and may not reflect discounts on offer):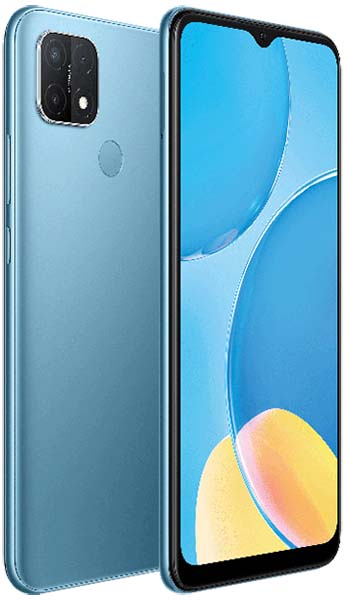 Motorola moto e7 power — $159
Motorola moto e7 — $199
Nokia G10 — $199
Realme C21 — $199
Vivo Y21 — $239
Motorola G10 — $249
OPPO A53 — $259
OPPO A16s — $269
Motorola G30 — $299
OPPO A54s —$299
Samsung Galaxy A12 — $299
Vivo Y33s — $299
Phones for kids under $600
If you've got a bit more budget, or perhaps are shopping for older kids and are considering devices around that more middle price range, there are plenty of devices around $300 to $600. Often phones in this range might have a few more features and better tech packed in, including compatibility with expanding 5G networks for a faster online experience.
Here's a range of devices currently available between $300 and $600 that might be suitable for kids (the prices listed are AUD RRP prices and may not reflect discounts on offer):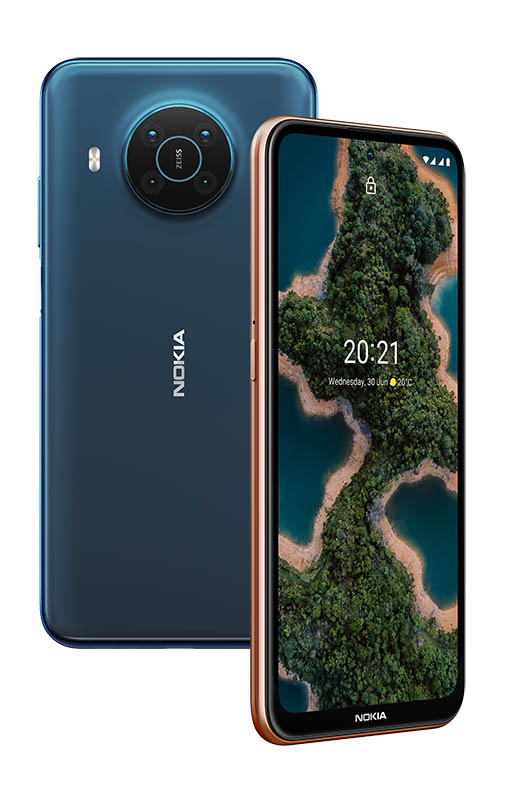 In addition to mobile phones in these price ranges, another option for kids is the Spacetalk smartwatch, which includes call, SMS and GPS functions, as well as SOS alerts and parental controls. There are two different watches available — the general Spacetalk watch for $249 AUD RRP, and the Adventurer watch for $349 AUD RRP. While the Spacetalk watches aren't exactly a mobile phone, they include many of the essentials you need from a mobile phone, and the Adventure watch does include a camera and water resistance rating. In order to use either Spacetalk watch, you will need to pay a monthly subscription to the Spacetalk app for $5.99 per month, or up to five watches for $8.99 per month. You will also need a SIM card and phone plan.
These devices might only be compatible with either the Telstra, Vodafone or Optus network, so you should check all of the relevant information before purchasing. Network compatibility means you'll need to ensure the SIM card you buy to pair with the Spacetalk watch is on the right mobile network. For example, watches compatible with the Telstra mobile network, will need to be from providers using this network, such as Boost Mobile, Woolworths Mobile or indeed, Telstra itself. Woolworths Mobile actually offers the standard Spacetalk watch to buy outright on its own, or bundled with a long-term prepaid SIM card. You can also buy these devices at retailers such as JB Hi Fi and Harvey Norman.
Refurbished or second-hand phones
Another way to save a bit of money on your child's first phone is to look into refurbished or second-hand phones. Refurbished phones are devices that might be previously owned and several years old, however they have typically been refitted and tested to ensure good working condition. These devices are then sold by retailers and telcos, such as Boost Mobile, and they might come with a quality rating such as 'good' or 'excellent' condition. However, these phones may come with some scratches or scuff marks on the outside of the device, but should operate smoothly.
Buying a second hand phone that isn't refurbished can be complicated. You may not receive the best quality, and if you're buying online from places such as Facebook Marketplace, there is no guarantee that you're getting a quality device. However, if you happen to have old devices lying around, or you've been considering upgrading your current device, parents might wish to pass on their older phone. Just make sure you factory reset the phone before giving it to your child, to ensure your data is wiped from the device.
Are iPhones good phones for kids?
iPhones are certainly not the cheapest smartphones around, and as much as your child might hound you about buying them the latest iPhone, depending on your financial situation, it's not always the best idea.
While iPhones are great devices and are popular for a reason, many of the cheaper Android devices listed in this guide are perfectly capable of meeting the essential phone needs your child might have. Don't be tempted to get them an iPhone because it's 'cool' or all their friends have one. Cheaper brands like OPPO, Realme, Vivo and Nokia have established a reputation for creating quality devices at cheaper prices; for example, Realme's target market is that younger age group, and the company has a strong ethos around quality technology at affordable prices.
If you are happy to buy your child an iPhone, there are some ways to save a bit of money. Devices that are a couple years old, such as the iPhone XR, iPhone XS, iPhone 11 and iPhone 12 series, might now be discounted. However, some of these older models, especially those no longer being manufactured, might be hard to find, so you might need to shop around to find stock.
Of course, Apple did release a more budget-friendly iPhone, however it's still not the cheapest phone out there. The iPhone SE starts at $679 AUD for the 64GB storage size and goes up to $929 AUD for the 256GB storage size. Out of the latest range of iPhones, the iPhone 13 Mini starts at $1,199 AUD for 128GB storage size and up to $1,719 AUD for 512GB of storage. The Mini is named for its slightly smaller size at 5.4 inches (diagonal) compared to the 6.1 inches of the iPhone 13, which might be a good size for children.
These devices don't come cheap. Even if it does sit in your budget, if your child is very active or perhaps accident-prone, consider the cost if the device breaks or needs a repair, or needs replacing if it gets lost. Older and most trustworthy kids might be more inclined to look after their phone and better suited to an expensive device, so consider your child's behaviour and any out of pocket costs if you need to repair or replace the phone.
Compare SIM-only plans
Most of the devices listed on the page are only available to buy outright, so you'll need a phone plan to pair with the device. There are some good phone plans for kids out there, especially cheaper plans under $20 with small data inclusions. Consider whether you want a prepaid plan (where you pay in advance and recharge at the expiry period) or postpaid plan (where you receive a monthly bill to pay), and the call, SMS and data inclusions that will best suit your child's needs.
To give you an idea of what prepaid and postpaid plans are available, the following tables include a range of plans from different providers. Switch between the tabs to look at prepaid and postpaid plans.
Prepaid Plans Under $20
Here is a selection of prepaid plans from Canstar Blue's database for $20 or less, listed in order of standard cost, lowest to highest, then by standard data allowance, largest to smallest. Use our mobile phone comparison tool to see a wider range of prepaid plans from other providers. This table includes products with links to referral partners.
Postpaid Plans Under $20
Here is a selection of postpaid plans from Canstar Blue's database for $20 or less, listed in order of standard cost, lowest to highest, then by standard data allowance, largest to smallest. Compare postpaid mobile plans from a wider range of providers using our comparison tool. This table includes products with links to referral partners.
What is the best mobile phone for kids?
Ultimately the decision is up to you, the parent or guardian, in terms of what phone is going to be best for your child. Set a budget first and look at devices in that price range. Once you've narrowed the list down to devices you can afford, you might want to have the discussion with your child over the phones and their features, and make the decision together over a phone you'll both be happy with — one that your child likes, and one with the features and price you want.