Optus Donate Your Data: Canstar Blue Innovation Award Winner
Not all innovations are about putting money directly in consumer pockets. Some of the biggest industry disruptions drive social change, which is why Canstar Blue's Innovations Excellence Awards judges were impressed with Optus' data donation program. Available to all Optus mobile customers, the service is a simple way to help address the digital divide by contributing resources to less advantaged members of the community.
What is Optus' Donate Your Data?
Launched in 2019, Optus' Donate Your Data initiative allows customers to pass on their own unused mobile data to young Australians in need. Operating in partnership with The Smith Family, indigenous foster care agency the KARI Foundation, Mission Australia, YourTown and ABCN, the program provides internet access to young people from disadvantaged backgrounds, giving teens and students a way to stay connected and reach their full potential.
Donate Your Data is open to all eligible postpaid and prepaid Optus mobile customers (excluding mobile broadband customers). Optus postpaid mobile customers can donate a portion of their monthly data allowance via the My Optus app. They can opt to contribute between 1GB and 10GB in each donation, with donations allowed every 12 hours. Prepaid customers can donate via text message, with all data deducted from their plan's remaining data balance.
All donated data is pooled, then distributed by Optus to organisations servicing disadvantaged young Australians. Participating recipients will receive a prepaid SIM with unlimited calls, texts, and a data allowance every 42 days, with donated data then collected and distributed to each plan as an added data boost.
Without the stress of paying for mobile and data plans, participating young Australians can focus on study, job seeking, and staying connected with friends and family. Donated data can be used to help with schoolwork, searching for employment and applying for jobs, and accessing vital information on everything from health care, to public transport, to news and current events.

Why do we like Optus' Donate Your Data?
The one-of-a-kind scheme is the only program in Australia allowing customers to donate their data to children and young people in financial hardship, and has helped thousands of Australians since its inception last year. According to Optus, the initiative has helped more than 13,000 young Australians, gifting more than 700,000 gigabytes of data so far, and delivering $2.9 million dollars in value to those who need it most.
Donate Your Data combines the feel-good factor of helping disadvantaged young people, with a service that offers real assistance and change in an increasingly online world. With Optus users able to donate free of charge, it's a simple gesture that also allows mobile users to feel they're getting the most from their plan and provider, as no leftover data will go to waste.
"While not all Optus customers will be directly impacted by Donate Your Data, for many members of the community the program is life-changing," said Canstar Blue Telco Editor, Tara Donnelly.
"The option to donate unneeded data allows Optus customers to contribute directly to narrowing Australia's digital divide, simply by sending a quick text or opening their My Optus app."
Optus Mobile Plans
The following table shows a selection of published SIM-only postpaid Optus plans on Canstar Blue's database, listed in order of standard monthly cost, from the lowest to highest and then by data allowance, largest to smallest. Use our comparison tool to see plans from a range of other providers.
What are our Innovation Excellence Awards?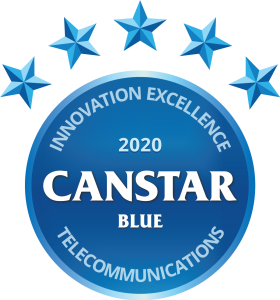 Canstar Blue's Innovation Excellence Awards involve a sophisticated rating methodology, unique to Canstar, which compares submissions we receive from Telecommunications and Energy institutions throughout Australia. Canstar Blue's Innovation Excellence Award winners represent a selected group of innovative products within the Energy and Telecommunications industries over the most recent year which have all been reviewed, assessed and ranked based on the degree of innovation and impact it could have on consumers.