It goes without saying that Australia is a vast country and finding a skerrick of reception outside of the coastal fringes can be tough. If you're away from a city or regional town you may find it's difficult to get reception on your mobile phone at the best of times. Luckily, Telstra has stepped up to the plate and physically tests out a range of mobile phones to see whether they are suitable for use out in the bush. Compare the range of 'Telstra Tick' phones below and find out what you need to do to get the most out of your phone.
What is 'Telstra Tick'?
The Telstra's 'Tick' program denotes a series of tests Australia's largest telco undertakes on various phones and classifies them as A, B or C Class coverage. 'C Class' phones are the 'Blue Tick' models and have been certified by Telstra as being best for the bush.
Up until 2017, phones rated with the Blue Tick were 3G only, largely owing to Telstra's larger-spanning 3G network. In April 2017 that all changed when the first 4G Blue Tick phone came out – the Samsung Galaxy S8 series. With the Blue Tick certification, the Galaxy S8 series comes recommended by Telstra for use out in the bush.
How does Telstra test its Blue Tick phones?
Telstra tests phones for Blue Tick certification based on receiver sensitivity. One component includes physical testing where a technician literally holds the phone in five different ways in order to gauge the transmission strength of the phone's antennas.
Signal strength is measured as 'dBm', which stands for decibel-milliwatts, and even one extra dBm can result in about 2km extra coverage when you're on the fringes of reception areas.
All tests are taken out by the same technician in a controlled lab as hand size can affect signal, given that phones do not come with big bulky antennas anymore.
If you're on the fringes of coverage, a Telstra Tick phone may be able to provide better signal strength than other phones. Of course, the telco also recommends a Telstra phone plan, which is oftentimes the only carrier to get reception when going beyond the coastal fringe.
Telstra Tick Phones: Best in the Bush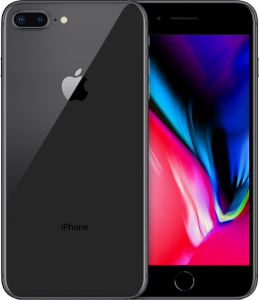 Perhaps the biggest bonus to the Telstra Tick certification is that some of the most popular smartphones are on the list – you don't have to purchase some obscure or inferior smartphone in the name of getting reception. The current list includes:
Apple iPhone 8
Apple iPhone 6s
Sony Xperia XZ Premium
Samsung Galaxy S9 and S9+
Samsung Galaxy S8 and S8+
Samsung Galaxy Note 8
Samsung Galaxy S7 and S7 Edge
Samsung Galaxy A5
Telstra Tough Max 2
Telstra Flip 2
Huawei Y5
HTC Desire 510
HTC Desire 530
As you can see, some popular smartphones are on the list, so you don't have to go out of your way to get better reception. Below is how the Telstra Tick iPhone 8 looks with some Telstra plans bundled in:
What do I do if my phone is not on the list?
Don't panic! Just because your phone is not on the Telstra list, doesn't mean that it's inadequate for bush adventures. However, the Telstra Tick can provide peace of mind. You also don't need the latest and greatest phones as many previous-gen phones also got the tick of approval:
iPhone 4S, 5C & 6S
Samsung Galaxy S5 and many lower-spec Galaxy phones
Nokia Lumia 625 & 520
Blackberry Z30
Testing can take a while, so if your phone is hot off the press, don't expect to see Blue Tick certification straight away. Even though the Blue Tick can provide peace of mind, other phones may be suitable when going 'out in the sticks'.
Telstra Tick: Is it worth it?
Telstra's Tick program comes at no direct cost to the consumer and provides peace of mind, like a Heart Foundation Tick on a box of cereal. Perhaps the biggest proponent of the certification is the fact that many popular smartphones are available with the tick, meaning you don't have to purchase some obscure phone no one has heard of.
That said, is it worth switching your phone to a Telstra Tick-certified one? If you're travelling out in the boondocks quite a bit, it could mean the difference between a bar of signal and nothing. Considering Australia is a vast land with most of it being inhospitable, it could work as a lifeline if going rural.
If looking to save money, buying a cheap Telstra Tick flip phone with a Telstra prepaid plan for when travelling in remote areas and keeping your current smartphone for regular duties could be beneficial.
The Telstra Tick program is unique to Australia, and Australia's largest telco carrying out the tests can provide peace of mind. While it's hardly worth buying a new phone unless you're travelling to a remote, regional or rural area, a Telstra Tick phone could provide the difference between no signal at all and making a call when you need it.