Enphase Energy is a US-based solar power company, offering a range of energy storage solutions for Aussie households. Enphase has built a reputation for quality solar products, with performance and reliability as the blueprint.
Whether it's a solar battery, microinverter, management software or complete energy storage package, Enphase may be your answer to finding a system that helps you save on household power bills. But are Enphase's products as good as they're claimed to be? In this article, Canstar Blue dives in deep to see if Enphase is right for you.
Compare Electricity Plans
Enphase Solar Batteries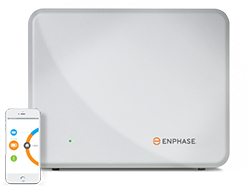 Enphase provides solar batteries that store daytime energy for night-time use, which can help reduce power bills. The company's range of solar storage products are designed for homes with existing panels. Unlike other solar batteries in Australia, Enphase seems to punch well above its weight in terms of its software technology and monitoring capabilities.
Enphase claims its battery can be relied on for long cycle life, has no single point of failure, and is backed by relevant safety certifications by TUV Rheinland.
In contrast to some competitors, Enphase's battery architecture is connected via AC wiring, which it states has lesser voltage than DC batteries. In addition to the AC battery, Enphase also offers a suite of energy solutions, from microinverters, accessories and industry-leading monitoring software.
Enphase AC Battery Specs
The Enphase AC Battery is a lightweight storage unit ideal for smaller households with moderate energy usage needs. With a capacity of 1.2kWh, the Enphase AC Battery is sleek and compact, which can be easily installed or retrofitted on a wall bracket. Here are the specs:
| | |
| --- | --- |
| Capacity | 1.2kWh |
| Depth of discharge | 95% |
| Roundtrip cell efficiency | 96% |
| Peak output power | 270 VA |
| Weight | 25kg |
| Dimensions (without bracket) | 390mm (W) x 325mm (H) x 200mm (W) |
| Ambient temperature range | -20°C to 45°C |
| Cell technology | Lithium Iron Phosphate |
| Warranty | 10 years at >80% capacity or 7,300 cycles |
| Time of use application | Multiple time of use cases supported |
| Communication | Power Line Communication (PLC), TCP/IP through Envoy-S |
| Monitoring | Enlighten Manager and MyEnlighten monitoring options |
| Installation | Wall mounted |
Information sourced from Enphase website
What is the Enphase Envoy?
Enphase Envoy is claimed to be the "brains behind the smart home energy". The Enphase envoy works remotely by collecting data from the microinverters, keeping the solar system in constant communication. It brings real-time insights to the solar system's performance, making it accessible on the Enphase Enlighten app.
What is the Enphase Enlighten?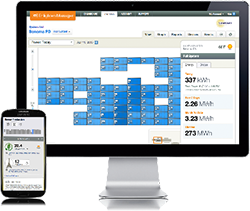 Enphase Enlighten is a mobile app that allows customers to check on their solar battery system. As the name suggests, the Enphase Enlighten app gives system owners a simplified interface that reveals a wide range of insights, including usage habits. The app is downloadable via the App Store or on the Google Play Store.
Enphase Microinverters
Microinverters sit beneath each solar panel which convert power for storage and household use. According to Enphase, its microinverters are simple to install and provide greater reliability as each microinverter operate individually, meaning if one panel isn't operating, others won't be affected. Like the Enphase AC Battery, the microinverters come with a 10-year warranty and are said to meet stringent safety requirements. Enphase also offer cables to connect pre-installed microinverters.
Enphase Prices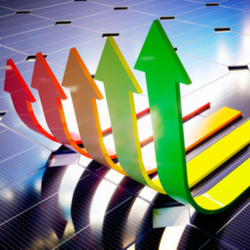 Enphase claims its solar battery is "more affordable than other storage options", but how much can you actually expect to pay for it? Well, the Enphase AC Battery is retailing online for around $2,050, excluding installation costs. In comparison to other solar batteries in Australia, Enphase offers one of the cheapest products on the market.
The Enphase Home Energy Solution is a complete package, including the AC battery, microinverters and monitoring software. However, customers will need to have solar panels already installed at the property, or choose a supplier who offers panels with Enphase's products. Prices will be subject to personal circumstances, such as the size of solar system installed, how many panels, its positioning at the residence, along with installation fees. The easiest way to find out specific pricing details is to get in contact with a licenced Enphase installer who can tailor a quote around your needs.
Should I invest in an Enphase battery?
Given the low upfront costs of purchasing and installing an Enphase battery or storage system, the brand could be a great option for customers venturing into solar energy for the first time, provided they already have panels. The Enphase AC Battery is aesthetically pleasing and much lighter than other batteries, however it comes with a lower life expectancy of 10 years.
For homes with lower energy consumption needs, Enphase may provide a suitable energy storage solution. Enphase states that the battery is compatible with most solar systems, which is great for customers not looking to spend any more money on upgrades. With its in-built monitoring options for smarter communication between the battery and software, Enphase allows homeowners to track and view data on multiple smart devices, including Smartphones.
An Enphase solar battery system could very well offer some great value over time, especially with its lower upfront costs and streamlined installation process. That being said, households with higher energy usage may wish to look elsewhere as the peak capacity of an Enphase battery might not cut it. For those about to invest in a solar battery or upgrade their system, why not check out our review of solar energy providers? And hit the link below to compare electricity prices in your area.

Image credits: zstock/Shutterstock.com, Enphase.com.au, petrmalinak/Shutterstock.com