ALDI's annual Motorbike Gear Special Buys event is set to make a rumble this weekend.
On Saturday (August 18), more than 15 different motorcycle accessories will appear in ALDI's middle aisle, while stocks last.
Whether you're a first-timer or an old rev-head, ALDI's Torque-branded motorbike gear is claimed to provide great quality at low prices, with an extra focus on safety.
ALDI Australia Textiles Buying Director, Renata Hay, said: "We are proud to announce that the 2018 Torque Motorcycle Leather Jacket and gloves range is amongst the very first in the world to have been assessed and certified to the new European Personal Protective Equipment Regulation 2016/425."
In addition, Buying Director at ALDI Australia, Andrew King, added: "We found that there was demand for a different type of helmet. That's why this year we consolidated our helmet offering to plain black and soft graphic finishes.
"We have also brought back the Race Stand and Folding Single Ramp – both popular items amongst riders."
ALDI's full 2018 motorcycle range consists of:
Men's Motorcycle Leather Jacket – $169
Ladies' Motorcycle Leather Jacket – $169
Motorcycle Boot – $79.99
Full Face Motorcycle Helmet – $79.99
Motorcycle Folding Single Ramp – $79.99
Men's Motorcycle Denim Jean – $69.99
Motorcycle Bluetooth Kit – $59.99
Open Face Motorcycle Helmet – $49.99
Motorcycle Race Stand – $49.99
Men's Motorcycle Merino Midlayer – $39.99
Motorcycle Cover – $29.99
Carbon Knuckle Leather Motorcycle Gloves – $29.99
Padded Leather Motorcycle Gloves – $29.99
Men's Motorcycle Base Layer Top or Bottom – $19.99
Motorcycle Balaclava, Face Mask, Neck Wrap or Kidney Belt – $9.99
Men's Motorcycle Socks 1pk – $9.99
Here are the details on what's on offer.
ALDI Motorcycle Jacket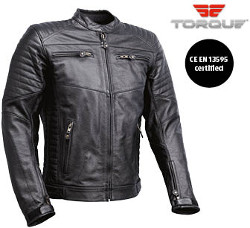 There are two variants of ALDI's 100% leather outer jacket for both men and women. Men's sizes are Small to XXL, while ladies' sizes are from S to XL, all $169 apiece. Size adjustments are possible at the bottom hem and sleeve cuff for an ideal fit.
ALDI boasts a number of safety features with this design, stating it to be compliant to CE EN 13595 – crucial certifications which test the abrasion resistance of the fabric of the garment. It's also stated to have CE EN 1621-1 certified shoulder and elbow protectors, and CE EN 1612-2 certified back protector with EC type examination issued by Satra Technology Centre.
These jackets feature YKK front zippers, with two zipped hand pockets and chest pockets, plus one internal zipped pocket. It's also stated to have ergonomic fitting with APT-Tech advanced protection technology at elbows and shoulders.
CE Impact Abrasion Testing Results at High Risk Areas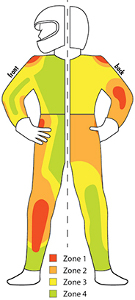 ALDI points out a few key features of its motorcycle jackets, identifying the following key injury areas:
Zone 1: has the highest level of injury risk. These areas are stated to need impact protectors and highly abrasion-resistant material. European EN13595-1:2002 standard for jackets and pants requires a minimum of 4 seconds abrasion resistance for level 1 compliance or 7 seconds for level 2. ALDI's Torque jacket is claimed to have exceeded 19 seconds of abrasion resistance in controlled laboratory tests.
Zone 2: also has a high injury risk and needs highly abrasion-resistant material (minimum of 4 seconds for Level 1 or 7 seconds for Level 2 compliance) outside the area covered by impact protectors. ALDI's Torque jacket is stated to have exceeded 19 seconds of abrasion resistance in controlled laboratory tests.
Zone 3: has a lower injury risk and requires only moderately abrasion-resistant material (minimum 1.8 seconds for Level 1 or 1.5 seconds for Level 2 compliance). ALDI's Torque jacket is boasted to have exceeded 5.5 seconds of abrasion resistance in controlled laboratory tests.
Zone 4: has a relatively low injury risk and requires minimally abrasion resistant material (minimum 1.0 seconds for Level 1 or 1.5 seconds for Level 2 compliance). ALDI's Torque jacket is also claimed to have exceeded 5.5 seconds of abrasion resistance in controlled laboratory tests.
ALDI says its motorcycle jackets fulfil high requirements for impact abrasion resistance and other performance characteristics demanded by Level 2 of the EN13595-1:2002 standard in all zones, in controlled laboratory test.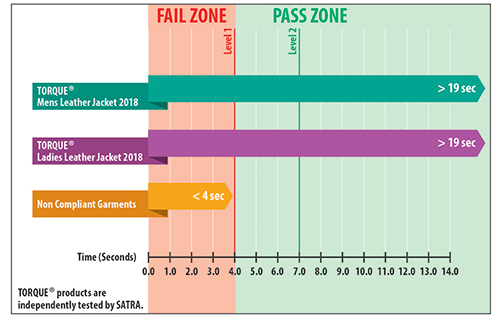 ALDI Motorcycle Clothing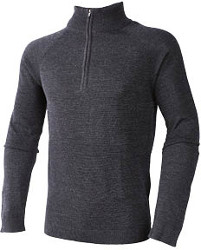 ALDI's motorcycle merino mid-layer top is set to retail for $39.99. It's available in black or charcoal, with sizes ranging between S and XXL.
It's claimed to be made with a YKK front zipper and machine washable pure merino wool, which boasts properties such as softness and elasticity, resistance to static build-up, breathability, the ability to absorb and transport moisture, absorption of odours, stain release properties and natural insulator.
"Most sheep in Australia are shorn annually and the fleece grows again, making wool a renewable fibre, unlike man-made fibres, which are oil based. When garments made from wool are disposed of, they will naturally decompose in the soil over a relatively short time. This releases valuable nutrients back into the earth, unlike man-made fibres, which will take years and years to break down," according to ALDI.
In addition, ALDI's base layers – top or bottom – are $19.99 apiece, with sizes ranging from S-XXL. These are said to use lightweight stretch fabric for comfort and ease of movement, plus feature mesh inserts & flatlock seams.
Men's Motorcycle Denim Jeans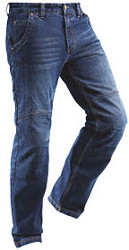 Similar to ALDI's motorcycle jacket, its motorcycle jeans ($69.99) are boasted for safety. Sizes range from S to XXL and are fitted with CE EN 1621-1 knee protectors.
The jeans have a casual five pocket design, with a distressed effect and a high raised back. Expect reinforced lining stated to be made from high tenacity aramid fibre at critical areas of seat, hips and knees, ideal for style and comfort when on the road. There's also a YKK original front zipper and Original Coats thread used for stitching.
ALDI Motorcycle Boots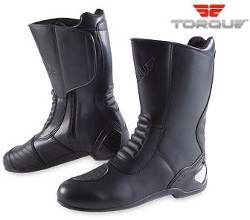 ALDI's Motorcycle boots ($79.99) feature rubber gear pads with a heel strengthening design. Expect padded metatarsal for flexibility, plus hook and loop flap over YKK zips.
There are two variants of high or low-cut designs and sizes ranging from 7 to 12.
In terms of material use, the upper section features leather and synthetic fibres while the outsole is made from rubber. It's fully lined with comfort insoles and features hi-vis reflective ankle strips for safety.
ALDI Motorcycle Socks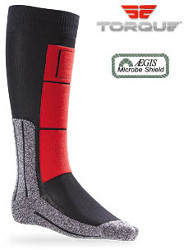 Men's motorcycle socks are also available ($9.99) with two size options of 6-10 or 11-14.
There are three different styles available, all which feature padded shins for extra comfort and reinforced heel and toe, specifically designed for motorcyclists.
Two key features of ALDI's motorcycle socks include Sorbtek fibre and Aegis Microbe Shield. ALDI states Sorbtek fibre allows skin to breathe through moisture-wicking properties while Aegis Microbe Shield is a permanent antibacterial treatment which keeps bacteria at bay, according to ALDI.
ALDI Motorcycle Helmet

There are two options for ALDI helmets – full face ($79.99) and open face ($49.99). Both are stated to be lightweight and AS/NZS 1698 approved, plus SAI Global marked.
Its full-face helmet is stated to have a shock absorbing ABS construction and shell. It also features a ventilation system with adjustable multi-way air vents. It's boasted for a scratch-resistant visor and an integrated sun visor with a windbreak in the chin zone and removable cheek pads. Choose from two designs – matte black or graphic.
ALDI's open face helmet is slightly different, claimed to have an advanced ABS shell, plus removable ultra-suede inner comfort padding in black gloss with a padded chin pad. It's washable and has a matte black finish.
Both options include a helmet bag, while the full-face helmet also features a spare visor and cheek pads. Here's a size chart for reference:

Motorcycle Head Gear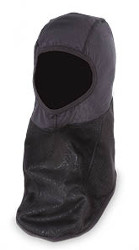 Additional head gear from ALDI's range includes a balaclava, face mask, neck wrap and kidney belt, all priced at $9.99 each:
Balaclava: is made of stretch fabric with flat seams for comfort and features a bonded fleece insert at lower front for wind protection, plus elastic tape at the back
Face Mask: is designed to cover the nose, mouth and chin area with nose opening and breathing holes. Is stated to be protected by anatomically-shaped neoprene fabric and features adjustable hooks and loops to fit with flat seams for comfort
Neck Wrap: is made of bonded fleece fabric for wind protection, covering the neck and chest area. It also has a full hook and loop fastener opening for ease of wear with flat seams and a stretch fabric insert at the back for extra comfort
Kidney Belt: designed for kidney and lumber support while offering protection from the cold. It's stated to be adjustable and flexible with lightweight neoprene (synthetic rubbers)
For all of the above gear, ALDI states one size fits most.
Other Motorcycle Gear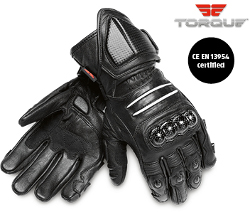 Motorcycle gloves are also up for grabs with two options – carbon knuckle leather or padded leather gloves – both retailing for $29.99. These are stated to be CE EN 13594 certified, with sizes from S-XL. Expect features such as genuine leather outer with reinforcement at palm and adjustable wrist strap closure.
There's also reflective details for added safety on the carbon knuckle leather style gloves, along with pre-curved fingers for comfort, warm insulation lining, and carbon fibre protectors for knuckles and fingers.
Padded leather gloves, on the other hand, are stated to have soft rubber protection at knuckles, fingers and thumbs, plus 3M Thinsulate padding.
If you're after a motorcycle cover, ALDI has one for $29.99 (300gsm PVC with fleece lining). It's claimed to be waterproof with features such as a transparent number plate window, heat sealed seams elastic binding, and an eyelet for securing the cover to the bike. Choose from silver and black for colour, plus medium or large for size.
ALDI's motorcycle folding single ramp ($79.99) has a maximum capacity of 270kg, with a lightweight aluminium design. Dimensions include 2180 x 300mm with rubber feet for grip and stability. Expect a safety strap, plus an arc-shape design for maximum clearance.
For races and track days or general servicing, ALDI's race stand ($49.99) is designed to lift the front or rear motorcycle wheel (250kg maximum lift capacity). It features a steel frame with powder-coated finish and includes universal brackets, making it suitable for most motorcycles.
Motorcycle Bluetooth Kit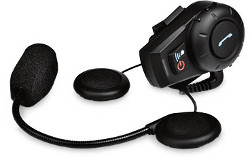 The last of the Special Buys in ALDI's motorcycle range is a water-resistant Bluetooth kit retailing for $59.99. It has a universal design, fitting most motorcycle helmets.
The kit features a rider to pillion intercom that's stated to work with any Bluetooth-enabled mobile phone to automatically receive phone calls and connect to most Bluetooth-enabled GPS for audible directions. It can pair with three devices together. Key specs include:
Bluetooth version:1
Frequency:4GHz
Weight: 45g excluding accessories
Battery: rechargeable Li-polymer 300mAh
Power adaptor: DC5V 500mA
Standby time: up to 300 hours
It's boasted for DSP echo cancellation and noise suppression technology, plus glove-friendly dial for switching between intercom, music and phone.
Its operating range is stated to be up to 10m for paired devices and up to 500m for the intercom function. Effective operation is also noted to be up to 120km/h speed. With four hours of charge time, you have up to 10 hours of talk time for phone calls and up to five hours of talk time for the intercom function.
You might like to get in stores early if you're after something from ALDI's motorcycle range as stocks are limited.