Moving house can prove a big job, particularly if you have to move everything yourself. But while you may be able to save yourself a bit of money by lugging the fridge up the stairs on your own – or conning a few of your mates with a carton of beer to do it for you – hiring professional removalists can certainly make moving light work.
When it comes to hiring removalists, you're certainly not left wanting, with plenty of professional services (as well as a few less-professional options) to pick from, depending on your needs and budget. But what should you be looking for in a removalist service, and what can you expect when hiring one to help you move? Find out more here in this Canstar Blue guide.
What services do removalists offer?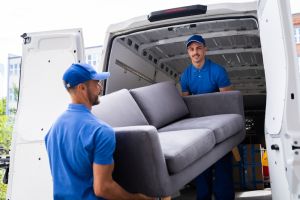 While each individual removalist business may offer different services, the primary service they all provide is that they'll (surprisingly) move your stuff for you. Most removalists jobs will include them carrying and loading your belongings into a moving van, transporting them to your new property and then unloading the van at the new location.
In addition to simply carrying your belongings from Point A to Point B, removalists will also generally offer packing materials if you didn't get your hands on some beforehand, with some services also able to help you set up your appliances or furniture, or specialise in moving heavy and awkward items, such as your prized pool table. However, you will have to do your research beforehand to ensure that your moving service of choice can actually move everything that you own, as you don't want to hire multiple services to do the one move, or have to pay out the nose to get your belongings out the door.
How much do removalists cost?
The final price tag of a removalist service will be dependent on a number of factors, including how much stuff needs moving, the size of the moving truck you need to hire, the distance between the two properties, plus if you need any extras such as packing materials or an extra set of hands. As a result, a removalist service can cost anywhere between a few hundred to a few thousand dollars, with most removalists charging by the hour. Online platform hipages (an online directory to help you get in touch with tradespeople and services) puts local moving costs at anywhere between $300 and $3,500, but again reiterates it depends on your individual circumstances.
To get a clearer idea of how much moving day will cost you specifically, most removalists offer quotes or a calculator on their website to give you a ballpark figure of how much you'll have to spend to get settled into your new place.
What impacts the price of a removalist service?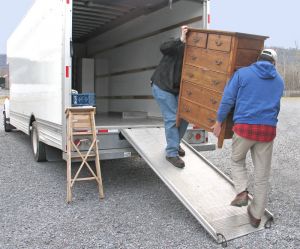 There are a number of factors that can influence the final price of hiring a professional removalist service, including:
The size of your property (i.e. how much stuff you have to move)
The distance between locations (i.e. how much travel time is involved)
Additional extras/services (i.e. do you need boxes or have large items to move)
Time/day of the move (i.e. moving during peak hours versus moving when there's little traffic)
The size of your property
Most removalist services base quotes and prices on the size of your current property, namely through how many bedrooms it has, to roughly gauge how much stuff they'll be moving. As a result, a two bedroom property will likely have less to move than a five bedroom property, and with less stuff to move, you'll naturally have to pay less to have it moved.
The distance between locations
While you may think that loading and unloading the van is predominantly what removalists do, transporting your goods is actually a big part of moving, and removalists charge you based on how far they have to travel. So if you're moving to the other side of town, or even interstate, you can expect to pay more than you would if you were simply moving down the road. The distance between your properties and the removalists' depot may also impact this cost, with filling up the van's petrol tank factored into this cost.
Additional extras and services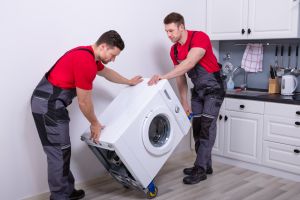 Removalists will have a stock of furniture covers and packing materials – such as boxes, tape and bubble wrap – available should you require them to help keep your belongings safe during the move, but will charge you to use them (although you will score some free protection as part of most services). Some removalists may also charge additional fees if you book in extra services, such as helping to set up appliances, or if there are challenges with the move, such as going up eight flights of stairs or having to navigate tight corridors, or even a lack of parking. You'll also likely have to fork over a 'Heavy Lifting Fee' with most providers if you need something particularly heavy moved, like a piano or pool table, as they may require additional safety measures or additional manpower to move properly.
Time/day of the move
As with most services, the time of day and day of the week will impact on the bottom line with removalists. Hiring a removalist to navigate through peak hour traffic, or on the weekend when demand for removalists is generally higher, may translate to a higher cost. While you may have limited days due to work or which day your lease ends, if you can move during off-peak hours you could be able to save yourself a few dollars.
Interstate moving costs
If you're looking to move interstate, naturally you'll be expected to pay more as the removalists will have to travel further. The final price tag will depend on how much stuff you're moving, as well as the obvious cost of how far you're moving, although there are ways to mitigate the final amount you owe, including backloading.
'Backloading' is basically using the same moving truck as someone else who is moving in the same direction, to make the most of the space available (think of sharing an Uber with someone who's travelling to a similar destination as you). This cuts down on the amount of trips the removalist has to do, which means a cheaper cost to you.
Do I need insurance when moving house?
While removalists have a duty of care when handling your personal possessions, not all of them will have the appropriate insurance, so if you're looking to transport valuable goods, you may wish to insure them via home and contents insurance, although you'll have to read the fine print to ensure that all goods are insured under your cover while in transit.
How to save money when hiring removalists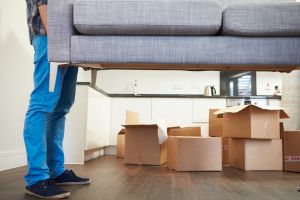 While you may be tempted to save a bit of dosh during the move by hiring a random bloke with a truck through Gumtree or getting your mates involved, there are a number of ways to save on professional services. Ways to save money on a removalist include:
Packing your possessions beforehand: Doing the packing before the moving van rocks up can save you money in a few ways. By organising packing materials beforehand (which you can either hire or buy outright), you can save yourself some money, as moving services will hire materials to you at a higher price than what you can find elsewhere. Additionally, by having everything ready to go cuts down on time, and with most removalists charging by the hour, you'll be able to get the job done quicker.
Doing it yourself: While the point of hiring a removalist is so that you don't have to do the hard yards, you can always move a few boxes yourself to cut down on the job size. By looking to set up appliances or rooms yourself, you can further reduce how much work needs to be done, as well as the final bill.
Hiring a parking spot outside your new accommodation: Parking spots are gold in the world of moving house, so spending a bit of money to reserve a prime parking spot for the moving truck can save you down the line, as well as making it more convenient for everyone. After all, no one wants to walk further than they have to while carrying a fridge.
Get accurate quotes: While it may be tempting to simply book in the first service you come across, shopping around and comparing quotes can ensure that you're getting the best deal possible. It's also important to see what services you're getting with each quote, and to read any fine print to avoid any nasty surprises once the job is done.
Setting a budget: A budget may be the last thing you think of when it comes to getting ready for a move, but after compiling all of the quotes and locking in deposits, you'll want to be sure you have enough to see you through the day. Additionally, setting a budget could help ensure you aren't ripped off, as you'll have a record of costs on hand.
Is it worth hiring a removalist?
Moving house is a big job, regardless of whether you're moving out of your old one-room studio apartment or you're packing up the family house. And while you can save yourself some money and do it all yourself, hiring a removalist comes with plenty of benefits (including saving you from tackling tight stairwells, or potentially throwing out your back). Ultimately, whether you decide to hire a removalist or not will come down to your personal situation, including how much stuff you have to move, how far you're moving and if you're in a rush to move in, as well as how much money you have to spend on the move itself, meaning it's best to look into all of your options before you decide to hire a moving service, as you may be able to find one that's best suited to your needs. After all, a new house usually means a new adventure, and you'll want to start this adventure on the right foot.

Picture credit: Andrey_Popov/shutterstock.com, Christina Richards/shutterstock.com, Monkey Business Images/shutterstock.com