Whether you're travelling for work, social distancing, or mum just didn't let you, sometimes those movie nights with friends just have to be put on hold. Luckily, there's a new way to hang out with your buddies (sort of) and binge-watch your favourite titles. It's called 'Netflix Party' – a Google Chrome Extension that can be downloaded on Chrome browsers for laptops and desktop computers – and it may have just saved us all. 
What is Netflix Party?
Netflix Party is a Chrome Extension, which can be downloaded here. Chrome Extensions are programs that can be installed onto laptops and desktops (as long as you're using Chrome as your default browser) in order to change the functionality of your browsing. In this case, downloading Netflix Party onto your device allows you and your group of mates to sync your Netflix accounts in order to watch content at the same time. It's just like you're altogether. In fact, if one person pauses the show for a bathroom break, all your screens are paused (hey, we told you it was good).  
The Chrome extension also features a chat room, where everyone can commentate on that ending without interruption to the stream. There are even options to send GIFs to each other – because honestly, sometimes words just aren't enough. And, just like an outdoor cinema (RIP), there is no limit to how many people can join in and watch altogether.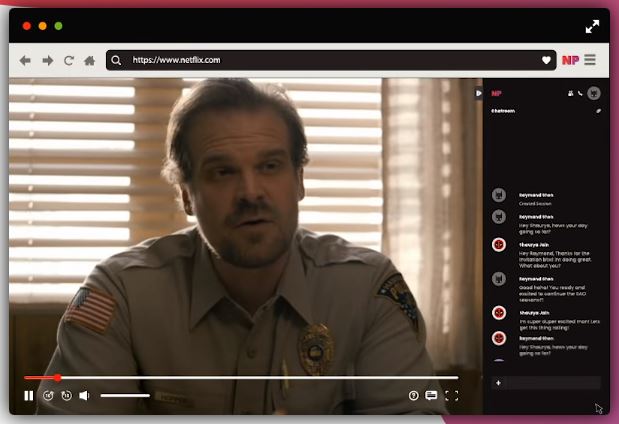 How Netflix Party works
Stuck on how to get it up and running? Follow these quick and easy steps:
Click the 'Install Netflix Party' button on the top

this page.

 

You'll be directed to the Chrome Web Store, where you can finish the installment by clicking 'Add to Chrome'.

Once Netflix Party finishes downloading, open Netflix, choose a title and start playing.

Play host and create your 'party' by clicking on the red 'NP' icon located next to the address bar. 

Click 'Start Party'.

Share your URL with anyone to invite friends!

If you're a guest looking to join another's party, click on the URL, which will direct you to Netflix. From there, click on 'NP' and you should automatically join the party.
Don't forget, Netflix Party is only available on laptops and desktop computers – so you can't get this on your television. 
Watching Netflix in the same room with other people is so 2019. Hang out with friends far and wide with Netflix Party, available on Chrome. 
Stuck on what to watch? Check out these Canstar Blue recommended top 20 movies on Netflix. 

Photo credit: Syda Productions/shutterstock.com
Original Author: Maddy Morwood