Lenovo Tablets Review & Guide
A titan within the personal computer, mobile phone and VR sectors, Lenovo aims to provide consumers with the complete package when it comes to technology. As a result, it's only natural that it looks to take over the tablet market, with enough products and options to give consumers something more to consider when it comes to entertainment.
The tablet can be a handy household tool, enough to keep the kids entertained as well as pull its weight when it comes to work. The line between laptop and mobile can be a tough one to walk, but with its expertise within both industries, Lenovo could be worth looking into. Check out what the technology giant has to offer below.
Lenovo Tablets
Through a long heritage and a range of expansive dealings, Lenovo has acquired and created a large range of products for all consumer needs. Through collaborations with companies such as IBM and Motorola, Lenovo have created products that consumers will be familiar with, as well as few new inventions.
Lenovo Tab3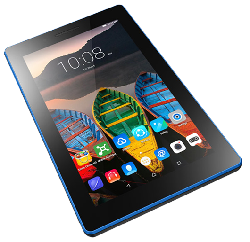 The baby of the family, the Tab3 is for those after the simplicity of a tablet, without all the bells and whistles. A good introductory model for those unfamiliar with tablets, the Tab3 also comes in at a very cheap price of around $100, making it one of the cheapest on the market.
Including a 1.3GHz quad core processor, two cameras and a battery with a 10-hour life, Lenovo manages to fit all of this into a 7inch tablet, weighing only 300g. With Wi-Fi and Bluetooth capabilities, the Tab3 can do all the basics and more.
The Tab3 has 8GB of storage, with the option to increase storage up to 64GB through a SD card
Lenovo Tab4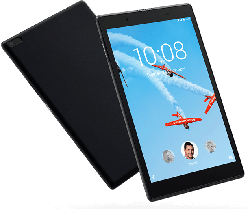 The next model up, the Tab4 boasts a 1280×800 resolution on an 8inch HD screen, making for some solid visuals. Combining with the Dolby Atmos audio, Lenovo have looked to provide big entertainment value in a small package.
Created for household use, the Tab4 also comes with a feature that will please many. Each individual person can create a separate account, with password protection, for personalisation and privacy. With an improved processor and increased RAM capabilities, the Lenovo Tab4 would be suitable for most households.
The Tab4 is still lightweight, perfect for younger children
The Tab4 is also available with a 10.1inch screen
Lenovo Tab10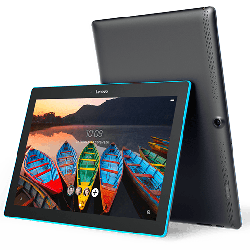 Almost identical to the Tab4 10inch model, the Tab10 is more family-friendly, with the personalised accounts allowing parents to set restrictions for kids, making it a more friendly and safe experience.
With slightly different operating systems and processors, the Tab10 would be better suited for the more casual user, but with a similar price tag to the Tab4, the choice will come to personal preference.


Lenovo 2-in-1 Models
In an innovative market, the 2-in-1 tablet has become a popular option for many consumers, giving the comfort of a laptop but with increased functionality and ease of use. Lenovo has taken advantage of its expertise and created some models that will no doubt excite some.
Lenovo ThinkPad X1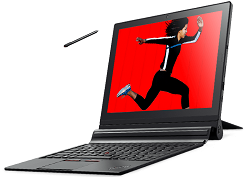 A result of Lenovo's acquisition of IBM's ThinkPad line, the company has produced a detachable 2-in-1 model of the longstanding series, creating something for consumers on the go without the commitment of a bulky laptop.
While one of the most expensive items that Lenovo has to offer, the specs possibly warrant the price tag, with consumers given options as to what to include in their purchase. With the choice between an i5 and i7 processor, consumers are able to run Windows 10 on a 12inch screen.
With two cameras, including an 8MP rear camera, the ThinkPad X1 also has 1080p video capture, allowing those special moments to be captured with ease.
Even with the detachable keyboard, the ThinkPad 1 only weighs just over 1kg
The ThinkPad X1 also has two USB ports and a microSD card slot
Lenovo Miix Series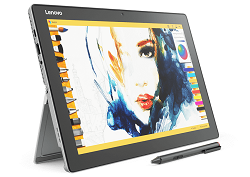 With a 12.2inch display, the Miix series would almost be considered as a laptop, with the 510 and the 720 models giving consumers enough versatility and durability for both work and play. But when you consider the price tag is similar to most high-end laptops, you'll have to make a decision as to which one is better for your needs.
With a detachable keyboard and a stylus pen, Lenovo has really aimed to lock down ease of use for those who like to work on the go, with an i5 or i7 processor available to keep up with the workloads.
With 7.5-hour battery life, the Miix series will get you through those workdays
Both the 510 and 720 models also come with two cameras, meaning you can play as much as you work
Lenovo ThinkPad Yoga Book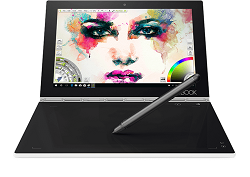 A hybrid between productivity and creativity, the Yoga Book allows users to swap between a keyboard and the Create Pad through touch, making it incredibly user-friendly. The 10inch screen allows users to fully experience both sides of the Yoga Book, as well as the entertainment value it contains.
With an Intel x5 processor and a 64GB standard memory, the Yoga Book is a strong contender for those always travelling, or those who want something lightweight.
Made of predominantly aluminium and magnesium, the Yoga Book only weighs 690g
The hinge allows for full 360-degree manoeuvrability, allowing for easy use
Lenovo ThinkPad Yoga 260
For those looking for a step below a laptop, the Yoga 260 is the closest thing you could get without going the full nine yards. Capable of running Windows 10, the Yoga 260 has four different modes to suit your working style, with the 10-hour battery life sure to keep many happy.
With a 12.5inch screen, the Yoga 260 can have an i3, i5 or i7 processor, said to be suitable for any workload. Combining with a 512GB SSD memory, the Yoga 260 is a solid unit. Like the Yoga Book, the 260 also has a 360-degree hinge function, allowing users to use the product in a number of ways.
The Yoga 260 contains a fingerprint scanner for added security
The 260 also has a port for Ethernet connection
Is a Lenovo Tablet Worth the Money?
For many consumers, a tablet is the middle ground between a mobile phone and a laptop, allowing for the 'best of both worlds' without fully committing to either camp. But with mobiles getting bigger and laptops getting smaller, it can be a tough market to figure out.
Lenovo has established itself as a strong contender in the tablet space, as its range and expertise within the technological industry is a strong selling point. Despite this however, it's still best to undertake your own research, as some models will be better suited for work, while others are built around keeping the kids entertained. At the end of the day, it may prove best to go with established products, but when it comes to technology, personal preferences reign supreme when it comes to the final purchase.
About the author of this page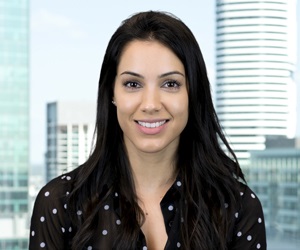 This report was written by Canstar Blue's Home & Lifestyle Content Lead, Megan Birot. She's an expert on household appliances, health & beauty products, as well as all things grocery and shopping. When she's not writing up our research-based ratings reports, Megan spends her time helping consumers make better purchase decisions, whether it's at the supermarket, other retailers, or online, highlighting the best deals and flagging anything you need to be aware of.