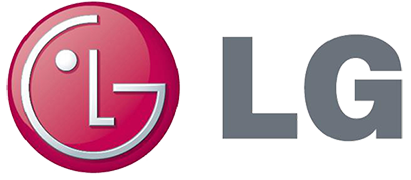 Review of LG TVs
"Life's good". LG's slogan represents the way it manufactures its products – to make life easier for you. Since being founded in 1958, LG has gone on to become one of the world's most celebrated providers of household appliances and electronic goods, across products like mobile phones and air conditioning, to kitchen appliances.
LG is perhaps best known for its big ticket home electronics, including televisions. Chances are you or someone close to you has owned an LG TV before, so popular are its TVs. How can you possibly determine which one might be best for your living room?
In order to help you make that decision, we have conducted a review of LG televisions. We won't mention each of them individually here, since there way too many. Rather, we will briefly cover the price, specs and key features that are common with LG models to show you what you can expect.
These 43 TVs can be separated into the following three categories:
4K UHD TVs (19)
OLED TVS (12)
Full HD and HD TVs (10)
LG 4K UHD TVs
4K 'Ultra-high definition' TVs have extremely high picture quality. With a screen resolution of 3,840 x 2,160 pixels, they have four times the definition of a standard HD TV. The result is incredibly detailed and crisp pictures, with diverse bright colours and high levels of contrast between blacks and whites.
LG has 19 4K TVs in total. These TVs range in price from a low of $1,179 to a high of a whopping $15,000. In terms of size, you can get them at any size between 43 and 86 inches. As you'd expect for such high prices, these TVs are quite advanced, and come with a number of quality features, mainly:
4K UHD: 8.3 million pixels provide incredibly detailed pictures
High Dynamic Range (HDR): enhances the graduation of contrast in light and dark areas of the image to create new levels of realism
Dolby Vision: dynamically optimises every scene to give refined detail
ColourPrime: 20% more colours than regular LED TVs
100-200HZ refresh rate: reduces motion blur and image judder
Built-in SmartTV: gives you a large range of streamable content, such as Netflix, Stan or YouTube
FreeviewPlus: press the green button on your remote to catch up on any show you want
Harman refined sound quality
A universal remote for all purposes
6-step upscaling: non UHD content is upscaled for clearer images
QuadCore Processor: allows for the fast loading of apps and menus
3D movies capabilities: enjoy 3D movies in your own home
Smartphone compatibility with Miracast
ULTRA luminance technology: enhances the lightest and darkest areas of the picture
SmartShare: seamlessly share your favourite content from your home network
Not all of LG's UHD models have all of these features, but you will find that the majority of them, even the cheaper ones, have most of them in different variations. So, which is the standout in the LG 4K UHD line-up?

79″ LG SUPER UHD 4K TV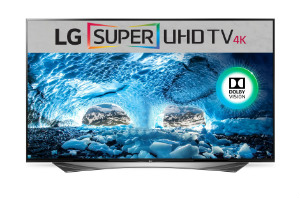 It may cost as much as a small car, but after seeing what it can do, it's surprising that it can't actually drive like one. Valued at $8,500, this LG 4K UHD TV has a massive 79 inch screen with an enhanced Harman audio solution, meaning you'll basically have your home theatre screen in your living room. It also has a 6 star energy rating, so despite its massive size, you won't be guzzling electricity if you buy it.
In terms of extra features, you're spoilt for choice by this one. It of course comes with super UHD and DolbyVision capabilities, giving the highest possible image quality to match the sound and size.  HDR gives superb contrast between shades of white and dark, and ColourPrime boosts all the other colours, giving a visual feast to your eyes. The 200HZ refresh rate also results in next to no motion blur.
There is also a plethora of features that come with this TV that make it extremely convenient. A Built-in SmartTV allows you to stream endless content from sites like Netflix and Stan, and you can easily access this feature with the universal remote it comes with. If you fancy some free to air TV catch-up, you can use Freeview plus to watch your favourite recorded shows. And what if you want to watch an old favourite DVD? 6-step upscaling will turn it into the highest quality it can, giving you striking images like you've never seen them before. Finally, the QuadCore processor lets you do all of this quickly and delay-free.

LG OLED TVs
OLED TVs are even more advanced than 4K TVs. 4K LED technology (which is used in the majority of TVs produced now) uses backlighting to produce contrast, which means the pixels switch on and off to only produce light when required. OLED TVs do no such thing, giving you incredible detail when it comes to the colours white and black. These TVs give motion clarity that others simply can't match.
These TVs are, on average, more expensive than LG's 4K models as a result. The most expensive here goes for $10,000, while the cheapest will cost you $4,000. In terms of size there is less variation, as they only come in sizes from 55 to 65 inches.
LG OLED TVs share mostly the same extra features that the 4K versions do, with a few minor differences. The most common features shared by LG's OLED models are:
Self-lighting pixels: create a pure black canvas, and only produces light when required
Infinite contrast ratios
An ultra-slim profile by applying the OLED module directly to the back glass panel
Sound bar stand: a 60W speaker is integrated into the beautiful looking stand, giving rich and deep sounds
Enhanced motion clarity: the pixels turn on 1,000 times faster than LED TVs. Perfect for watching sport!
WideColour Gamut: a colour pallet that exceeds the industry's required colour standard
Up to 4 HDMI ports
Curved screens: the inwards curve delivers an immersive viewing experience by widening the viewing range
So, which particular model stands out from the crowd?
65″ LG OLED TV – CURVED 4K UHD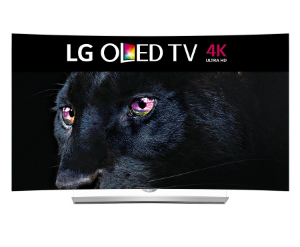 This 65 inch TV is slightly cheaper than our previous pick, and by taking a closer look at it, it might even be better value for money. First of all, it has the OLED features of self-lighting pixels and the WideColour Gamut mode, giving an incredible range of colours and shadows. Combine this with OLED motion clarity, and you'd be hard pressed to find a TV out there with a clearer image!
If you want a movie-like viewing experience, this TV will also be a good option. The curved 65-inch screen gives a wider viewing range, so you don't have to sit directly in front of the screen to be able to see what's going on. The sound is brilliant too, with Harman sound technology giving you a captivating audio and visual experience.
Other key features of this model include SmartTV, 6-step upscaling for old DVDs, 3D technology, a universal remote and a powerful QuadCore processor to make it all happen. This is an example of one of the better OLED TVs LG has to offer. Not all of them are quite this advanced, but you can rest easy knowing that the majority of them have most of the features we've listed here. These TVs are certainly worth buying if you can afford them!

LG Full HD TVs
HD TVs are the TVs you are probably most familiar with. Most TVs made now are HD compatible, and they have a screen resolution of either 720p or 1080p. So they have just a quarter of the resolution that a 4K model does. As a result of this, they tend to be smaller, cheaper and more basic.
LG has 10 of these TVs in stock, ranging in size from 32 inches to 55 inches. These are a bit bigger than most non-4K TVs, and these ones will cost you anywhere between $600 and $1,650. They have the following characteristics in common:
Full HD 1080p picture quality
50-100Hz field refresh rate: gives high image quality
Up to 4 HDMI ports and 2 USB ports, which lets you connect to multiple devices at once
USB video playback: allows high-speed delivery of videos and photos from your USB drive to the TV
Time Machine compatible: plug in your hard-drive to schedule your favourite show to record
SmartTV and streaming apps built-in
Miracast: mirrors your smartphone's screen
Web browser: use it to view online content on your TV
Once again, let's have a look at one of the standout models.

49″ FULL HD TV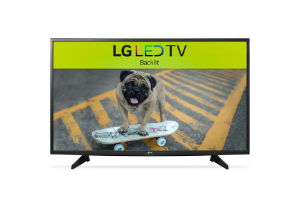 At $1,300, this 49 inch TV is extremely expensive compared to other non-4K models, as most of them cost significantly less than $1,000. It still gives you a rich 1080p screen resolution with a decent 50Hz refresh rate, but this obviously doesn't compare to the quality you can get from a 4K TV. In fact, you could actually get some 4K TVs for not much more from providers such as Kogan, so this TV must have some good features to justify its price, right?
Unfortunately, not really. It comes with SmartTV access (including Netflix), USB video playback, and Miracast. Most TVs can do this now however, so these features really don't set it apart from competitors. Ultimately, LG's full HD TV models are seemingly not worth purchasing over cheaper, equally capable models from other manufacturers. If you do want an LG TV, your best bet seems to be one of its more expensive 4K versions. With these, you'll be blown away by the quality – but also the price tag.

About the author of this page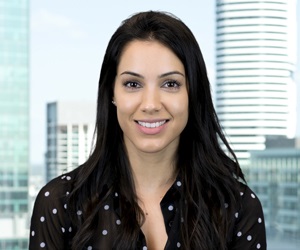 This report was written by Canstar Blue's Home & Lifestyle Content Lead, Megan Birot. She's an expert on household appliances, health & beauty products, as well as all things grocery and shopping. When she's not writing up our research-based ratings reports, Megan spends her time helping consumers make better purchase decisions, whether it's at the supermarket, other retailers, or online, highlighting the best deals and flagging anything you need to be aware of.
What do customers think about LG TVs?
In 2019, Australian customers gave LG 4 out of 5 stars for overall customer satisfaction for TVs.