The Hyundai Kona Electric stands out in the Australian electric vehicle market courtesy of its significant single charge driving range and form factor, with the small, zero-emissions SUV equipped with the capacity for fast charging, and delivering drivers a suite of smart safety and connectivity features.
Hyundai's first all-electric SUV, the Kona Electric is a relatively recent addition to its line-up, having been unveiled by the South Korean car-maker in late 2018, and its up to 449km range will doubtless capture the attention of Aussie consumers weighing up the purchase of an electric vehicle.
In a local market still finding its feet, the Kona Electric's combination of features certainly helps it stand out from the crowd, and its driving range may well present a compelling case for consumers seeking to go electric over the traditional alternatives.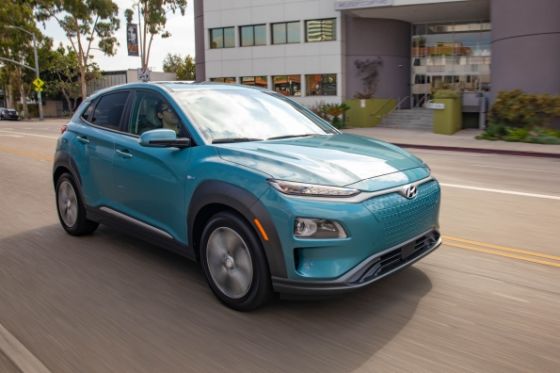 Hyundai Kona Electric 2019
The Kona Electric is available in the Australian market in three different variants – the Launch Edition, Elite and Highlander – with the Launch Edition incorporating a range of features available across each variant, while the Elite and Highlander come with a number of additional or upgraded features.
Hyundai markets the Kona Electric as "Australia's first 100 per cent-electric small SUV", highlighting its ability to cover up to 449 km in a single charge, paired with charging flexibility and a capacity for fast DC charging.
The Kona Electric is equipped with Hyundai's SmartSense technology, including a range of driver assistance and safety features, and its touchscreen centre console is designed to deliver a "seamless" multimedia user experience, and provides for Apple CarPlay and Android Auto connectivity.
Further information on the Kona Electric's specs can be found below.
Hyundai Kona Electric Review: Ample range to tackle adventures
The Kona Electric's 449km driving range and capacity for fast-charging are its headline features, and will doubtless go a long way to alleviating any concerns consumers may have over range, with it able to cater for both shorter around-town drives and longer road trips.
The Hyundai Australia website features a map and calculator via which consumers can determine how far the Kona Electric will take them on a single charge, displaying the distance covered, the percentage of charge used and the percentage remaining – and it is, of course, important to closely consider range capacity and individual requirements.
Meanwhile, as Australia's public network of electric charging stations continues to expand, drivers can expect to have more charging options at their disposal, and the ability to quickly top-up via fast-charging while on the go is also a feature worthwhile considering.
Hyundai describes the Kona Electric as "perfect for daily commutes or adventures", and the capacity to travel longer distances between charges will likely be an important consideration for consumers weighing up the different options available.
Hyundai Kona Electric Pricing
The Hyundai Australia website lists the following estimated drive-away price ranges for the different variants of the Kona Electric when the following postcodes are entered (pricing dependent upon colour selections):
| | Launch Edition | Elite | Highlander |
| --- | --- | --- | --- |
| Sydney (2000) | $63,596.30–$64,191.30 | $65,161.30–$65,756.30 | $69,886.30–$70,481.30 |
| Canberra (2600) | $61,664.40–$62,259.40 | $63,154.40–$63,749.40 | $67,654.40–$68,249.40 |
| Melbourne (3000) | $63,536.90–$64,131.90 | $65,094.10–$65,689.10 | $69,778.90–$70,373.90 |
| Brisbane (4000) | $62,449.15–$63,044.15 | $63,969.15–$64,564.15 | $68,559.15–$69,154.15 |
| Adelaide (5000) | $63,189.90–$63,784.90 | $64,739.90–$65,334.90 | $69,419.90–$70,014.90 |
| Perth (6000) | $64,682.98–$65,277.98 | $66,269.83–$66,864.83 | $71,062.33–$71,657.33 |
| Hobart (7000) | $63,177.89–$63,772.89 | $64,727.89–$65,322.89 | $69,407.89–$70,002.89 |
| Darwin (0800) | $62,989.30–$63,584.30 | $64,524.30–$65,119.30 | $69,159.30–$69,754.30 |
Source: Hyundai Australia May 2019.
More information on the breakdown of pricing can be found at the Hyundai Australia website, along with local dealership contact details.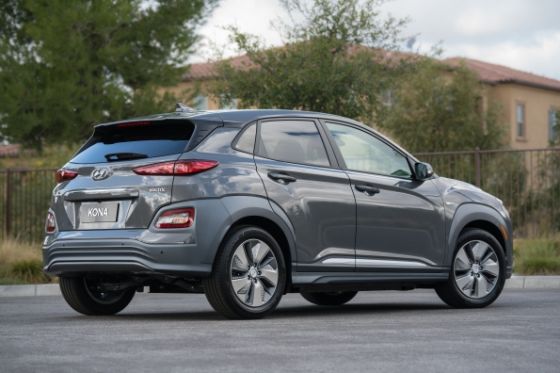 Hyundai Kona Electric Specs
The Kona Electric sports an electric motor powertrain, with it featuring:
A 356 V lithium-ion polymer battery – with 64 kWh capacity.
Maximum power – 150 kW.
Maximum torque – 395 Nm.
Driving range – approximately 449 km real-world range (WLTP standard).
Hyundai advises that the Kona Electric is equipped with a number of features to maximise efficiency, with ECO+ drive mode conserving power, and regenerative braking providing for recharge of the battery using kinetic energy captured when the car is coasting or the brakes are applied.
Among the Kona Electric's other notable features are:
Shift-by-wire – a gear stick and electronic parking brake controlled at the touch of a button.
Supervision cluster – a 7-inch digital supervision cluster displaying driving stats.
Touchscreen display – a 7-inch (Launch Edition) or 8-inch (Elite and Highlander) touchscreen controlling navigation, connectivity and media, with Apple CarPlay and Android Auto compatibility.
The Kona Electric's SmartSense technology utilises a combination of sensors and radars to act "like a second pair of eyes on the road", including:
Smart cruise control with stop and go – maintaining vehicle speed while also detecting vehicles ahead, maintaining a safe distance by braking and accelerating to the selected speed.
Forward collision-avoidance assist – employing radar and camera data to automatically activate the brakes when dangerous or sudden braking by the car ahead, or pedestrian movement on the road, is detected.
Lane keeping assist – steering assist, detecting lane markings via a front-mounted camera, monitoring the vehicle's position in the lane.
Driver attention warning – monitoring lane positioning and analysing steering corrections and patterns to detect signs of fatigue.
Hyundai describes the Kona Electric as sporting a design "brought to life with clever integrated features that make it both functional and unique", incorporating stacked headlights, aerodynamic wheels with flat alloy rims and a charging port concealed in the front grille.
The Kona Electric is available in six colours: chalk white, lake silver, phantom black, pulse red, galactic grey and ceramic blue (with additional roof colour options available for the Highlander), with a choice of stone grey/blue leather and black leather trim (dependent upon the colour choice).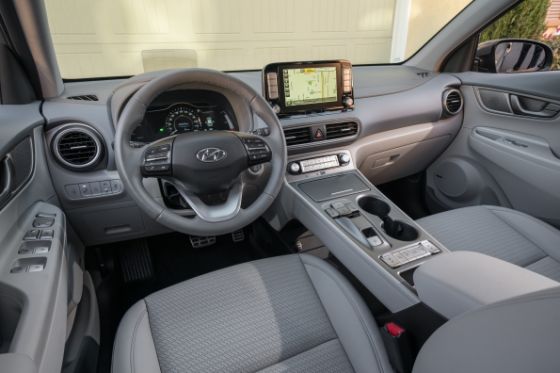 How do you charge the Hyundai Kona Electric?
The Kona Electric is equipped with an on-board AC charger with a 7.2kW charging capacity, along with a DC fast-charger with a 100kW charging capacity.
Hyundai advises that consumers can separately purchase a Delta In-Home charger wall unit from any Hyundai Blue-Drive dealership, which provides a full charge in approximately 9 hours and 35 minutes.
When utilising a commercial DC charging station with a maximum capacity of 100 kW, the Kona Electric can be recharged to 80 per cent in 54 minutes, or 75 minutes when connected to a 50 kW station.
The Kona Electric also comes with an in-cable control box, with Hyundai advising that the emergency cable can be used to charge the car from a regular household 240 V AC 3-prong power outlet, taking approximately 28 hours for a full charge.
Users can schedule the Kona Electric to charge at off-peak times via the vehicle's multimedia touchscreen settings, setting the start and finish times, with LED lighting beside the charge port displaying the battery status, turning green while charging and white once fully charged.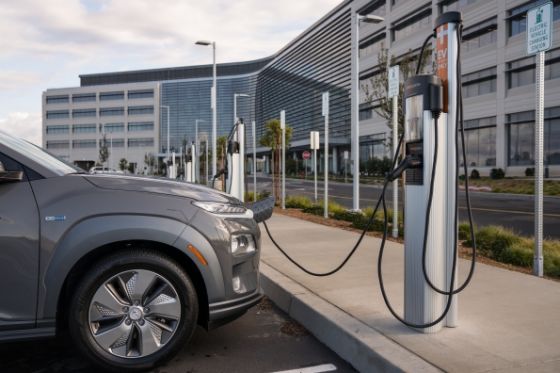 Hyundai Kona Electric Ratings
The Kona Electric has received a number of favourable online reviews, with its driving range consistently mentioned as a positive:
CarAdvice earlier this year rated the Kona Electric 8.4/10, highlighting the high-capacity battery and long driving range as positives, however noted that there is no escaping the cost premium.
CarsGuide earlier this year gave the Kona Electric an 8/10 rating, noting that on a full charge it delivers a great range, however pointed to a high price tag.
Carsales gave the Kona Electric an 80/100 rating earlier this year, stating that the driving range and performance are positives, while pointing to the price premium over conventional alternatives.
Is the Hyundai Kona Electric worth the money?
The Kona Electric's 449km driving range, combined with fast-charging capabilities and a range of smart features, may well provide the incentive needed for consumers considering going electric.
Carrying a price tag starting at close to $60,000, the Kona Electric occupies a price bracket above entry-level electric vehicle pricing (the cost of additional charging equipment should also be considered), however is priced well below some of the more expensive options currently available.
Of course, consumers interested in the Kona Electric should consider the cost when compared to traditional alternatives, and weigh up the pros and cons of the range of traditional and electric options, including long-term running and maintenance costs.