Keeping your floors clean is something that people have been struggling with for centuries. It seems that no matter how often you wash them, they will be dirty again just five minutes later. If you have children, pets, or just can't keep your shoes clean, then a mop is a crucial tool for your household.
But the traditional mop is centuries old, and can feel like a chore to use. If you feel that your current mop is in need of an upgrade, or are looking to buy your first one, then you should definitely consider buying a steam mop. What is a steam mop, you ask? Keep reading our buying guide to find out about the following:
What steam mops are
How they are different from regular mops
The different kinds of steam mops
How to find the best steam mop
The features you should look for in a steam mop
Steam mop maintenance tips
What steam vacuum cleaners are
What are steam mops?
A steam mop is a form of mop that (as the name suggests) uses steam to clean floors and carpets, unlike regular mops which use a combination of cleaning agents like bleach and detergent. The steam mop was first developed in South Korea in 1998, and was made available to the public in 2004. They work by heating up water inside an internal reservoir to temperatures as high as 120 degrees, which in turn creates steam. This steam is then pumped out of the cleaning head, which loosens grime much more effectively than regular mops. Manufacturers also claim that the steam created by these steam mops kills bacteria much better than standard mops.
Vacuum Cleaner Reviews & Ratings
What's the difference between steam mops and regular mops?
They key difference between a standard mop and a steam mop is that a standard mop requires you to have a bucket of hot water nearby while mopping, which you have to constantly go back to in order to ring out any excess water your mop has collected. Steam mops require no such effort. The primary reason for their development was that customers could save themselves time and effort.
Steam mops come with an in-built water tank which heats the water to the necessary temperature at the press of a button. They are very effective at doing this, as the benchmark for heating time among steam mops on the market is just 30 seconds! So as well as saving you the physical effort of scrubbing vigorously, they also save you time and water.
A common misconception about steam mops is that they are much more expensive than regular mops. While this may be true in some cases since prices vary according to model and brand, the difference in price between the two is mostly negligible. In most cases, traditional mops are cheaper, but you have to ask yourself if the minor difference is worth the time and effort you'd be saving yourself by buying one.
The pros and cons of steam mops
Pros
Cons
Steam mops
Do not use damaging chemicals such as bleach

Saves you time and effort

Are lightweight, convenient and affordable

Gives good results regardless of your skill level

May not be compatible with the floor that you have (you'll need to check this with your provider)

Aren't always as good at removing stains

Tend to be more expensive than traditional mops

Traditional mops
Are generally cheaper and more readily available than steam mops

The end result tends to smell better than that of steam mops

Are often better at getting rid of stains and grout

They give you a good workout!

Are generally harder to use and taker more time

The end result depends on your mopping skills

The chemicals they use can be harmful to your floor surfaces in the long-term
What different kinds of steam mops are there?
Canstar Blue does not yet rate steam mops, but here is a guide to some of the biggest brands which offer steam mops. You won't be surprised to learn most of them are also renowned for their vacuum cleaners.
Bissell steam mops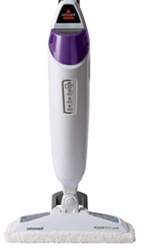 The Bissell brand was founded way back in 1876 and has been associated with home cleaning products ever since. The company says it pride itself on its innovation and the ability to deliver "better" cleaning solutions.
Bissell offers six different steam mops which range in price from $99 to $350 for the more advanced models.
Shark steam mops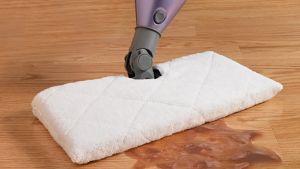 Shark considers itself to be a pioneer in innovative cleaning solutions for small household appliances. As well as providing steam mops, Shark also produces top of the range vacuum cleaners, as evidenced by its success in our customer satisfaction ratings.
Shark's website shows that it offers three different models of steam mops, although the prices are not clear.
Hoover steam mops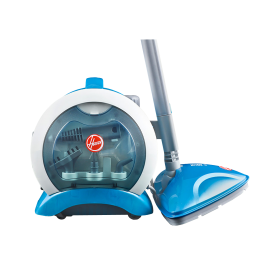 Hoover is an American vacuum cleaner company which also specialises in floor care products. The brand says that its steam mops are designed to be as user-friendly as possible.
There are five different steam mop designs to choose from, but again pricing information is limited.
Monster steam mops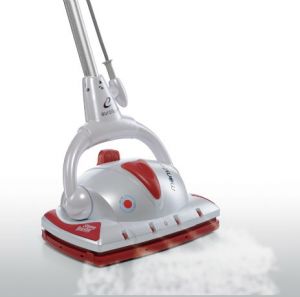 Monster stocks a huge range of steam cleaning products, such as steam irons and exothermic mops, as well as steam mops. The company claims its 'pressurised boiler technology' makes its steam hotter and drier than any other steam cleaner in Australia.
Monster has three different models of steam mops to pick from. They come at the pricier end of the market, costing upwards of $260.
Other notable brands
Unlike the other brands in this list, Kenwood does not specialise in selling home cleaning products, rather 'cutting edge, stylish and efficient' kitchen appliances, plus one steam mop! Another brand that dabbles in steam cleaning is Karcher which claims its steam mops can eliminate 99% of all common household bacteria. Airflo and Vax also have a hand in steam cleaning. You can learn about all kinds of different brands and models by walking into any major retail store such as Harvey Norman or the Good Guys and speaking to one of their appliance experts.
How to find the best steam mop
After learning about the different steam mops out there, it's important to shop around to find the best quality versus price match for your home. Many outlets only carry four or five different models, and some even less, so there often isn't that much to choose from. Therefore, you need to consult a variety of different stores before coming to your decision. Look for the models with the highest consumer ratings, or for reviews that show similar tastes to yours.
Additionally, the best steam mops are often the ones that come pre-loaded with a number of highly useful features that allow them to perform different functions.  Some of the features you should look for are as follows.
A long power cord: Probably the simplest feature, a long cord means you won't have to constantly plug and unplug your steam mop in various different sockets as you make your way around your home.
Stand-up: This gives added convenience as it allows the mop to stand up on its own if you have to do something else (like answer the phone). Tipping over while heating or cooling can be a problem, so this feature eliminates the risk. Additionally, you should also look for a pad rest that you can out under it so it doesn't damage the floor after sitting in one pace for too long.
Carpet glider: This attachment allows the steam mop to be used on the carpet. This is useful if your existing model isn't compatible with carpets and you want to get rid of some light soiling.
Steam lock switches: On and off lock switches are safety features that prevent you from accidentally turning on the steam flow if the water tank is open.
Add-water indicator: This is a light that some models have which warns you when the water supply is running low. This will allow you to refill the reservoir ahead of time.
Additional cleaning accessories: There are all kinds of accessories out there that you can attach for the purpose of cleaning different spaces that you can't normally reach. Tools like jet nozzles and brushes can be very useful for properly cleaning shower cubicles and under cupboards.
There are many other neat accessories and features that you can find, but these ones are the most commonly sought after.  Consider all of the possible features you might need and the spaces you'd need to clean, and then look for a model that matches your criteria.
How to look after your steam mop
Once you've bought your ideal steam mop, you need to ensure that you take care of it properly. Since they have internal parts, they require much more maintenance than a standard mop, which puts a lot of people off buying them. However, as long as you know what to do, it can actually be very easy, and will ensure your steam mop retains a high standard of cleaning.
We've compiled a list of steps you need to take to ensure that your steam mop doesn't suffer or break down:
Use distilled water where possible: After using your mop for a while, lime scale and other mineral deposits can start to build up on the inside. These can clog the nozzle and weaken the heating function, delaying the time it takes for your water to heat, or causing it to not heat properly at all. Using distilled water (water that has been purified) is the best way to avoid this problem.
Do not add chemicals or soap: Steam mops are only designed to function on pure water, nothing else. Adding any other ingredients can harm the unit and cause internal damage.
Clean your water reservoir every now and then. Please make sure that it is turned off before you do this, and unplug it just to be sure!
Wash the mop pad after every use: This doesn't take much effort, and the manual that comes with your purchase will have the necessary instructions on how to do this.
Clean the steam nozzle often: If you notice that the steam is escaping slowly, it might be because the nozzle on the mop head is being blocked by mineral buildup. To clean it, remove the mop head and stick a small object like a pen lid in to loosen up the deposits.
What are steam vacuum cleaners?
Steam vacuums are very versatile appliances. Most of us might have buckets, mops, dustpans and brooms in our cupboards, but a steam vacuum can handle most of these roles on its own. Similar to steam mops, steam vacuum cleaners only use water, but are used mainly for carpet cleaning. The heated water is sprayed onto the carpet and later vacuumed up again, taking any dislodged dirt and other substances with it. You can also clean most other surfaces with them, although a steam mop is probably better for hard surfaces.