About Anytime Fitness
A brief history
This chain of 24 hour gyms has been around for about thirteen years now, and has their origins in the USA.  Their business quickly grew from Cambridge, Minnesota, and now exists in 2,700 locations across 21 countries. In May, Anytime Fitness opened its 400th club in Australia after launching in 2008. Its first club in Australia was in Gunnedah, NSW. The 400th is in Aspley, Qld.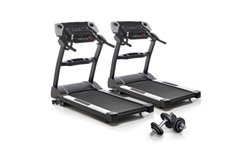 Gyms customer satisfaction review results
What do they offer?
The main offering of Anytime Fitness is the convenience of being a 24-hour gym. Because they never close, members can go in and work out at any time – even 2am if that suits them best. It appeals for night owls, shift workers, and anyone leading a busy life because they can go to the gym whenever they have a spare hour, no matter what time it is.
But you are not left stranded on your own in a gym with no staff or support. Anytime fitness offers personal training, and tools to help with nutrition and healthy eating. The gym has both staffed and unstaffed hours which vary from club to club, but you can find the information easily.
One advantage to the chain being so large is that you can use their gyms around the word. Going away for work? Check if you can find an Anytime Fitness so you don't have to sacrifice your gym session.
There is a safe atmosphere that surrounds the club, as access is for members-only during unstaffed hours, and entrance is only possible with a secure access key. There is also 24/7 security monitoring.
Anytime Fitness offer private bathrooms for member comfort, and make the atmosphere of the gym as inviting as possible.
What our survey respondents say…
This year Canstar Blue surveyed over 900 people who have a gym membership or recently joined a gym. These are some of the comments, among others, made by survey respondents who work out at Anytime Fitness.
| | |
| --- | --- |
| They are the best! Great staff, wonderful classes, friendly atmosphere, flexibility of being able to use any anytime fitness anywhere in the world | Often the equipment gets left around and it's hard to find the weights you need |
| Access 24/7 in any state. | Staffed hours don't always extend into the evening. |
| Very affordable. | No group fitness classes. |
| Convenient locations, there are many around where I live. | Can get very busy. |
| Good quality equipment and friendly staff. | Sometimes having an attendant would be a good idea, especially in the warmer months when the gym gets a bit hot and stuffy |
Source: Canstar Blue Gyms survey – 2015
Other gyms we rated
Canstar Blue commissions Colmar Brunton to regularly survey Australian consumers across a range of categories to measure and track customer satisfaction. The outcomes reported are the results from customers within the survey group who are members of a gym.
The other gyms in this year's survey are:
Fernwood
Genesis
Goodlife Health Clubs
Jetts
Plus Fitness
Fitness First
Snap Fitness
Other articles you might like
New to the gym? Here are 5 workouts to try
7 items you need in your gym bag
Could a virtual exercise coach suit you?