About Plus Fitness
About the company
Plus Fitness is an Australian chain of franchised gyms which offer affordable and flexible membership. They have over 120 locations in Queensland, New South Wales, Victoria, South Australia, and Western Australia. Most branches are located in capital cities, with the exception of two in Townsville (QLD) and one gym is Esperance (WA). Pretty good growth since the franchise did not launch until 2011.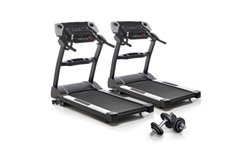 Gyms customer satisfaction review results
What do they offer?
Plus Fitness mainly offers convenience, with most gyms open 24/7. Like many gym franchises, Plus Fitness offers reciprocal rights access across the country; one membership allows you to use any facility in the country, at any time you want to go.
Plus Fitness offer group fitness classes in a variety of areas, from boxing, to strength training to yoga. Like all gyms, they offer personal training for a little bit of help and a personalised fitness routine. Memberships cost around $13 per week with no lock in contracts, no access card fees and no hidden administration fees – this does differ from gym to gym though, so check the pricing of your local franchise.
What our survey respondents say…
This year Canstar Blue surveyed over 900 people who have a gym membership or recently joined a gym. These are some of the comments, among others, made by survey respondents who work out at Plus Fitness.
| | |
| --- | --- |
| The franchisee at our gym is very friendly and goes out of his way to make sure that my experience at the gym is great.  It is not too big and access is 24/7. | More organized classes would be nice for some variety |
| The price is great, the staff are friendly, and the other gym goers are polite. | More classes would be great. |
| The atmosphere is comfortable and non-confronting. | Equipment between gyms is not consistent; hard to do the same program at various outlets. |
| They have an area for ladies only. | Some of the gyms are small and don't have enough equipment. |
| Easily accessible always, good clean facilities, friendly staff. | Need more service |
Source: Canstar Blue Gyms survey – 2015
Other gyms we rated
Canstar Blue commissions Colmar Brunton to regularly survey Australian consumers across a range of categories to measure and track customer satisfaction. The outcomes reported are the results from customers within the survey group who are members of a gym.
The other gyms in this year's survey are:
Fernwood
Anytime Fitness
Genesis
Goodlife Health Clubs
Jetts
Fitness First
Snap Fitness
Other articles you might like
New to the gym? Here are 5 workouts to try
7 items you need in your gym bag
Could a virtual exercise coach suit you?