One of the great things about summer is being able to enjoy eating outdoors in the fresh air in your backyard or on your balcony. It's even better when you can take the cooking outside, too.
Barbecuing is a classic Aussie summer pastime for a reason. With barbecue-ready weather almost year round – depending on where you live – it's only natural that we take the opportunity to get our grill on rather than staying cooped up indoors in the heat.
Where do barbecues come from?
Barbecue (or barbeque) grills have been around for centuries and can be found in almost every culture across the world. The name "barbecue" has been traced back to the Arawak people of South America, when it was was originally called a 'barbacoa' and was made of wood.
The iconic round 'kettle' barbecue was first developed in the 1950s, from parts normally used to form the bottoms of buoys. Outdoor gas grills were invented soon afterwards. Today there's an incredible range of barbecue designs, from compact portable grills to large high-end barbecues with lots of bonus features.
To help you navigate the wide world of outdoor cooking, we've put together this guide to how to get your grill on.
How do barbecues work?
There are several types of barbecues, but all generally involve a grill or hotplate suspended over a source of intense heat. Most include a hood, which is placed over the top of the barbecue to trap heat inside and reach even higher temperatures. It's pretty straightforward, but choosing the right barbecue for you requires a bit more consideration.
What types of barbecues are there?
There are two broad types of barbecues based on their fuel source: gas and charcoal. Recently electric barbecues have also emerged, but aren't anywhere near as popular as the classic flame grill.
Charcoal Barbecues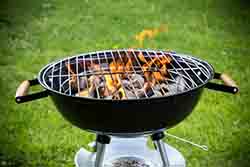 The original style of barbecue, charcoal grills are fuelled by burning charcoal, BBQ briquettes, or in some cases firewood. They're generally cheaper than gas barbecues because they're simpler, although there are also high-end models available.
Getting good results out of a charcoal barbecue requires a little more work, as it needs to be preheated for quite a while before it gets hot enough to use and is harder to keep at a constant temperature. They're a bit messier as they produce ash and other bits of fuel remnants that need to be disposed of. When cooking using charcoal, you should get that classic smoky flavour every time.
Gas Barbecues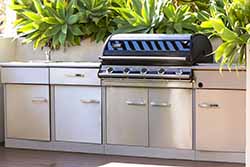 These are a little more complex than charcoal grills, as they involve a lot more parts to function. This means more work and money to maintain and repair the barbecue. Gas barbecues are easier to clean than charcoal barbecues, but have more tricky intricate parts to clean.
Most gas grills burn LPG (liquid propane gas), which is easily accessible and affordable from many petrol stations, hardware stores, barbecue supply stores, and camping supply stores. Natural gas models are also available, but these require a connection to your home gas main.
Gas barbecues provide much more consistent and controllable heat, with each burner individually controlled so you can cook at multiple temperatures at the same time. Warm up is pretty quick, as it takes just a few minutes for the grill or hotplate to get hot. To get a smoky flavour from a gas barbecue you can use wood chips in a smoker box.
Electric Barbecues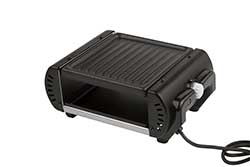 These are the most recent type of grills to hit the market, and are the only kind that can be used indoors. Electric barbecues have a heated element either embedded within the cooking surface or right below it. Most models are portable and can be placed on a tabletop. The drip pan catches grease and fat, usually in some kind of collection container.
How much do barbecues cost?
There's a huge range of different brands and models of barbecues, so we've only included a selection of these in our comparison tables as a rough guide to the price ranges you can expect to find. These aren't necessarily the best brands out there, so we encourage you to explore the full range of barbecues on the market when it comes to choosing which one to buy.
Factors that affect the price of barbecues include:
Number of burners
Size of barbecue
Quality of build materials
Extra features (such as storage shelves and hooks, tiered shelves, and side grills)
'Portable' refers to any barbecue that can be easily carried and fit inside a car with minimal effort.
'Freestanding' barbecues aren't designed to be taken camping, but can be moved around for storage or rearranging your patio. They may be on a trolley with two or four wheels, or sit on castors.
'Build-in' barbecues are for permanent installation on your patio, usually into a brick, timber or other kind of bench.
Charcoal BBQ Costs
Fuel can cost between:
| Brand | Portable | Freestanding |
| --- | --- | --- |
| Billabong | $20 – $80 | $69 – $399 |
| Weber | $110 – $170 | $219 – $2,399 |
| Landmann | – | $299 – $399 |
| Kamado Joe | – | $499 – $2,295 |
| Traeger (wood-fired) | – | $999 – $2,088 |
| BeefEater | $449 – $499 | $599 – $749 |
| Jumbuck | $23 – | $59 – $199 |
Gas BBQ Costs
Most gas barbecues use LPG, although some LPG models can be converted to use natural gas instead. Natural gas models tend to be more expensive.
| Brand | Portable | Freestanding | Build-in |
| --- | --- | --- | --- |
| Downunder | $99 – $179 | $299 – $399 | – |
| Ziegler & Brown | $329 – $649 | $1,399 – $5,995 | $1,099 – $4,695 |
| Landmann | $349 – $498 | – | – |
| Barbecues Galore Beefmaster | – | $599 – $999 | $489 – $899 |
| Cordon Bleu | – | $699 – $2,413 | $699 – $1,099 |
| Cucina | – | $999 – $3,995 | – |
| Weber | $319 – $479 | $739 – $5,299 | $999 – $5,399 |
| Gasmate | $74 – $299 | $599 – $3,490 | – |
| Jumbuck | $59 | $98 – $449 | $399 – |
| Matador | – | $550 – $1,190 | $699 – $899 |
Electrical BBQ Costs
Most electrical barbecues are designed to be portable, or at least quite compact and fairly easy to take apart. Electric grills from Sunbeam and George Foreman range in price from around $129 to $249.
How do I choose a barbecue?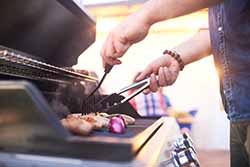 There are a few questions you'll need to ask yourself to make sure you choose the right barbecue for you, and don't end up wasting money on something you don't need.
Portable, freestanding or built-in
Portable barbecues are great for camping, beach trips, or those with very limited storage space.
Freestanding BBQs can range from the traditional kettle BBQ to a great big heavy-duty grill that takes two strong people to pick up. Some have two or four wheels for manoeuvrability, some just sit on castors, so there's variable ability to move it around. That means you're not trapped with your BBQ in just one place if you like being able to change things around, or want to take it with you if you move house.
Build-in barbecues are designed to be permanently built into your outdoor entertaining area. They look great but once it's installed you can't move it.
Fuel type
The debate over which produces the better flavour, charcoal or gas, has been going on ever since both types existed. If you want to be able to grill without getting a smoky flavour, go for gas.
Charcoal gives that authentic hot coal roasting experience, but produces ashes that can be a pain to clean up.
Gas is faster, more efficient, and easier to control the heat, but has more intricate parts to keep cleaned and maintained.
Natural gas means you've always got access to fuel supply, while with LPG you need to keep getting the gas bottle refilled. However, not all homes have a natural gas connection and you'll need a licensed professional to connect it to your barbecue.
How many burners?
Consider how much food you'll want to be barbecuing at once. Another way to think about it is to consider how many people you'll usually be cooking for. There's no point in having a massive barbecue just to feed two people.
Charcoal barbecues tend to be smaller, except for many of the spit roast designs. This, combined with the fact that charcoal grills need constant monitoring to keep the heat right, means that to feed a big party you'll be spending most of your time working on the barbecue.
Gas barbecues can have anywhere from 2 to 8 burners. If you'll usually be cooking for only one to three people, a 2 or 3 burner barbecue should do the job. However, if you'll be throwing parties or have a large family to feed, 4 or more burners may be necessary to get everything cooked rather than having to cook lots of little batches.
A hotplate type barbecue, or a grill with a hotplate section, is good for grilling onions, stir fry, or other food that's too small to cook on a regular grill. Alternatively, you can just use a pan or other barbecue-suitable cookware on top of the grill if you'll only need it occasionally.
A side burner may also be helpful if you'll want to cook or heat sauce, soup, or other liquids.
Extra features & accessories
Consider how often you'll need to move the barbecue – if the answer is 'frequently', you should test how easily you can move it before making the purchase. Four wheels make it super easy, but lighter and smaller barbecues often have two wheels at one end with a handle at the other to lift and push/pull.
Side tables can be super handy for keeping food on hand ready to be put on the barbecue, and move cooked food off the grill.
Shelves underneath the barbecue and hooks on the sides make it easier to keep all of your barbecue tools and other bits and pieces together and easily accessible.
Two-tiered grills have an extra grill suspended over the main one, usually for keeping food warm or steaming vegetables.
A rotisserie either built into the barbecue or a removable one is good for slow-roasting meats and vegetables. A rotisserie is a long metal rod suspended horizontally across the grill, slowly rotated, usually by an electric motor, to roast food.
What can I cook with a barbecue?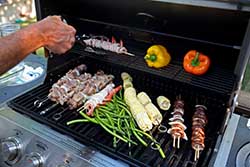 You can grill pretty much anything that won't fall, melt or disintegrate through the bars or mesh. Vegetables grilled on a barbecue have a different taste and texture, particularly those that go very well with smoky flavours such as mushrooms and eggplant. Pineapple is a classic barbecue food, as the flames caramelise the sugars for a fresh, sweet, and juicy addition to your burgers or kebabs.
Ready, steady, grill!
We've only just cracked the surface of barbecuing with this article. Barbecues are getting better and better, with more and more brands introducing new ways to improve the grilling experience. For example, some designs now include an infrared radiant burner in the back of the grill area, to produce even heat across the surface and apply more heat to a rotisserie.
We suggest looking into a wide range of brands and reading reviews to find the right choice for you.