When you move house or move into your own place for the first time, a washing machine will likely be one of your most costly purchases. But for those looking to save, ALDI has revealed its new front loader for less than $400!
On Saturday (July 28), the German grocery giant will be selling a 7.5kg front loader across Australia, with a price tag of just $379 – half the price of washing machines from some leading brands.
The ALDI washing machine (Model no. STR-FLW75) is boasted for a 3.5 star energy efficiency rating and a four-star water efficiency rating.
Despite the low price tag, it comes equipped with all the necessary features you would expect from a washer, including an LED display to show the cycle settings, a child lock for those curious little fingers, as well as a whopping 16 washing programs.
In addition, you'll also find a delay start function – allowing you to make use of off-peak electricity times – and an intelligent memory feature to save your most frequent wash settings.
It's not a lightweight model though, coming in at 72kg, with dimensions of 615(L) x 600(W) x 850(H) mm, so it requires suitable equipment to transport, according to ALDI.
Like various other major appliances that ALDI has stocked in the past, the washing machine comes with a three-year in home warranty on this model for peace of mind.
ALDI recently offered a slightly smaller 7kg top loader for $349. However, being a top loader, it had a lower energy efficiency rating of just two stars and a water rating of 3.5.
ALDI has also recently stocked clothes dryers for less than $200.
When compared to other front loaders of the same size, the ALDI washing machine stacks up well on price. Haier's 7.5kg front load washing machine (HWF75AW1) retails for $649, for example.
The Haier model is also equipped with 16 programs, but has a slightly higher water efficiency rating of 4.5 stars.
Other ALDI Special Buys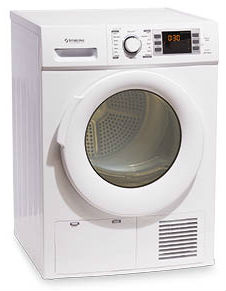 Another ALDI Special Buy available for purchase this weekend is a 7kg condenser clothes dryer for $399 (STR-CD8C). Expect 16 drying programs, including an anti-crease function.
The design features an LED display to show the remaining time, as well as touch and dial controls. You will also find a transparent plastic window, galvanised drum and 180° door access. The dimensions are 615(L) x 600(W) x 850(H) mm.
In similar fashion, it has a child lock for safety and a delay start option (up to 24 hours), so that you can set a load to finish as you get home from work.
It certainly provides greater capacity than its 4.5kg predecessor sold in April. However, expect a low energy rating of just two stars for the larger load capacity model.
For those hoping to score a bargain with other laundry items, ALDI will have you covered with laundry baskets (from $11.99), storage units (from $59.99), as well as steam irons (from $19.99), ironing boards ($39.99) and garment steamers ($89.99).
Keep in mind that stocks are limited and vary between stores, so you might like to get in early to try get your hands on either ALDI's front loader or dryer this weekend!