Electrolux Clothes Dryers Review
Electrolux is best known for its ovens, cooktops and refrigerators, but it's also a big name in the laundry department, too. Electrolux has seven different models of clothes dryer, including two condenser dryers, one condenser heat pump dryer, and four vented dryers. For those who aren't sure of the difference, you can read about the different types of clothes dryers here.
In this review, Canstar Blue takes a close look at Electrolux clothes dryers. We discuss their features, price and whether Electrolux dryers are right for your home.
EDC2075GDW – 7kg Condenser Dryer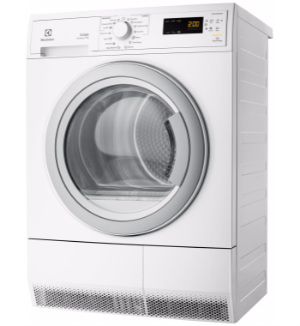 The first Electrolux model of clothes dryer we'll look at is the 7kg condenser dryer. It has 10 cycle programs, as well as 5 dryness level options. Some of its cycle options are pretty innovative. Its 'refresh cycle' for example, uses hot and cold air to refresh musty clothes that have been in storage, while its 'time' option can dry small loads in only 38 minutes. It also comes with 'advanced sensor dry', which periodically checks moisture levels to eliminate over-drying and protect your fabrics from damage.
The only real criticism about this dryer is that it only has a 2 star energy efficiency rating. While that's pretty standard for condenser dryers in general, it could still add considerably to your power bill in the long run.
Price: $717 (Appliances Online)
EDC2086GDW – 8kg Condenser Dryer
This dryer is similar to the one we just discussed, though it includes a few additional features and settings specially designed for woollen clothes. It also includes Electrolux's auto-sensing technology, reverse tumble action, as well as useful dry programs such as easy iron, timed and synthetics.
As for its short comings, this particular model doesn't include a special refresh cycle like the 7kg version we discussed above. It's also smeared by a rather poor energy efficiency rating of 2 stars – though again, this seems pretty standard for most condenser and vented dryers.
Price: $849 (Appliances Online)
EDH3786GDW – 8kg Heat Pump Condenser Dryer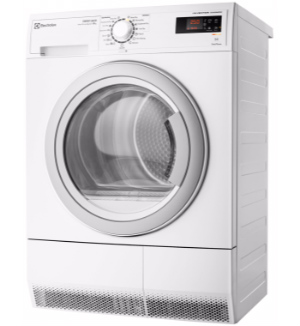 Heat pump clothes dryers are famously efficient, and Electrolux's EDH3786GDW is certainly no exception. It boasts a 6 star energy efficiency rating, consuming 48% less electricity than its standard condenser counterpart (model EDC2086GDW). While this dryer is the most expensive in the Electrolux range, you can rest assured it doesn't skimp on the features. It has advanced sensor dry, 4 dryness settings and 9 cycle programs, including a refresh cycle and a woolmark blue accreditation cycle for hand wash only woollen garments.
Whether or not this is the right clothes dryer is right for you boils down to whether you want to save money now, or in the future. While the Electrolux's heat pump model is twice as expensive as the standard version, it uses half the electricity. If you use your clothes dryer often, then the EDH3786GDW might be a good long term investment.
Price: $1,626 (Appliances Online)
EDV5051 & EDV6051 – Sensor Dry Clothes Dryer
This is technically two models of dryer, though the only difference between the two is only in capacity. The EDV5051 has a 5kg load capacity, while the EDV6051 has a 6kg capacity. Both are vented clothes dryers, which means rather than capturing the moisture from the air, these dryers simply blow it out in to the room. These dryers are toward the cheaper end of the spectrum in terms of purchase price, but each dryer only has a 2 star energy rating, meaning it could add significantly to your power bill.
Now onto the interesting part – what do these dryers feature? Both come with a sensor dry function which helps to dry your clothes precisely. It also includes timed, anti-crease, airing, delicate and other settings to ensure your clothes are perfectly dry. The 6kg model is usually only $50 more expensive than the 5kg model, so if you're not sure what size is best suited for you, you might find value in opting for the larger EDV6051.
EDV5051 Price: $424 (The Good Guys)
EDV6051 Price: $474 (The Good Guys)
EDV5552 & EDV6552 – Sensor Dry Clothes Dryer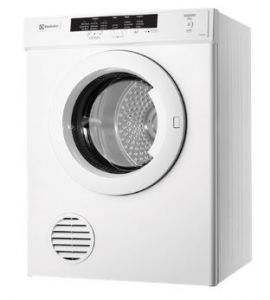 The EDV5552 and EDV6552 are two models of vented clothes dryer with capacities of 5.5kg and 6.5kg respectively. These dryers have a few more settings than the EDV5051 & EDV6051 models discussed above. In addition to the standard auto sense and time dry settings, the EDV5552 & EDV6552 also include a 'refresh' cycle, as well as 'extra dry' and 'iron dry' settings. It also has a progress display to let you know how much longer your load has left.
Once again, there isn't a massive price difference between these two models of clothes dryer. While you should try avoid buying a larger than necessary clothes dryer, it won't set you back much more if you opt for the extra kilogram of capacity. That said, being larger, the EDV6552 will consume slightly more energy than the EDV5552, so be sure to factor this in to your consideration.
EDV5552 Price: $529 (Appliances Online)
EDV6552 Price: $582 (Appliances Online)
Are Electrolux clothes dryers worth the money?
Electrolux is famous for reliability, and it backs this reputation with a 2 year warranty across all its clothes dryers. While Electrolux clothes dryers have some pretty neat features, there are other manufacturers which include even more in this respect. That said, Electrolux clothes dryers tend to be cheaper than other dryers of comparable capacity.
In a nutshell, Electrolux dryers have enough features to satisfy the needs of most households and are affordable for their size. Don't forget that there are plenty of other brands to check out, so be sure to compare using Canstar Blue's customer satisfaction ratings.
About the author of this page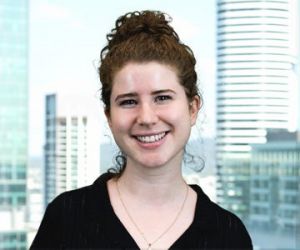 This report was written by Canstar Blue's Content Producer Luciana Lawe Davies. She writes about streaming, appliances and consumer products and services. Luciana enjoys bringing readers the best in what's on TV and at the shops, including the best deals and latest reviews.
What do customers think about Electrolux clothes Dryers?
In 2019, Australian customers gave Electrolux 3 out of 5 stars for overall customer satisfaction for clothes dryers.
Electrolux clothes Dryers
Canstar Blue
Award:
Overall Satisfaction