Fisher & Paykel Clothes Dryers Review
What started as a small New Zealand refrigerator reseller, Fisher & Paykel is today a globally recognised manufacturer of kitchen and laundry appliances. Fisher & Paykel says its products are for real people, designing appliances that are adaptable, functional, durable and of real quality. Safe to say, its clothes dryers are no exception. This review looks at Fisher & Paykel clothes dryers, including what's on offer and how much they will cost you.
Fisher & Paykel Clothes Dryers
Those familiar with clothes dryers will know there are four main types: Condenser dryers, vented dryers, heat pump, and gas dryers. Fisher & Paykel offers seven models of clothes dryer in its current line-up, which includes five vented clothes dryers, one condenser dryer, and one heat pump condenser dryer.
Condenser Dryers
In a nutshell, condenser dryers condense the moisture in the air into water. This is then either stored in a tank or drained away. While generally a little pricier, condenser dryers are usually preferred over their vented counterparts as they reduce the amount of moisture and allergens expelled in to the laundry. You can read more about condenser dryers here.
DE8060P2 – 8kg Condensing Dryer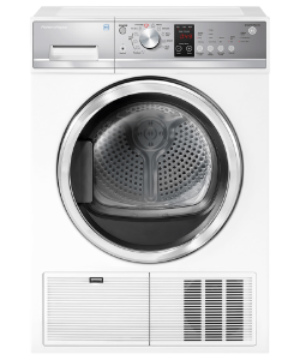 This large clothes dryer has 11 dry cycle options, including all the ones we've come to expect, as well as Fisher & Paykel's unique 'Rack dry'. All Fisher & Paykel condenser dryers come with a rack specialised to fit inside the dryer. Owners can then use the 'rack dry' option to dry items without tumbling – great for shoes, hats and woollens.
This 8 kg condensing dryer also includes 'auto-sensing' technology which detects moisture levels inside the drum so it knows when the clothes are perfectly dry and when to shut off so as to avoid damaging your clothes.
In terms of drawbacks, the only one worth noting is that this dryer holds a fairly unimpressive 2 star energy rating. While it may be cheaper to purchase than the latter mentioned heat pump condensing dryer, consider if it might actually end up costing you more In the long term.
Price: $848 (Appliances Online)
DH8060P1 – 8kg Heatpump Condensing Dryer
This dryer shares many of the same attributes and features as the standard condensing dryer we just discussed. Aside from a few additional cycle settings, the only notable difference between the two models is that this one uses heat pump technology, rather than an electric heating element.
Instead of just pumping the hot air out, heat pumps move warm-moist air into an evaporator, where it is dehumidified before returning the warm air back to the drum. This closed-loop process is much more efficient than traditional dryers. In fact, Fisher & Paykel claims this model in particular is 40-60% more efficient than comparable condenser or vented dryers. This claim is backed by its impressive 6-star energy efficiency rating.
Heat pump dryers are much more expensive than vented or standard condenser dryers. They also dry at lower temperatures, meaning it will take longer, though there's a reduced likelihood of damage to your clothes.
Price: $1,469 (Appliances Online)
Vented Dryers
Vented dryers are the most common type of clothes dryer in Australia. They're usually cheaper to purchase, though generally less efficient to run. Unlike with condenser clothes dryers, vented models don't capture the moisture from your clothes, instead expelling the warm-moist air in to the laundry.
DE4060M1 – 4kg Vented Dryer
The DE4060M1 is one of the newest, smallest and most affordable models of clothes dryer on offer from Fisher & Paykel. It has four dry cycles, auto-sense technology, progress indicator display and more. It also includes Fisher & Paykel's standard 2 year warranty on parts and labour.
Of course, you only get what you pay for, so while it is the cheapest of the Fisher & Paykel dryer range, you can't adjust its temperature or dryness level settings. It also only has an energy efficiency rating of 2 stars.
Price: $347 (Appliances Online)
DE5060M1 – 5kg Vented Dryer
This Fisher & Paykel dryer is similar to its 4kg equivalent, though there are a few minor differences. The first is of course in size, with this dryer having an extra kilogram of capacity. It also has four settings, but includes a 'heavy' dry cycle setting in place of the 4kg version's 'air dry' setting. Finally, this model includes a delayed start setting, as well as three dryness level and four temperature settings.
Once again, being a vented dryer, it's not very energy efficient. It's also a little more expensive than the 4kg model.
Price: $424 (Appliances Online)
DE6060G1 – 6kg Vented Dryer
Aside from having a slightly larger capacity, the Fisher & Paykel DE6060G1 is hardly different to the DE5060G1. The DE6060G1 has the same features and performance specs as the above model, though it also includes a drying rack for delicate items, as well as a 2 year comprehensive manufacturer's warranty, rather than a limited warranty on parts and labour.
The DE6060G1 is more than $150 more expensive than the DE5060G1 on Appliances Online. If you don't think you will need the extra capacity, then it is difficult to justify the additional expenditure.
Price: $699 (Appliances Online)
DE6060P1 – 6kg Premium Vented Dryer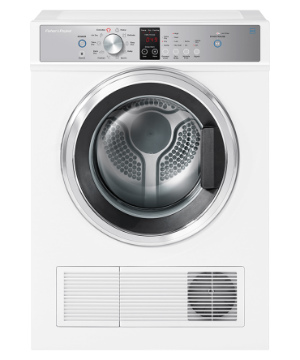 As the name probably gives away, this clothes dryer appears to be Fisher & Paykel's best vented model. It has 10 dry cycle settlings, four temperature settings and five dryness settings. It also includes a SmartTouch dial, drying rack, 180° door, auto-sensing and a 2 year comprehensive manufactures warranty.
The premium DE6060P1 model has four more dry cycle settings than the above mentioned DE6060G1, though aside from that, there are few differences in terms of features and specifications.
Price: $799 (Appliances Online)
Are Fisher & Paykel clothes dryers worth the money?
Fisher & Paykel clothes dryers excel in features and design, all the while remaining competitively priced. Fisher & Paykel is a well-known and trusted brand, usually one of the top performing in our annual customer satisfaction ratings for clothes dryers. The manufacturer also includes a warranty of 2 years across all its products, giving you some piece of mind about your purchase.
The more difficult decision is choosing among the different models of Fisher & Paykel clothes dryers. While some of its dryers are objectively better than others, consider the price and whether you would even utilise the increased capacity or additional features.  Also be sure to factor in energy efficiency and consider whether Fisher & Paykel's heat pump condenser dryer might save you money in the long run.
About the author of this page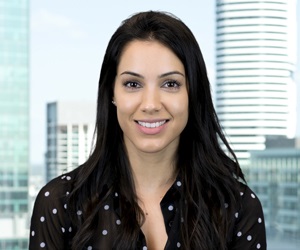 This report was written by Canstar Blue's Home & Lifestyle Content Lead, Megan Birot. She's an expert on household appliances, health & beauty products, as well as all things grocery and shopping. When she's not writing up our research-based ratings reports, Megan spends her time helping consumers make better purchase decisions, whether it's at the supermarket, other retailers, or online, highlighting the best deals and flagging anything you need to be aware of.
What do customers think about Fisher & Paykel Clothes Dryers?
In 2019, Australian customers gave Fisher & Paykel 3 out of 5 stars for overall customer satisfaction for clothes dryers.
Fisher & Paykel Clothes Dryers
Canstar Blue
Award:
Overall Satisfaction