Review of Kambrook Clothes Irons
Kambrook has been around since 1964 and produces a large range of small household appliances, from portable heaters to microwave ovens. Its products aim to be affordable while maintaining quality, with the company stating that all products go through significant durability testing. In this review we will look at Kambrook's clothes iron range to see how they match up to this goal.
Kambrook Clothes Irons
Kambrook clothes irons lie in a fairly affordable category with prices ranging from $30 to $50. There are several key features across its full clothes iron line including self-cleaning function to help stop lime scale build-up on the soleplate, anti-drip feature to help prevent water drop stains on clothing and a steam shot feature to help eliminate stubborn creases. Let's look into the other features that Kamabrook clothes irons offer.
Kambrook Core Range
This core range varies from $30 to $50 providing a variety of standard features for your clothes ironing experience.
Kambrook Speedsteam Iron KIR470BLU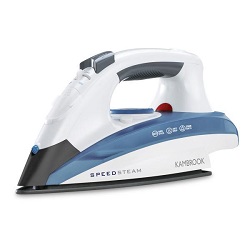 This model is equipped with 2000W heat up power and a 220ml water tank capacity. Kambrook claims its soleplate is non-stick for easy gliding over all fabric types and features a self-clean function to help with the removal of impurities and scale. Kambrook Speedsteam iron has two key settings including an anti-drip system and dry ironing system. To assist with removing creases, it is equipped with a fine misting spray and variable steam control.
Kambrook Steamline Auto-off Iron KI780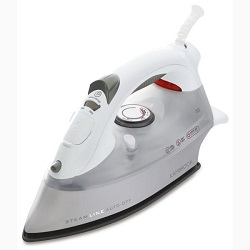 The Kambrook KI780 steam iron model operates at 2000W of power and includes an auto-off safety feature, a self-cleaning function and an anti-drip system. For user friendliness, Kambrook has designed this Steamline iron with a non-slip handle and 3m cord. Similarly to the previous models, it uses a non-stick soleplate and for steam power it produces a shot of 80g/min. It comes in a white colour with silver features for a sleek, modern design.
Kambrook Advance Range
Although these clothes irons are categorised under "Advance", they still range from $30 to $50 in price. There are several new functionalities that Kambrook has added to improve on its previous models.
Kambrook Steamline Detach Steam Iron KIR795MAU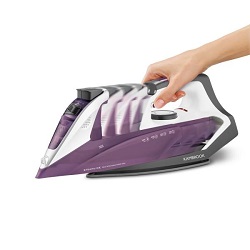 Kambrook's most advanced clothes iron model is the KIR795MAU with a detachable 180ml water tank. Instead of using a water cup to pour water in, you can bring the water tank straight to the tap. It uses Kambrook's FabriGlide soleplate and has a collar tip for ironing around pockets and buttons.
As a safety feature it is equipped with a three way auto-off safety protection, which turns off the iron when it is left unattended. It also features variable temperature and steam control as well as an anti-drip system and self-clean function. It comes in a purple colour and provides 2200W of heat-up power.
Kambrook Steamline Auto Advance Steam Iron KI785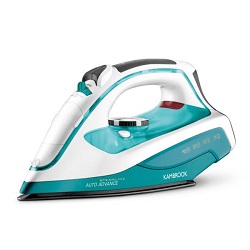 For 2400W of heating power, you may like to check out Kambrook's Auto Advance Steam Iron. It is equipped with a FabriGlide soleplate and temperature control. It uses a 260ml water tank with a 3m cord length for user friendliness. Kambrook's KI785 model includes a fine mist spray, anti-drip design, self-clean function and a shot of steam. Some extra features that may be of use for your ironing needs are a variable steam function and auto-off safety protection.
Kambrook Steamline Advance Steam Iron KI735
Kambrook's final steam iron model is the KI735 which is designed with a large 360ml water tank and 2.5m cord. It operates at 2400W with a self-clean FabriGlide soleplate. It features a fine mist spray and anti-drip system as well as a steam shot feature. For the hard to reach areas such as around buttons and pockets Kambrook has designed this model with a collar tip structure. Its vertical function also allows you to iron your clothes directly on a hanger.
Should I go home with a Kambrook clothes iron?
With a number of top branded clothes irons out there, it can be difficult to decide what to upgrade to. Kambrook clothes irons are equipped with a variety of features, from a removable water tank to auto off protection, that aim to help make the process more efficient. Some key considerations for you may also be the cord length and handle design for user friendliness.
Kambrook clothes irons sit in the low end price category largely due to their soleplate. Although Kambrook claims its irons have a non-stick design, higher end models use seemingly higher quality materials for their clothes irons. On the other hand, for something on a budget while still maintaining quality, Kambrook may have a clothes iron for you.
Clothes Irons Reviews & Ratings
About the author of this page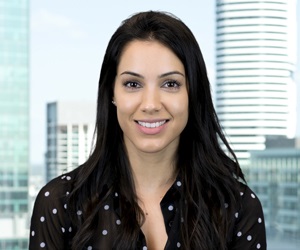 This report was written by Canstar Blue's Home & Lifestyle Content Lead, Megan Birot. She's an expert on household appliances, health & beauty products, as well as all things grocery and shopping. When she's not writing up our research-based ratings reports, Megan spends her time helping consumers make better purchase decisions, whether it's at the supermarket, other retailers, or online, highlighting the best deals and flagging anything you need to be aware of.
What do customers think about Kambrook clothes Irons?
In 2019, Australian customers gave Kambrook 3 out of 5 stars for overall customer satisfaction for clothes irons.