Review of Kambrook Portable Heaters
From blenders and pressure cookers to vacuum cleaners and electric blankets, Kambrook seems to have it all. The brand has had several invention hits, with the 4-way power board and plastic kettle to name just two, claiming its products are built to tough standards with more features than you would normally expect at the low prices. Does that apply to its portable heaters? Canstar Blue takes a look in this review.
Kambrook Portable Heaters
Kambrook produces a variety of portable heaters to suit most needs and households. It offers a range of oil column, ceramic, fan, radiant and other alternative heating options. For a fun design option, one of its personal ceramic heaters comes in a bulbous shape (pictured below)! Another has a slimline tower shape design for a compact form to fit perfectly in the corner of a room. Other than that, Kambrook sticks to a fairly standard design with its portable heaters, with powerful heating capabilities.
Kambrook oil column heaters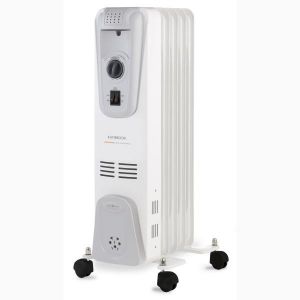 Oil column portable heaters are a form of convection heater. They are electrically heated where oil is used as a heat reservoir, not as a fuel. Oil column heaters generally have lower surface temperatures and are useful for heating bedrooms and studies.
Kambrook's oil column heaters combine convection and radiant heat with three heat settings. There are three size variants in the range:
5 Fin heater (1000W) – SRP: $69.95
7 Fin heater (1500W) – SRP: $79.95
11 Fin heater (2400W) – SRP: $119.95
All Kambrook oil column heater models have a variable thermostat to set and maintain your desired temperature, as well as wheels, a handle and a cord wrap for easy movability. Two main safety features in this range are a safety tip-over cut-out switch and over-heat protection. There is a one-year warranty on all the models. Depending on the size of the room you are trying to heat, you can choose accordingly. The model with 11 fins, however, also has a 24 hour timer to program daily working time.

Kambrook ceramic heaters
For a portable heater that is a little more compact, you may like to try out Kambrook ceramic heaters. These heaters use ceramic plates which absorb heat and release it into the air. These are most useful for spot heating around the home and office. The following three Kambrook ceramic models are all equipped with a safety tip-over switch and ThermoGuard overheat protection for added safety.
Kambrook Personal Ceramic Heater KCE75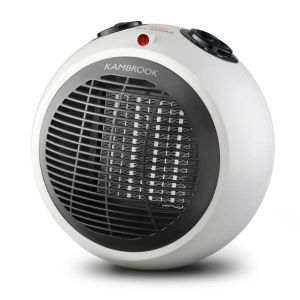 This model comes in a funky bulbous shape that claims to be portable and compact. It has two heat settings as well as a fan only option. It uses ceramic elements and a thermostat control with a maximum power of 1500W. Kambrook Personal Ceramic Heater KCE75 has a power indicator light with a carry handle for easy portability and a removable filter. A red colour variant is available exclusively at BigW.
Dimensions (L x W x H): 230 x 220 x 220mm
Warranty: 1 year
SRP: $59.95
Kambrook Ceramic Tower Heater KCE340
The Kambrook Ceramic Tower Heater KCE340 is designed with an LCD digital display panel and a remote control. It has a ceramic heating element with a maximum power of 2000W. It features a variable thermostat to control and keep your desired room temperature, an 8 hour programmable auto-off timer and a carry handle for easy moveability. This model is also designed with an oscillation function to circulate heat throughout the room and has two heat settings – low and high – as well as an auto and fan only option.
Dimensions (L x W x H): 205 x 210 x 620mm
Warranty: 1 year
SRP: $139.95
All-Round Stylish Ceramic Heater KCE460WHT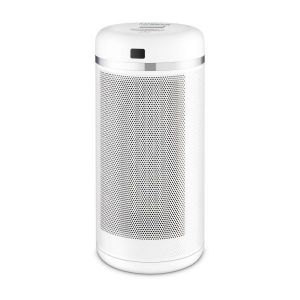 The latest Kambrook ceramic model has a sleek, cylindrical design with a 60° oscillation claiming to be for up to 140° of heat coverage. Similarly to Kambrook's tower heater, this model is also designed with an LCD screen, remote control and an 8 hour programmable auto-off timer. There are two manual heat settings with the maximum power of 2200W as well as an auto mode option.
Dimensions (L x W x H): 178 x 178 x 380mm
Warranty: 1 year
SRP: $149.95
Kambrook fan heaters
Another option to make your bedroom toasty on a chilly morning is Kambrook's fan heaters. Fan heaters use a standard metal-coil element to distribute heat. It has dual functionality allowing the fan to run in both warm and cold seasons. A downfall is that fan heaters take slightly longer to cool down compared to ceramic heaters.
Kambrook Upright Fan Heater KFH600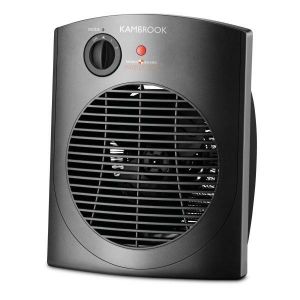 The Kambrook Upright Fan Heater KFH600 provides two heat options – low (1200W) and high (2400W) – and also a fan only mode. It is equipped with a carry handle and a power indicator light. There are two main safety features including a tip-over cut-out switch and ThermoGuard overheat protection.
Dimensions (W x H x D): 235 x 330 x 185mm
Warranty: 1 year
SRP: $49.95
This model has several additional features, including a variable thermostat to control and maintain room temperature, as well as an oscillation function for circulating action. For the extra features, it will cost you an extra $20 with the total SRP being $69.95.

Kambrook radiant heaters
Radiant heaters use infrared rays for instant warmth to heat the skin and nearby objects rather than the air itself. These claim to not dry out the air compared to other forms of heating. Radiant heaters are often used outdoors and also ideal for those with dust allergies as the air isn't circulated with this type of heating.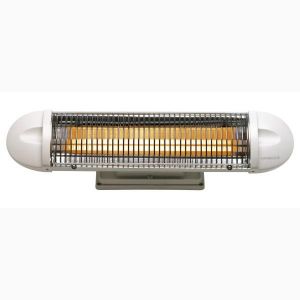 Kambrook 1000W Radiant Bar Heater KRH110
This model has a compact design and is wall mountable. It is designed with a safety grill and has a pull cord operation with dual quartz elements. There is just one on and off switch and a maximum heating power of 1000W. If you are looking for a portable heater on a budget to use for the entertainment area in your backyard or simply by the couch for your toes, you may like to keep this model in mind.
Dimensions (L x W x H): 586 x 310 x 190mm
Warranty: 1 year
SRP: $39.95
Kambrook 2400W Radiant heater KRH500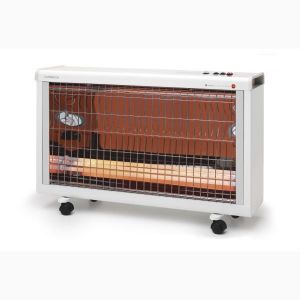 For something with a little bit more power, Kambrook's 2400W radiant heater may be an option to consider instead. This model has a turbo fan to help circulate the heat around the room and three heat settings with a maximum power of 2400W. It is designed with a power indicator and castor wheels for easy mobility. There is a safety tip-over cut-out switch if it the heater is accidently tipped over.
Dimensions (L x W x H): 420 x 220 x 700mm
Warranty: 1 year
SRP: $149.95
Alternative Kambrook heating appliances
Along with a wide variety of portable heaters, Kambrook also has a couple of other nifty heating appliances to check out.
Kambrook Micathermic Heater KMH100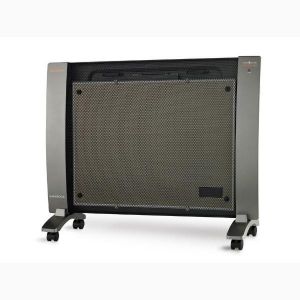 Micathermic heaters are a type of space heater that produce both radiant and convection heat. The heating element is covered in thin sheets of mica, which help the heater to relay the heat to different parts of the room. These heaters claim to heat up large areas and are energy efficient as they can reach their maximum heat output in about a minute.
The Kambrook Micathermic Heater has a variable thermostat and two heat settings with a maximum heat power of 1500W. It is designed to be lightweight for easy moveability with a carry handle and wheels. Similarly to other Kambrook portable heaters there is a safety tip-over cut-out switch inbuilt into the model.
Dimensions (L x W x H): 702 x 262 x 580mm
Warranty: 1 year
SRP: $129.95
Kambrook Heated Towel Rail KTR10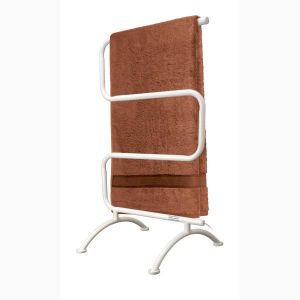 For a heating appliance that you may like to have in your bathroom, Kambrook's Heated Towel Rail is designed to make your towel nice and toasty. It has a versatile design with the option of keeping it free standing or mounted onto a wall. Its large surface area is said to be suited for even the larger bath towels. Kambrook claims it has a simple operation to use as well as an IPX1 rating for use in wet areas. Maximum heating power is 80W.
Dimensions (L x W): 540 x 90mm
Warranty: 1 year
SRP: $69.95
Are Kambrook portable heaters worth the money?
Kambrook aims to make practical products that enhance everyday life. Prices for its portable heaters start from as little as just $40 for a small radiant heater and go up to $150 for a more powerful model. If you're on a budget, Kambrook's range does remain affordable compared to most other brands, but without extensive design features. Nevertheless it does have several new models including a bulbous shape heater and the all-round stylish ceramic heater that will catch a few eyes. But if you're only looking for something to get you through the chilly months without burning a hole in your budget, then one of the cheaper models will likely suffice.
As energy efficiency is also an important factor to consider when buying a portable heater, it certainly doesn't help when there are no energy star ratings available for them. To help keep your energy bills low, it's a good idea to consider how much wattage a heater uses, as the higher the wattage, the more power it will need to run it – and the more you will pay in energy bills.
Portable Heaters Reviews & Ratings
About the author of this page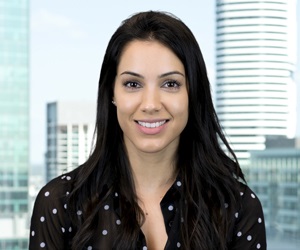 This report was written by Canstar Blue's Home & Lifestyle Content Lead, Megan Birot. She's an expert on household appliances, health & beauty products, as well as all things grocery and shopping. When she's not writing up our research-based ratings reports, Megan spends her time helping consumers make better purchase decisions, whether it's at the supermarket, other retailers, or online, highlighting the best deals and flagging anything you need to be aware of.
What do customers think about Kambrook Portable Heaters?
In 2019, Australian customers gave Kambrook 4 out of 5 stars for overall customer satisfaction for portable heaters.
Kambrook Portable Heaters
Canstar Blue
Award:
Overall Satisfaction