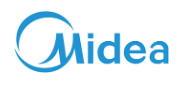 Midea Ovens Review & Guide
Renovating? Moving home? Or just upgrading your old oven? Chinese brand Midea may be a potential choice for your next oven purchase with a range of options on offer, including built-in, freestanding, as well as ovens with pyrolytic functionality. We'll explore the specs and features to give you an idea of what Midea ovens are really capable of, and whether they may be the best fit for your home.
Midea Ovens
Within its line of ovens, Midea features both:
Built-in ovens
Freestanding ovens
The built-in range is electric, including standard, pyrolytic and steam ovens, while the freestanding range comes with ceramic, gas, or induction cooktops, giving you plenty of options to choose from depending on what you're after or what your dream kitchen looks like.
Midea Built-In Ovens
Built-in ovens are the most common type of oven on offer from Midea, with several models to choose from, detailed below.
Midea 65DAE40139 60cm Electric Built-In Oven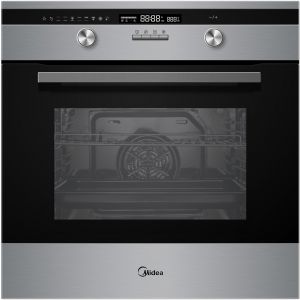 This 60cm electric oven from Midea has all the features you'd expect from an oven, along with a 70L capacity. It also includes nine cooking functions, such as conventional, fan grill and fan forced with digital controls and a digital timer.
The oven's glass door is said to be triple-glazed to help it remain cool to the touch during cooking for additional safety. It's also stated to feature a cavity cooling system. It retails for about $1,000 and comes with a telescopic rail, two shelves with a tray grill rack.
Dimensions (HxWxD): 595 x 595 x 575 mm
Total connect power: 3.1kW/15Amp
3-year warranty
Midea MO9SS 60cm Electric Built-in Oven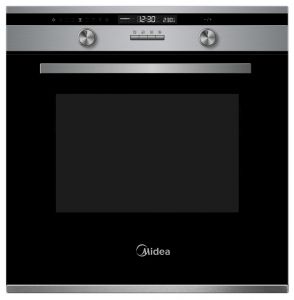 This 60cm Electric Built-in Oven offers 80L of interior capacity, so it can be used for multi-level cooking with seven possible shelving positions. It includes a deep baking dish, two standard oven trays, two wire shelves for side racks and a rotisserie. There are removable catalytic liners in the interior of the oven, designed to take the effort out of cleaning by absorbing grease and grime splashes during cooking.
Similar to the model above, it has a 'triple glazed door', plus extra insulation stated to keep more heat locked inside the oven chamber for more energy-efficient cooking. It additionally features nine cooking functions, which includes 'Defrost' to thaw frozen foods, and 'Double grill' for fast grilling.
The door is designed to close gently and the dark glass makes it easy to clean while looking stylish. You can find this model for around $800.
Dimensions (HxWxD): 595 x 595 x 575 mm
Total connect power: 3.1kW/13Amp
3-year warranty
Midea MO9BL 60cm Electric Built-in Oven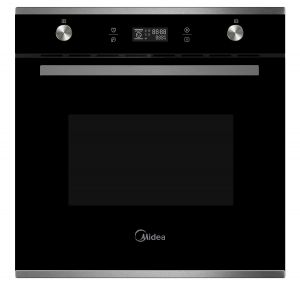 With a slightly different exterior, this 60cm Electric Built-in Oven also offers a large 80L gross interior capacity. There are nine versatile cooking functions available, which includes double grill, double grill with fan, conventional plus fan, convection fan, conventional, defrost, full grill, bottom heating and light. There are removable catalytic liners for easy maintenance.
Similarly to other models, it features a soft close door that's triple glazed, along with a dark glass finish. Plus, it's designed with push out control knobs and touch controls. This model can be found for around $900.
Dimensions (HxWxD): 595 x 595 x 575 mm
Total connect power: 3.1kW/13Amp
3-year warranty
Midea MOP9SS 60cm Pyrolytic Electric Built-In Oven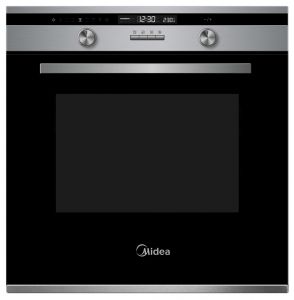 Another oven with 80L of capacity is this 60cm pyrolytic electric oven. The "pyrolytic" functionality means you can clean the inside of the oven without the need for harsh chemicals or detergents by heating to a high temperature, turning the grease and grime into ash. Once cooled down, you can simply wipe down the oven.
This model has nine cooking functions, as well as a timer and large viewing window. It's designed with a quadruple-glazed door that's cool to the touch, plus closes gently for safety. This unit is priced at around the $1,000 mark.
Dimensions (HxWxD): 595 x 595 x 575 mm
Total connect power: 3.2kW/13.3Amp
3-year warranty
Midea MCOS34BL 34L Built-in Steam Combi Oven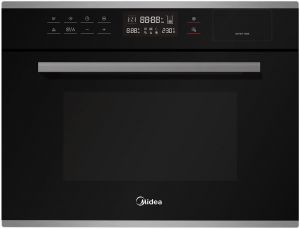 This 34L model is one of the most expensive in the list, retailing at about $1,500. It features 40 steam automatic menus and 40 base automatic menus. It operates with easy touch controls and a white LED display, allowing you to select from the assortment of Grill, Microwave, Convection, and Combination functions. Its door is designed with four layers of glass for durability and to trap heat inside the oven cavity, assisting with consistent cooking results, according to Midea.
It has a one litre water tank, and with its 1500W Steam function, you can steam large volumes of food apparently while maintaining natural flavours during the cooking process.
Dimensions (HxWxD): 454 x 595 x 570 mm
Total connect power: 3kW/15Amp
3-year warranty
Midea Freestanding Ovens
There are three models within Midea's freestanding range, which all feature the same specs in terms of the oven, but differ by the type of cooktop they are designed with, so you can pick accordingly.
Freestanding 90cm Oven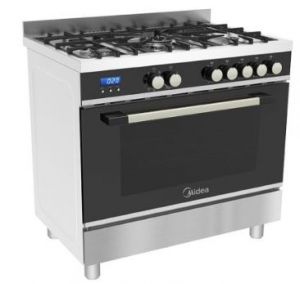 The three freestanding models from Midea include:
MFS90ISS: Induction
MFS90CSS: Ceramic
MFS90GSS: Dual Fuel
All three units feature nine cooking functions with twin fans, along with a 109L usable cavity and removable three-layer oven glass door. They're also designed with a digital timer, and feature a fold down storage drawer for all your essentials such as pans and cooking utensils. They come with several accessories including a rotisserie, a black grill tray with a griddle rack, full telescopic runners, plus a grill rack.
Dimensions: 895 x 600 x 765mm
Are Midea ovens worth the money?
Midea offers some sophisticated and modern designs with a range of features, allowing you to cook with relative ease. There's also a number of oven types to choose from, whether you're looking for a freestanding or a built-in model, giving you a variety of options to suit your cooking needs and kitchen design. With up to nine cooking functions available, including a grill option, there isn't much more that's needed, and if you prefer to take the guesswork out of cooking, Midea's steam oven may be your saving grace, with 40 automatic menus to choose from.
Its ovens are also not the most expensive in the market, so if you're on a budget, this brand is one to keep in mind. A further advantage is their modest sizing, with most having a capacity of 80L. So, if you have a large family to feed or you tend to cook for a number of people regularly, then Midea's ovens could be the way to go. Before jumping into any purchase, however, it's important to do your research and it may help to compare with other brands. You can check out our ratings via the link below to see how everyday Aussies have rated their brand of oven they've most recently purchased.
About the author of this page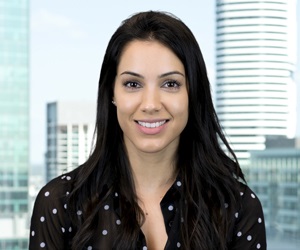 This report was written by Canstar Blue's Home & Lifestyle Content Lead, Megan Birot. She's an expert on household appliances, health & beauty products, as well as all things grocery and shopping. When she's not writing up our research-based ratings reports, Megan spends her time helping consumers make better purchase decisions, whether it's at the supermarket, other retailers, or online, highlighting the best deals and flagging anything you need to be aware of.