Fact Checked
If you're looking to upgrade your cooking set up and aren't sure which oven to buy, consider a freestanding oven. They're a fairly cost friendly model of oven and there's plenty of sizes to choose from so you can find something to suit any kitchen. Read more about freestanding ovens in this Canstar Blue buying guide to get the upgrade you need. 
What is a freestanding oven?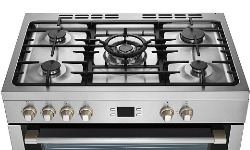 A freestanding oven, which is also known as un upright oven, is an individual unit appliance that can stand alone from the bench top in a kitchen. It is built with the hotplates on top and the oven below as one unit and can be convenient if you don't have a space to mount a wall oven or under-bench appliance. 
Freestanding oven pros and cons
Freestanding ovens can make designing a kitchen simple and are a convenient appliance, however they do unfortunately have some setbacks as well as positives. 
Pros: 
Less expensive to purchase and install than other oven types, like built in models

Provides flexibility of movement around your kitchen

Easy to repair and replace because you can access almost all elements of the appliance

Offer a number of styles that can suit any kitchen décor
Cons:
Can be tougher to clean if there are gaps between the bench and the oven

Don't offer the combination of a gas and electric freestanding oven and cooktop, will usually offer gas or electricity for both

Less seamless than a built-in oven and can be tougher to integrate into the kitchen space for smaller kitchens
How much do freestanding ovens cost?
The cost of a freestanding oven will depend on the size and design with some models starting at just $700 and some reaching upwards of $10,000. You can find brands that offer large six burner cooktop freestanding ovens with generous oven space, or a more suitable four burner cooktop and oven. 
Who Sells Freestanding Ovens?
There are numerous brands that sell freestanding ovens including Smeg, Bosch, Westinghouse and Fisher & Paykel. 
Smeg Freestanding Ovens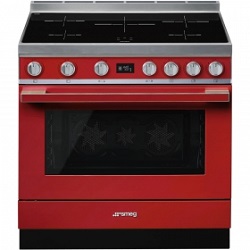 Smeg is an Italian appliance manufacturer with style. Its models of freestanding ovens range in price from $3,000 to $13,000 for its top-of-the-line double ovens. It aims to keep up with the latest trends including the black and vintage oven trends. It offers both gas and electric freestanding ovens, with some coming in a retro colour scheme. Expect a variety of sizes including 90cm, 110cm, 120cm and 150cm, as well as different types of hobs – gas, induction and ceramic, giving you plenty of variety to choose from to suit your household. 
Westinghouse Freestanding Ovens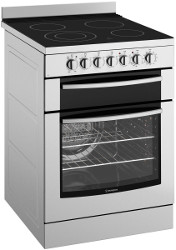 A subsidiary of Electrolux, Westinghouse offers 54cm, 60cm and 90cm-wide freestanding ovens. The large variety of freestanding ovens includes all types – gas ovens with hobs, electric ovens with gas, coil or solid hobs and dual fuel. Prices sit within the $1,500 to $2,500 range making them an affordable appliance as far as ovens go. Most of the range is claimed to be designed with 'acid-resistant' enamel, without any nooks or joints that trap grease in to help save time and elbow grease. 
Bosch Freestanding Ovens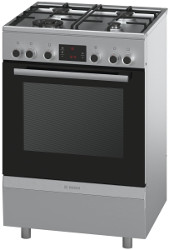 German manufacturing giant Bosch also offers various types of ovens, including freestanding dual fuel, electric and induction cookers. Its freestanding ovens start at $2,500 and reach around $5,000 for larger models with more features. Bosch is one of the few brands that gives consumers the option between gas for both the oven and cooktop, or a combination of both gas and electricity. Its induction cookers are said to be more economical than traditional cooktops, while its gas cookers are claimed to provide faster cooking compared with electric cooktops. 
Fisher & Paykel Freestanding Ovens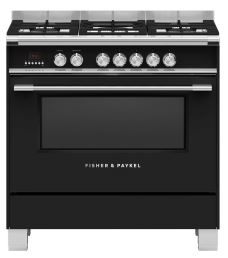 Fisher & Paykel was founded in New Zealand over 80 years ago. It offers a wide variety of freestanding models within its oven line up with two different style options available – Contemporary and Classic. All models are 90cm-wide, designed to be the domestic versions of the professional chef cookers, not only looking like they've come from a restaurant kitchen but also delivering similarly high performance, according to the brand. All units are priced between $3,000 and $8,000, making it one of the more pricier brands available.
Which is the best freestanding oven?
Which freestanding oven is the best comes down to personal preference and how much someone may use the appliance. While some freestanding ovens are larger and can accommodate a busy family, the cost of a larger oven may not suit their budget. When choosing a freestanding oven, it's important to keep a few things in mind like size and how that may impact energy bills, the style of power used – gas or electricity – and how it may fit into your kitchen. If you're still uncertain then compare different brands of ovens below to help you decide.   
Original Author: Veronika Hleborodova