Fact Checked
Finding an oven that best suits your kitchen can be a mission, with not only plenty of brands available to choose from but plenty of types as well. To help you with the decision-making process, Canstar Blue has compiled a list of the types of ovens below, regardless of if you're a kitchen novice or a culinary master.
The different types of ovens
There are a number of different types of ovens to choose from that can suit your cooking habits and needs in the kitchen, including: 
Gas ovens 

Electric ovens 

Steam ovens 

Self-cleaning ovens 

Warming drawers
Gas ovens
Gas ovens are a popular option for many households and are often cheaper to run long-term compared to electric models. But more households are starting to turn away from gas ovens, partly because these are more expensive to buy upfront and there aren't many brands that offer options under $1,000. Plus, households that don't already have a natural gas line connected could be left with a bigger bill than expected. 
How much do gas ovens cost?
Gas ovens will generally start around the $1,000 mark and can reach upwards of $2,800 depending on the brand and size. 
Electric ovens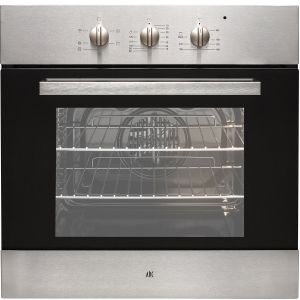 The more common option for households, electric ovens make up the majority of the market and are usually cheaper to buy than gas ovens. With more brands and model types available, an electric oven may be your best bet if you're looking for something specific, or if you like to have plenty of options to choose from.
How much do electric ovens cost?
Electric ovens will generally start around the $450 mark and can reach up to $10,000 for larger models, such as double ovens and particular brands with added features.
Steam ovens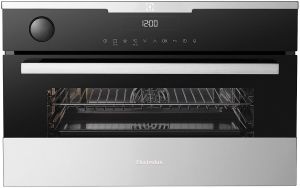 While steam ovens may not be at the top of everyone's list, they have begun to become quite popular in recent years, with the water-based oven providing an alternative for consumers. Steam ovens work by injecting water into a boiler, either through a separate canister or through a connection to the waterline, with the steam then heating the oven. The steam cuts down the need for oils, which can provide a healthier alternative for households.
How much do steam ovens cost?
Steam ovens, like gas ovens, will start at a slightly higher cost at $1,000 and can reach upwards of $10,000 for larger units and upmarket brands.
Self-cleaning ovens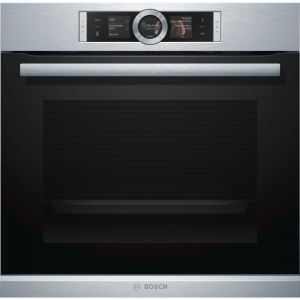 While ovens are handy, cleaning the appliance can be tiring and sometimes fiddly ─ especially when large meals create lots of grease and cause burnt food to stick onto the walls. Thankfully, self-cleaning ovens are readily available. These generally work by heating the internal cavity at a high temperature to essentially 'burn' all the residue, leaving ash and grime that should now be much easier to wipe off.
Self-cleaning ovens can be further categorised into pyrolytic and catalytic, with both keeping your oven clean in different ways. Pyrolytic, the more common type, heats the internal cavity at a high temperature to essentially 'burn' all the residue, leaving ash and grime that you can now wipe off. Meanwhile, catalytic ovens are lined with special chemicals that absorb any food spills to make cleaning easier.
How much do self-cleaning ovens cost?
Pyrolytic ovens can cost from $1,000 to up around the $15,000 mark for certain models that offer additional features other than just the self-cleaning capabilities.
Warming drawers

While you won't find one in every kitchen, a warming drawer could be the difference between a hot dinner or a disaster, with the handy feature used to keep plates and foods warm if you're pressed for time. Warming drawers are also ideal for defrosting food, handy for those who forgot to take the chicken out of the fridge. Warming drawers are generally installed in a wall cavity, usually above or below the oven, with an electronic panel located in the top interior edge of the drawer for a rather sleek design. 
How much do warming drawers cost?
Warming drawers are a less common or complimentary appliance to ovens, so they do cost a little more, sitting around the $1,300 to $3,000 mark.
Oven sizes
While ovens are a fairly straight forward appliance, you can find there is a variety of types and sizes of oven. The two main sizes of ovens are single and double ovens. 
Single ovens
Single ovens are generally made to fit anywhere in your kitchen and measure 60cm tall. This type of oven is suitable for most households and comes in a variety of sizes, so there are always plenty of options to choose from. It's also more readily available than double ovens, which are also usually more expensive.
Double ovens
Double ovens are ideal for bigger families, or those that like to cook in bulk, because it's essentially two single ovens stacked on top of each other, often between 72-90cm tall. The main benefit of a double oven is that households can use one oven to grill or make roasts, while simultaneously baking dessert.
Choosing a type of oven
Which type of oven you choose will depend on your cooking habits, the size of your household as well as your budget. With some models being significantly more expensive than others you may have to compromise on some features for a cheaper model, or if you know you will get a lot of use out of the appliance you may be able to spend a little more. Whichever oven you choose, a good place to start is by comparing different brands below.
Original Author: Tahnee-Jae Lopez-Vito