As much as we like using our appliances, cleaning them can quickly take away from their appeal, with wear and tear, dust and food scraps all building up to create a mammoth task if not cleaned regularly. With technology quickly catching up to handle our disdain for cleaning in all areas of the house, ovens have joined the fight against chores, with a number of brands offering a variety of self-cleaning models. Pyrolytic ovens are the most common type of self-cleaning oven.
No doubt a handy appliance to have, self-cleaning ovens may not be at the forefront of your local appliance retailer, with the feature only available on select models, meaning you'll have to do your research before you can find one to take home. To help out, Canstar Blue has compiled a list of brands that offer the time-saving feature, as well as what else to expect when it comes to looking after one.
How do self-cleaning ovens work?
Self-cleaning ovens are commonly split into three types – pyrolytic, catalytic and steam. Pyrolytic ovens are the most common type, and involve heating up the oven to a maximum temperature of 500°C (over 900°F) to effectively burn off any food scraps left behind. Catalytic ovens instead rely on enamels to help with food breakdown, while steam cleaning ovens use high pressured steam to help evaporate food and dirt, working similar to steam mops and other cleaning processes.
The cleaning process for all types will typically last a few hours, depending on the type and brand of oven you get, with the only thing you have to do is simply wipe down the oven after it's cooled down, making it easy for those pressed for time, as well as those who haven't cleaned their oven in a while.
Self-Cleaning Ovens
Asko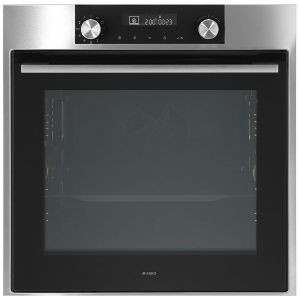 Founded in 1950, Swedish brand Asko may not be the household name some competitors are, but still offers plenty of appliances and oven types for consumers to choose from, with a number of pyrolytic ovens available for purchase.
Priced between $2,000 and $4,000, an Asko pyrolytic oven may not be for the faint-hearted, but those not phased by the price can expect a range of features and functions, including multiple cooking modes to suit every dinner plan, as well as kid-proof locks and dishwasher-safe racks.
Asko's pyrolytic range is categorised into the Elements, Craft and Series lines, with all available in either black or stainless-steel finishes. Primarily available in 60cm models, all Asko models are Built-In models, meaning you may have to look elsewhere if your kitchen doesn't have the space.
Most Asko oven models include quadruple glazed doors, which allows the outside door and kitchen to keep cool, even when the pyrolytic process is underway, with additional features such as touch screen displays, auto-roast and additional racks also available on select models. With the pyrolytic feature spread across multiple series, it's best to look into the individual features of each series and model to ensure you get the oven best suited to your cooking style and household size.
Asko ovens are available online or through your local appliance retailers
Beko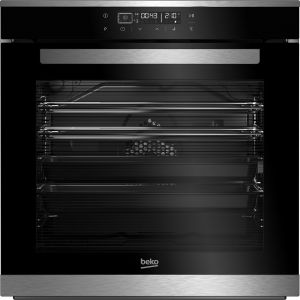 One of the more competitively priced brands available, Turkish brand Beko may also not be a household name here in Australia, but offers another option for those looking for a new addition to their kitchen. Offering both pyrolytic and catalytic models, in addition to non-self-cleaning models, Beko models are available to purchase online or through select retailers.
Beko's pyrolytic range consists of four built-in models, with capacities ranging between 82L and 94L, all with additional features and functions to ensure dinner is cooked to perfection. All pyrolytic models are available under Beko's Multifunctional range, with each model containing a range of cooking functions for all food types, with some models also available with touch displays, interior lighting and removable side racks.
If you're more inclined to purchase a catalytic model, Beko has a number of upright and freestanding units available, meaning Beko may not suit every kitchen, but may fit the bill if you've got the space. Beko's upright cookers are available in gas and electric fuel types, with models also featuring cooktops to help with all your cooking needs. Catalytic models may also suit those on a budget, with the enzyme cleaner cheaper than most pyrolytic models.
Beko offers a five-year warranty on all ovens
Bosch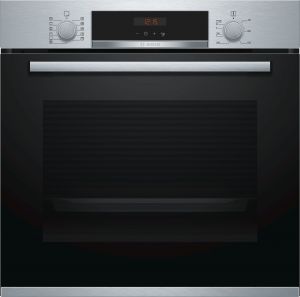 A popular option for many households, German manufacturer Bosch offers a number of pyrolytic ovens, available in its Serie 4, Serie 6 and Serie 8 ranges. All pyrolytic models are built-in types, which a number of additional features and functions depending on which specific model you decide to walk away with.
The cheapest model with the pyrolytic feature, the Serie 4, will set you back around $1,500 depending on which retailer you will visit, with Bosch including a variety of features in addition to the self-cleaning capability. Other features include an LED display, 10 pre-set programmes to help get dinner on the table, as well as five shelf positions for when you've got plenty to cook and bake.
Bosch also offers the Serie 6 model with pyrolytic functionality, with the 60cm built-in model coming with six heating methods, a 65L capacity and the 3D Hotair Plus function, which circulates air throughout the model to ensure that food on all levels are cooked evenly. Available in a stainless-steel finish, the Serie 6 will cost you a few hundred dollars more than the Serie 4 model.
Bosch's most expensive model with pyrolytic capabilities, the Serie 8, has a number of models within the range, costing between $2,000 and $3,500 at most retailers. Some models feature pre-set functions to suit whatever you're cooking, with other models containing PerfectBake and PerfectRoast features to ensure you're left with mouth-watering dinners and Sunday lunches. Bosch also offers a model with added Steam functions, allowing for a healthier dinner alternative.
Bosch offers a 2 year warranty on all pyrolytic models, with extended warranties also available for purchase
Electrolux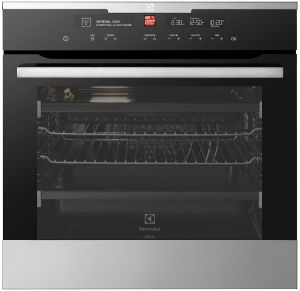 Another Swedish brand, Electrolux has operated for almost 100 years, providing households around the globe a variety of appliances, including kitchen appliances such as ovens. For those after self-cleaning models, Electrolux has pyrolytic types available for purchase, coming in single and double Multifunction models.
Ranging from 60cm to 90cm, the Multifunction range comes equipped with a range of features and functions, including steam cooking, pre-set temperatures and programs in addition to 101 technology, which is a handy feature for those not used to cooking.
Competitively priced within the market, Electrolux pyrolytic models are available at electrical and appliance retailers
Fisher & Paykel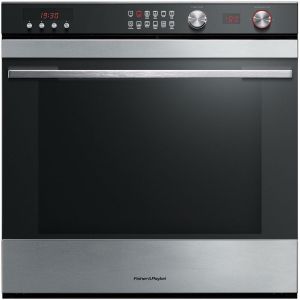 Well-known in Australia, Fisher & Paykel has been operating for over 80 years within the retail appliance market, offering households plenty to fill their kitchens, laundries and homes with. Fisher & Paykel has a wide variety of ovens for households to choose from, with a number of freestanding and built-in pyrolytic self-cleaning models also available.
The built-in pyrolytic range, which includes a double oven for large households, comes in 60cm-90cm dimensions, with capacities ranging between 90L up to 115L, making it handy for when you've got plenty to prepare. In addition to the self-cleaning feature, Fisher & Paykel models include a range of cooking functions, from traditional grill and fan-forced cooking to rotisserie and pastry settings for those looking to flex their culinary skills.
If you prefer a freestanding model, or are after a cooktop in addition to an oven, Fisher & Paykel offer 90cm models, available with dual fuel and induction capabilities, making it a suitable option for many households. With a stainless-steel finish, Fisher & Paykel freestanding models will fit in with your kitchen aesthetic, although may not be the most suitable option for those on a budget, with the freestanding models more expensive than the built-in variety.
Fisher & Paykel models are available at major appliance retailers
Neff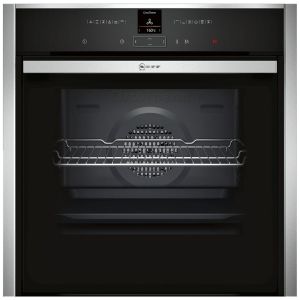 One of the more expensive brands on offer when it comes to pyrolytic ovens, German brand Neff has a range of options for consumers, with double ovens, steam cooking and a number of other features also available with the self-cleaning function.
Neff's self-cleaning range comes in the form of the Combi and Compact series, with each offering a number of models with the handy cleaning feature. Most models include steam cooking functions, perfect for those looking for a healthy cooking alternative, as well as other features such as the Slide & Hide retracting oven door for better access. While it might cost you more than other brands, it may be worth it for those looking to spruce up their kitchen, with Neff models coming in stainless steel and black finishes.
You can find Neff appliances at major appliance retailers, with a store locator available on Neff's website
Smeg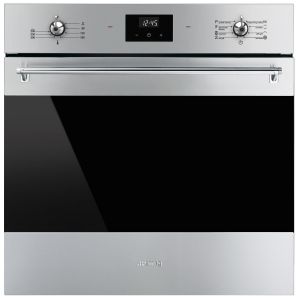 Often the go-to option for those looking to make a statement with their home appliances, Italian manufacturer Smeg offers a wide range of colours and finishes with each of their appliance ranges, with ovens no different. While most models will set you back between $2,000 and $3,000, for those big on their colour, as well as looking for an easier way to clean their oven, Smeg may be worth the price tag.
Smeg's pyrolytic range comes in the forms of freestanding models, all coming with cookers on top to take care of all your cooking needs. Available in Portofino and Thermoseal models, the pyrolytic option also comes with a variety of other features and functions, including multiple cooking modes, trays and racks, as well as quadruple glazed glass for increased safety. The Thermoseal model comes with five cooktop zones, while the Portofino comes with six, making both ideal for when you have plenty to prepare.
In addition to pyrolytic models, Smeg also offers catalytic models, also available within the Thermoseal line-up. In addition to the removable and replaceable catalytic liners, the Thermoseal A11X-7 model comes in stainless steel finish, with a 92L oven capacity, along with six cooktop zones. Trays, shelves and a rotisserie assembly are also available with the model, making it able to handle whatever you're planning on cooking for dinner.
For those looking for a different cleaning solution, Smeg offer the Vapor Clean, which loosens and softens residue in 20 minutes through steam technology, making it easier to wipe down and clean. Available on a number of models, including the smaller Classic and Linea Multifunction models, along with the dual fuel Victoria model. While a handy option to have, particularly if you're in a rush to clean, the Victoria model will set you back around $6,000 at select retailers, meaning you may have to think twice if you're on a budget.
Smeg offers a 2-year warranty on all ovens
V-Zug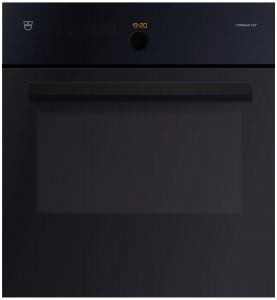 Founded way back in 1913, Swiss brand V-Zug offers households plenty of appliances to choose from, including those to fill both the kitchen and the laundry. While the brand may be on the pricier side of the market, V-Zug does offers consumers a way to avoid cleaning through a number of pyrolytic models.
The pyrolytic cleaning feature is available in V-Zug's Combair range, particularly the SEP, SLP and XSLP models, all 60cm built-in models. All models also include TouchControl functionality, with the display also available in a number of languages, including English, German, French and Italian. The difference comes from height and capacity, with the XSLP better suited for smaller kitchens or households, with the SLP more suitable for those who enjoy baking, with the model available with more features and functions.
V-Zug models are available at select retailers, so be sure to check their website for a full list of appliance stores
Westinghouse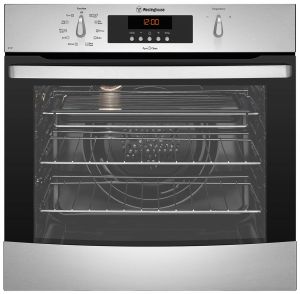 With a number of Westinghouse subsidiaries around the globe, Westinghouse began back in America in the 1880s, with the company today offering a number of appliances, including dishwashers, fridges and cooking appliances such as microwaves and ovens.
For those after a self-cleaning oven, Westinghouse offers PyroClean pyrolytic models, which start at around $2,000 in price. Westinghouse offers a number of models, including freestanding, built-in and underbench ovens, giving consumers plenty of choice when it comes to finding a model to fit into the kitchen.
If you're after a built-in oven, Westinghouse offers a 60cm model, which comes with an 80L capacity for those big meals, along with a quadruple glazed door to ensure that your kitchen remains cool while the pyrolytic clean heats up. Additionally, the model comes with a programmable timer to ensure you don't burn dinner, along with 10 cooking functions for all food types. Available in black or stainless-steel finish, the built-in model will also fit in with your current kitchen aesthetic.
If a freestanding model is more your speed, or you're also after a cooktop, then Westinghouse has an option for you, with a 5-burner cooktop available on top of a 125L capacity duel-fuel oven. Including 12 oven functions, touch control timer, twin fan system for even cooking as well as a storage compartment for all your utensils or shelves, Westinghouse may be a worthwhile option if you have the kitchen space.
If you're pressed for space however, then the underbench model may be better suited for you, with Westinghouse offering a 90cm model, with a 125L capacity for all of those big meals. The underbench model also contains the twin fan system and touch control timer, along with 12 cooking functions to take care of those big dinners.
Westinghouse ovens additionally come with a 2-year warranty
Is a self-cleaning oven worth the money?
While cleaning the house can be therapeutic for some, cleaning food and grease stains from your oven walls can quickly turn into frustration for many, with ovens often neglected for months at a time. With plenty of brands offering an easier way for households to clean, finding one that suits your kitchen and household can quickly become as much of a chore.
With the variety available, including choosing between cleaning types, which brand and model you eventually walk out the door with can come down to personal preference, including your cooking style, how much space you have in your kitchen and how many mouths you have to feed.
As a result, it's best to do your research before you head off to your local retailer, as the additional features may be the deciding factor when it comes to purchasing your self-cleaning oven. At the end of the day, a self-cleaning oven may save you from getting your hands dirty, which for some is as good a reason as any to look into a new oven.
Picture credits: New Africa/shutterstock.com