Fact Checked
Cleaning. No one likes it and ovens can become one of the most disliked appliances to clean. Luckily, as technology has evolved, there are now ovens that take the tough work out of cleaning. Self-cleaning ovens have become an increasingly popular appliance for those short on time and patience when it comes to cleaning. Read on to find out if a self-cleaning oven could be the right choice for your kitchen.  
What is a self-cleaning oven?
A self-cleaning oven is a type of oven that has a setting to help clean its interior. There are three main types of self-cleaning ovens each with its own type of cleaning method, all using heat as the main element to clean.
How does a self-cleaning oven work?
Each type of self-cleaning oven works in a different way, but each uses heat regardless, either to loosen or burn any leftover food scraps or grease left over. The cleaning process for all types will typically last a few hours, depending on the type and brand of oven you get, with the only thing you have to do is simply wipe down the oven after it's cooled down, making it easy for those pressed for time, as well as those who haven't cleaned their oven in a while.
Types of self-cleaning ovens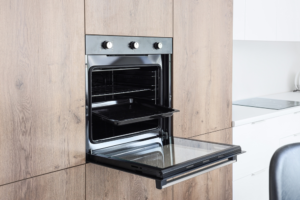 There are three main types of self-cleaning ovens – pyrolytic, catalytic and steam. Pyrolytic ovens are the most common, followed by the other two types.
Pyrolytic oven
Pyrolytic ovens heat up to temperatures upwards of 300 degrees Celsius,  burning any stains or grease residue, leaving only ashes for you to clean up. The cleaning phase lasts around three hours with the door mechanically sealed shut for safety. 
Catalytic oven
These ovens get their name from the enzyme based liners inside the oven which help absorb grease. Similarly to pyrolytic ovens, they still need a high temperature to burn off the grease from the liners. This should be done every few months, but will depend on how often you use your oven. 
Steam ovens
Steam ovens use steam to soften and loosen any food stains or grease leftover in the oven to make the cleaning easier. Steam ovens don't use as much power to clean, with a steam cleaning cycle taking about an hour, so they can be a more energy efficient choice of oven, provided you don't mind potentially putting in a bit more elbow grease to clean the loosened residue. 
Tips for self-cleaning ovens
Although self-cleaning ovens do all the heavy lifting for you, there are still some things to remember before going ahead and setting them to clean:
Remove all racks and trays from the oven before you start the cleaning. They can discolour from the added heat. 

The oven will automatically turn off after the cycle but the door will remain locked until the temperature drops enough for it to be safe. So if you can't open your oven, give it a bit more time. 

You won't need any added cleaning products, saving you money.

It can be helpful to open a window or door because the heat and smell can become overpowering in smaller kitchens. 

These types of ovens are safe to leave unattended, however it isn't recommended you go out and leave it on. 
How much do self-cleaning ovens cost?
Self-cleaning ovens cost from $1,000 to upwards of $10,000 depending on the size, brand and features. You can find this kind of oven in wall mounted, double ovens and freestanding models that can also include a stovetop. 
Who sells self-cleaning ovens?
There are a number of brands that sell self-cleaning ovens including Bosch, Westinghouse, and Electrolux. These brands all offer a number of models at different price points to suit any budget or lifestyle need. 
Westinghouse self-cleaning oven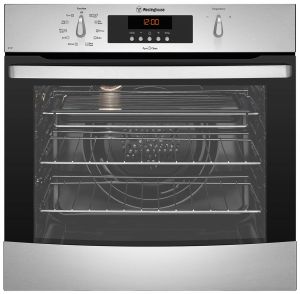 Westinghouse offers PyroClean pyrolytic models, which start at around $2,000 in price. Westinghouse offers a number of models, including freestanding, built-in and under bench ovens, giving consumers plenty of choice when it comes to finding a model to fit into the kitchen. You can expect features like multi-glazed doors, PyroClean and some models even come with steaming capabilities, allowing you to find the best fit for your needs. 
Bosch self-cleaning oven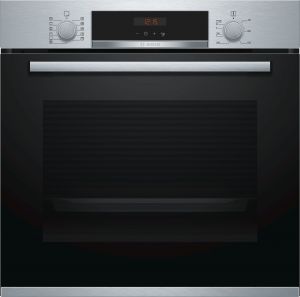 A popular option for many households, German manufacturer Bosch offers a number of pyrolytic ovens, available in its Serie 4, Serie 6 and Serie 8 ranges. These pyrolytic models are built-in types and freestanding, which have a number of additional features and functions depending on which specific model you decide to walk away with. You can expect to spend from $1,500 to $4,000 for a pyrolytic oven from Bosch. 
Electrolux self-cleaning oven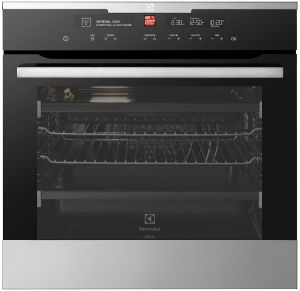 For those after self-cleaning models, Electrolux has pyrolytic types available for purchase, coming in single and double Multifunction models. Ranging from 60cm to 90cm and retailing from $1,000 to $6,000, the Multifunction range comes equipped with a range of features and functions, including steam cooking, pre-set temperatures and programs in addition to 101 technologies, which is a handy feature for those not used to cooking.
Are pyrolytic ovens worth it?
While cleaning the house can be therapeutic for some, cleaning food and grease stains from your oven walls can quickly turn into frustration for many. Choosing whether a pyrolytic oven is right for you will come down to personal preference, but they can make your life simpler when it does come time to clean your oven. If you're still sitting on the fence, compare ovens via the link below.  
Picture credits: New Africa/shutterstock.com