NutriBullet Blenders Review & Guide
Maintaining a healthy diet doesn't have to mean eating the same salad every day. From green detox smoothies to spicy tomato soup and frozen vegan desserts, mix things up and get a healthy kick out of NutriBullet's range of blenders.
Using what the brand calls 'Nutrition Extraction', products like the NutriBullet 1000 and NutriBullet RX are claimed to break down fruits, vegetables, nuts, seeds and other plants in a way that squeezes more of the vitamins and minerals into your drink or dish to get the most out of each blend. Each item also comes with a recipe book to help you whip up some ideas.
How much does a NutriBullet cost?
The NutriBullet range typically costs between $49.95 and $$299.99, depending on whether you opt for a personal blender or a larger full size model. These are listed below.
NutriBullet Personal Blenders
NutriBullet personal size blenders include:
Magic Bullet to Go: $49.95*
NutriBullet 500 Series: $89*
NutriBullet 600 Series: $89*
NutriBullet 900 Series: $99.99*
NutriBullet 900 Series MEGA: $119.99*
NutriBullet 600: $149.95*
Nutribullet 1000 Series: $159.99*
NutriBullet PRO 1000: $169.99*
NutriBullet Pro 1200: $169.99*
NutriBullet Select 1000: $179.99*
NutriBullet Select 1200: $199.99*
NutriBullet Balance: $279.99*
NutriBullet RX: $299.99*
NutriBullet Full Size Blenders
For those looking to make more than just a single serving of a smoothie, the full-sized blenders include:
NutriBullet Blender Combo 1000: $229.99*
NutriBullet Combo 1200: $249.95*
NutriBullet Blenders
It all started with the NutriBullet 600, but now the brand has expanded its NutriBullet collection to include a number of personal blenders and full size blenders to offer different levels of power at varying price points. A few models are listed below.
Magic Bullet To Go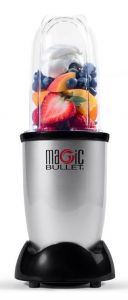 Flex your cooking chops and get creative with what NutriBullet describes as the most versatile 'must have' tool in the kitchen. From onions to coffee beans, the Magic Bullet is claimed to chop, dice, grate and grind as well as blend and juice a range of ingredients within seconds. The multipurpose appliance is also said to come in a compact design for convenient use.
NutriBullet previously had a similar blender known as the Veggie Bullet. The 3-in-1 food processor functioned as a spiralizer, shredder and slicer to create a variety of dishes such as zucchini 'spaghetti' or cauliflower rice.
The Magic Bullet to Go is the cheapest blender you'll find from the popular brand, and is even three times less expensive than the original.
Price: $49.95*
NutriBullet 900 Series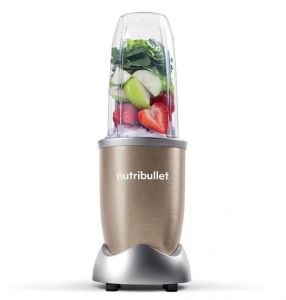 With a blending power of 900 watts, NutriBullet states this blender will break down the toughest ingredients including  wheat grass and whole fruit. The extractor is also claimed to be capable of crushing and nuts!
For people who are just entering the 'world of juicing' and making at-home smoothies, the NutriBullet 600 is one of the cheapest blenders from the range and is a decent alternative. It uses a 600W motor to create around five servings, which can be filled into a 500mL tall cup.
Accessories include:
900W motor base
Extractor blade
700ml tall cup
Price: $99.99*
NutriBullet Select 1000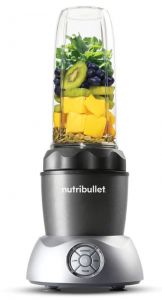 If you're searching for a blender to begin making nice smoothies at home, the NutriBullet 1000 provides 1000W of power. It includes an easy-twist extractor blade, nutrient extraction and several controls for versatility.
Some of the accessories include:
900ml  up
700ml travel cup
Two flip top lids
Price: $179.99*
NutriBullet Select 1200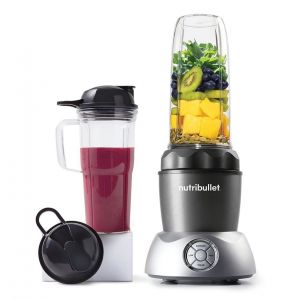 If you like the NutriBullet Select 1000, but want more of an all-rounder kitchen blender, the NutriBullet Select 1200 allows you to use the appliance to blend as well as mince, puree and crush food. It also has a variable speed function which allows you to choose different speed options, depending on what you're making.
Some accessories include:
900ml pitcher
900ml cup
590ml travel cup
700ml travel cup
Price: $199.99*
You may also be interested in:
NutriBullet 1200 Series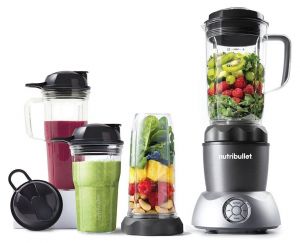 Unlike many of the other blenders available in the range, the NutriBullet 1200 has premium accessories like a stainless steel cup that's claimed to keep drinks cool for up to eight hours.  This model also offers two AutoBlast Cycles which pulse and automatically switch off after reaching what the brand describes is 'optimum extraction'.
Some accessories include:
900ml colossal cup
900ml colossal cup with handle
Two comfort lip rings
Vessel grip
Price: $199.99*
NutriBullet Balance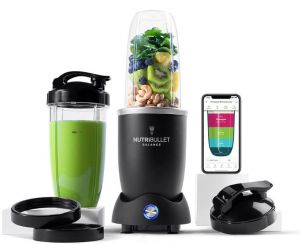 The latest addition to the NutriBullet pack is this Balance blender. It boasts Bluetooth connectivity, allowing you to track nutritional information, blend smoothies and select recipes from your phone. It comes in a 9-piece set, which includes a 1200W power base, two comfort lip rings, two colossal cups (900ml), two flip-top to-go lids, one stainless steel extractor blade, plus a user guide and manual.
Price: $279.99*
NutriBullet RX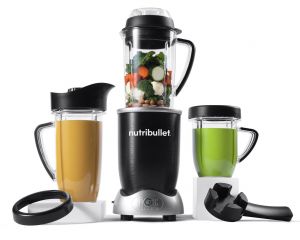 If you're craving something a bit stronger, the NutriBullet RX contains a 1700W motor and is said to be the most powerful appliance from the brand. It comes with hands-free SMART Technology, to help you multitask in the kitchen, as well as a heating cycle to cook up a wider variety of dishes.
The NutriBullet RX includes:
1.3L oversized cup
1L souperblast pitcher
880ml short cup
Stay fresh lid
Blade remover
Price: $299.99*

Should I buy a NutriBullet blender?
Described to do more than juice and blend drinks, NutriBullet provides items designed to offer flexibility in the kitchen, with its range giving you plenty of options when it comes to dinner time.
If you're looking to change your diet, the Magic Bullet can also function as a food processor as it can chop, dice, grate and grind items like coffee beans and onions to create different dishes like dips and pancakes. It is also said to blend and juice ingredients, offering more versatility than some of the other NutriBullet products. The fact the compact appliance is the lowest priced product from the brand might also make the Magic Bullet to Go an ideal option.
For those who just want a blender capable of mixing a variety of ingredients, the classic NutriBullet series line provides different models with powers ranging from 500W up to 1200W. Since many of these blenders are said to produce multiple servings each time, the collection may be suitable for families and other healthy households.
Still unsure if a NutriBullet blender is the best choice for you? Find the ultimate blender by comparing a wide selection of brands with Canstar Blue's customer satisfaction ratings via the link below.
*Prices taken from Appliances Online, Kogan and Big W, correct as of June 2020.
About the author of this page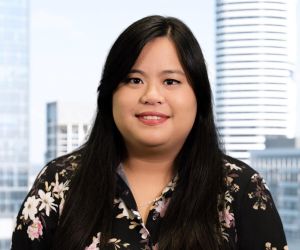 This report was written by Canstar Blue's home & lifestyle journalist, Tahnee-Jae Lopez-Vito. She's an expert on household appliances, grooming products and all things grocery and shopping. In addition to translating our expert research into consumer-friendly ratings reports, Tahnee spends her time helping consumers make better-informed purchase decisions on all manner of consumer goods and services, while highlighting the best deals and anything you need to be aware of.
What do customers think about NutriBullet Blenders?
In 2019, Australian customers gave NutriBullet 4 out of 5 stars for overall customer satisfaction for microwaves.
Nutribullet Blenders
Canstar Blue
Award:
Overall Satisfaction