Review of Panasonic Clothes Irons
Panasonic has been a leading manufacturer of major household appliances and electronics for decades. From big screen televisions to huge family sized microwave ovens, Panasonic now boasts about its large soleplate clothes irons. With three clothes irons models currently available, we review their full features here at Canstar Blue.
Panasonic clothes irons
What makes Panasonic clothes irons stand out is their 360° multidirectional soleplate design, with a unique 'W' shape at the bottom of the iron. Its unconventional colours also provide a sleek and modern look to its range.
Several features you can find across the full range include auto-shut off, anti-drip and anti-calcium systems. Panasonic's auto shut off feature helps to ensure a peace of mind if you leave the iron on by automatically switching off the iron after 10 minutes if left in an upright position and after 1 minute if left on its soleplate or tipped on its side. Anti-drip function is aimed to protect clothing from water spots that may cause stains. If the temperature is too low, its steam function shuts off automatically to prevent water leakage from steam holes. By also switching the iron to Dry mode, Panasonic claims it prevents leakage when iron is stored away. Its anti-calcium system is designed to help stop calcium build up in the steam holes and maintain its life span.
Another feature that is widely used across clothes irons is a self-cleaning system to help wash away lime scale deposits that build up over time. Panasonic irons are equipped with a self-cleaning button that releases water from the tank to provide an immediate clean. Read on for a detailed account of each model in the Panasonic's range.

Panasonic NI-W810CSNSJ clothes irons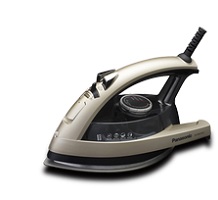 Starting at $109, this model uses 360° ceramic soleplate with 74 self-cleaning steam vents to help remove wrinkles. It has a curved, double-point soleplate and a "fatigue-reducing" ergonomic design. It claims to be scratch resistant and glide smoothly in any direction with a 360° feature. It seems that traditional back and forth movement is now a thing of the past with Panasonic's range. The W shape design also allows you to see the edge of the soleplate from above to help iron around buttons, pleats and cuffs. Its sole plate is 270mm by 120mm to help with ironing large fabrics such as sheets and table cloths.
It provides 2200W of heating power as well as 75g/min of vertical steam shot and 30g/min of continuous steam. It's equipped with a dial temperature device for precise temperature control, auto-shut off as well as anti-drip and anti-calc systems. There are four steam settings for different fabric types from heavy to delicate. Spray mist function provides extra moisture and the jet-of-steam feature releases a burst of steam for stubborn areas. It also can be held upright and produce vertical steam for any hanging garments or curtains. It comes in a gold colour with black features.
200ml water tank capacity
8m cord length
4kg in weight
RRP: $109
Panasonic NI-W950ALSJ clothes irons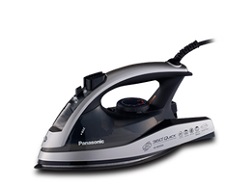 For a little bit more strength than the previous model, this clothes iron heats up to 2400W. A key feature with this model is its anodised aluminium soleplate that is equipped with 116 self-cleaning steam vents and 360° moveability. Panasonic claims its 'Alumite' sole plate material is strong and scratch resistant to help prevent wear and tear. It is apparently also material that is used in the construction of automobile engines, according to Panasonic.
Along with a "forward-thinking" design that aims to help make ironing less of a chore, the Panasonic NI-W950ALSJ iron features 140g/min steam shot and 40g/min of continuous steam. It provides vertical steam for any touch ups as well as quick mist and anti-drip features. It has a three-way auto shut off for safety, a self-cleaning feature and an anti-calc system. This clothes iron has a silver design finish with black elements.
310ml water tank capacity
3m cord length
6kg in weight
RRP: $129
Panasonic NI-WT980RSJ clothes irons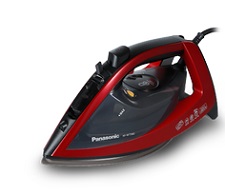 Similar to the above two models, Panasonic's most expensive clothes iron is equipped with a multi-directional soleplate design as well as an improved steam circulation system. Panasonic claims this model has about a 1 minute heat up speed and helps to ensure a constant temperature through its circulation. It uses a ceramic soleplate coating, producing 2400W of heating power and is enhanced with rounded edges to prevent iron catching on clothing and causing creases.
Several key features include a mist spray with anti-drip technology, power shot steam of 195g/min and continuous steam of 45g/min. It is also claimed to be equipped with grooves along the steam holes for even steam-release in any direction. Panasonic's jet-of-steam function releases concentrated steam to help you iron thick materials. With this model you can also refresh garments with vertical steam. Other functionalities include auto shut off, anti-calc and self-cleaning systems. It comes in a metallic red.
350ml water tank capacity
3m cord length
7kg in weight
RRP: $179
Should I go home with a Panasonic clothes iron?
Panasonic irons tend to sit in the high-end pricing range. What you should look out for in an iron at this price is a durable and scratch resistant sole plate. Panasonic claims its irons are equipped with advanced ceramic coating to help glide smoothly across fabrics.
Some other important factors to consider are wattage and steam capabilities, as well as weight and design. Panasonic's irons are claimed to have a quick heat up speed and provide easy moveability with a 360° design. You can also find a number of functionalities across Panasonic's full range to help improve the ironing process, such as self-cleaning, anti-calcification and power shot functions.
If you've been stuck using an old and ineffective clothes iron, you may like to give Panasonic's range a try. To help compare Panasonic with other brands, check out our customer ratings via the link below.
Clothes Irons Reviews & Ratings
About the author of this page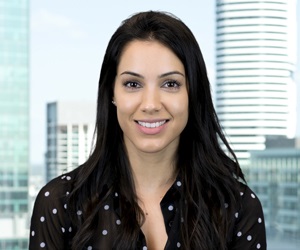 This report was written by Canstar Blue's Home & Lifestyle Content Lead, Megan Birot. She's an expert on household appliances, health & beauty products, as well as all things grocery and shopping. When she's not writing up our research-based ratings reports, Megan spends her time helping consumers make better purchase decisions, whether it's at the supermarket, other retailers, or online, highlighting the best deals and flagging anything you need to be aware of.